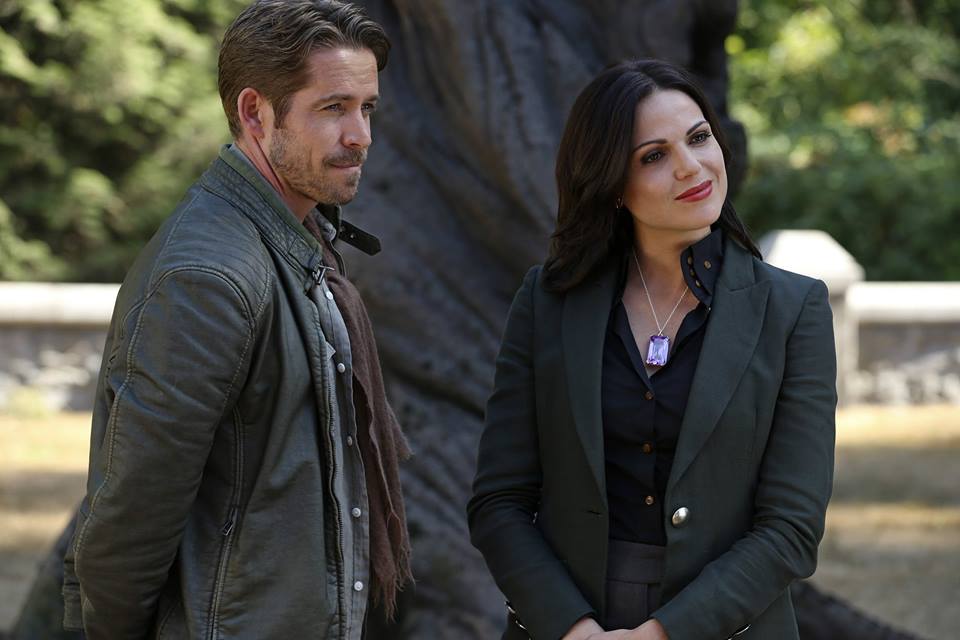 by: Emily Konopka
A new curse has descended on Storybrooke, but what kind of curse is it? That's what the dwarves were hell bent on figuring out at the start of this week's Once Upon a Time. Grumpy leads his band of brothers to the town line to test the rules of this new curse. He doesn't want to stick around in Storybrooke if Emma is the Dark One; it'll be nearly impossible to defeat a villain who practically wrote the manual on how to do it herself. Unfortunately for Dopey when he crosses the down line he sprouts into some kind of magical tree. That's a new one.
And speaking of trees, that's where Merlin is hanging out; at least according to King Arthur. He and his Queen Guinevere welcome the Storybrooke gang to Camelot by throwing a ball in their honor. Hook doesn't think they should waste time dancing when they should be looking for Merlin. Just wait until you see Emma later, I'm sure you'll be rescinding that comment Captain. Arthur brings them to said magical tree and asks which one of them is the Savior. Emma is going to step forward, but Regina slyly uses the dagger to stop her and steps up in her place.
Back in Storybrooke Hook heads to see Belle since they're in a similar situation, loving a Dark One. He wants to know why True Love's Kiss didn't work on Rumple. Belle tells him that it was working until Rumple got scared and decided he would rather have power. Killian isn't worried though because Emma would never choose power over love…or would she?
Henry summons his mom to apologize for whatever they did to fail her in Camelot. But don't worry Henry you didn't fail her, just everyone else. Emma warns that there's a problem heading towards Storybrooke that only a Savior can solve, only it's too bad that Regina will never have what it takes to become the Savior. Is it chilly in here or is just Emma's cold new attitude? And what would a curse on Storybrooke be if some new faces didn't come along for the ride? The folks from Camelot are popping up left and right along with a new evil looking beast. This new evil beastie looks like a bat out of hell (turns out that's pretty much what it is) and it wastes no time picking up Robin and dragging him away. Uh oh.
Back to Hook and his quest to plant True Love's Kiss on Emma, he doesn't have to search far for his girlfriend because she was looking for him too. She whisks him away in cloud of smoke to her place. New look, new place. Sweet right? Under normal circumstances Hook probably would've been happy to be in an empty house with Emma, but he's walking on pins and needles around her right now. Emma assures him that just because she's the Dark One doesn't mean they can't still be together. Hook takes that as his cue to plant one on her. Except his kiss, which was quite possibly their steamiest one yet, didn't work. Emma truly believes this is who she is now, so there's no changing it. She invites him to come over and play in the darkness with her, but Killian tells her that while she may believe she truly is dark now that's not who he is. Oh, the angst! Buckle up Captain Swan fans; I foresee buckets full of angst in the coming weeks. Eek!
In Camelot everyone is getting gussied up for the ball. Regina isn't taking to well to all the attention stepping up as the Savior is bringing her. She realizes that she's never actually danced at a ball. In possibly the funniest scene Once Upon a Time has had in a while Snow and Charming offer Regina a dancing lesson. With her new moves in tow, Regina and the rest of the gang head off to the ball. As everyone is dancing the night away, David notices Henry has his eyes on a girl. Grandpa Charming tells him to go over there and impress her with the fact that he's from another land. He wins her over by saying his iPod is a gift from the Savior. Very smooth Henry.
Things aren't going as well for his mom however. One of Arthur's knights asks Regina for a dance and he reveals that he knows that she's the Evil Queen. The knight tries to take a swing at her with his sword but Robin throws himself in front of her. Charming helps take out the rogue knight, but it's too late, Robin is gravely injured.
Back in our world Belle has done some digging at the library (of course), and has discovered that bat from hell is literally there to drag Robin to the underworld with it. Someone in used magic in Camelot and didn't pay the price. The only way to save Robin is for someone else to die in his place. This calls for a house call to the ex-savior. Regina demands to know what Emma did, but turns out she isn't the one who needs to pay the price of magic. This one's all on Regina.
In Camelot her magic wasn't enough to save Robin, because the sword that stabbed him was enchanted to kill her. That means Emma had to dabble in her dark magic to save him. The little Rumple inside her head appeared again to remind her that there is a price that needs to be paid for the magic Regina has asked for, but Emma fixes Robin anyways. Overwhelmed from using her powers she hopes a smooch with her boyfriend will calm her down. But after she feigns tiredness over using magic, her skin starts to turn sparkly. Rumple is there like a devil on her shoulder to point out that she liked the power, if she didn't her kiss with Killian would have stopped the scales from appearing.
Now that Regina knows the price that needs to be paid she runs to find Robin. Before the dark beast can take his soul to the underworld she throws herself in the way. The Charmings take a leap of faith and join her; Leroy even jumps in too, hoping their combined goodness will save her. A blast of magic sends the beast and the ferryman of the underworld back to down to Hades (anyone else think this is another hint that we'll be getting some more characters from mythology soon?). After seeing Regina defeat the beast, even Leroy is convinced Regina can help save the town. Hell might have just frozen over ladies and gentlemen.
What else do the people of Storybrooke do after a small victory? Convene at Granny's of course! Henry finds his Camelot crush, Violet, and they end up bonding over the jukebox, even though they don't remember their iPod encounter. Hook on the other hand is brooding over his flask of rum. Belle joins him for a drink. They should really start a support group, 'I'm in love with the Dark One.' He tells her that if he spent centuries trying to kill a Dark One, he can spend at least that long trying to save the woman he loves. Such a dedicated boyfriend that one is.
In the hour's last flashback, Arthur and Guinevere (aka Shade King and Queen IMO) chat around the round table about making Excalibur whole again. He is very keen to help the Storybrooke gang with their mission. If they succeed, he can finally get his hands on the dagger. Like I said, I smell shady business. Speaking of Excalibur, Emma is chilling alone in her big old house when imaginary Rumple pops up. She's already embraced the darkness, so what other reason is there for him to be there? There's something that she can do now that no other Dark One has been able to do before. Turns out Emma has been hiding Excalibur in her basement. She has the power to finally reunite the blade of the sword with the dagger and use it to snuff out the light in her for good. Now all she needs is a hero to free it from the stone.
And there we have it, the second hour of season 5. What did you think? Better or worse than the premiere? Let me know on Twitter, I'd love to chat with you about the episode! Based on the 30 second promo, next week looks like it is going to be a whopper of an episode!
Make sure you tune into the VRO Monday night at 9/8c. Raechel and I will be talking all about the episode. From theorizing about future plot lines, to over all fangirling, we cover it all. You don't want to miss it!
As always you can keep up to date with all things entertainment with The VRO on our social media pages.
Twitter: @TheVRO
Facebook: Variety Radio Online
Tumblr: Variety Radio Online
//