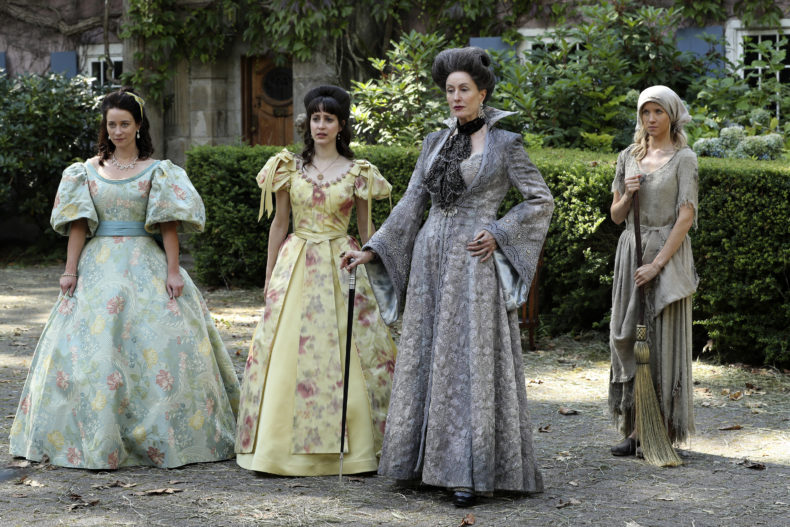 Emma and Hook are moving in together, want to have babies together, and are overall flawless. The end.
Kidding! While all of that is most certainly true, there was a lot more amazing stuff that happened in this episode! I may be speaking prematurely, but this might go down as one of my favorite episodes of season 6 maybe even the entire series? Let me explain.
For starters this episode brought back one of my favorite characters, Cinderella/Ashley Boyd. "The Price of Gold" is one of my favorite episodes of Once Upon a Time, mainly because I just love the whole backstory of Cinderella. In this episode the other shoe drops…literally. We get to see more of Cinderella's time at the ball, when she met her prince, and we finally meet her evil stepmother and step-sisters.
Cinderella before and after the ball.
We saw how Cinderella got her glass slippers in season one — but we never got to see just what happened at that fateful ball. Ella is wasting away as a servant girl to her evil stepmother when an invitation to the ball comes. This is where her story plays out like we're used to it, evil family ruins her mother's dress, but with a little bit more flair than the Disney flick. Dress gets tossed in the furnace and trying to rescue it Ella gets covered in embers giving her sisters the inspiration to call her "Cinderella." Once she arrives at the ball she catches the eye of Prince Thomas. She even bumps into Snow White who lets her know that the mantle of a "charming" prince has already been taken. They dance, they're both smitten. That is until Cinderella sees Thomas giving a rose to her stepsister. Her stepmother convinces her that he could never love her and she flees the ball.
Convinced her fairytale was only for one night, Cinderella goes back to being miserable. That is until Clorinda tells her that she is going to run away. All this time she has been living a lie to please her mother. Clorinda is actually in love with the King's footman, and they're going to go live on a farm somewhere and start a life. What Cinderella saw between her and the prince at the ball was actually him giving her a rose from her beloved. Cinderella offers her stepsister a better option where her mother won't find them. She gives Clorinda a key to the land of untold stories. She was about to use it to run away herself, but now she knows the prince did care for her.
The prince has set out on his quest to find Cinderella and her stepmother isn't happy that her daughter has run off. She blackmails Cinderella into telling her where she went. With the help of Snow White, Thomas is able to find Ella and propose. By the time she finds her step sister however it is already too late. She takes the key and forces her daughter through the portal to the land of untold stories with her.
Cinderella's untold story plays out in Storybrooke
With a slew of new faces in town Henry has taken to making a list so he can find their stories and help get them back on track. Ashley and Thomas stop by the diner and she asks if she can take a look at the list. In the meantime she needs someone to distract Alexandria while she looks. Since Killian is still sitting at the table he's the man for the job. We've seen Killian interact with kids before, but they have all been slightly older. His reaction to this little baby is one of the best moments I've seen from him. He instantly turns into a goofball, whipped cream on his nose and all. And let's not forget the fact that Emma was looking on at this interaction with total heart eyes, human emoji style.
Ashley was in search of her step sister's name because she wanted to make sure her story played out in the right way. She's even gone so far as to run away and take Thomas' hunting rifle. The Evil Queen has a particular interest in letting Ashley's story play out. Emma, Killian, and Henry go looking for her but the Evil Queen decides to take them out of the game completely. Ashley is able to track down her step sister but she is not alone. Her evil stepmother is also there. Clorinda has had decades to stew over her anger towards Cinderella. The thing is of all the places in the world, the farm they end up at belongs to her lover. He's been in Storybrooke this whole time. She still has a chance for a happy ending. Step-momma isn't to happy with the thought of that, so she stabs Cinderella.
With her magic rendered useless, the tremors are particularly out of control today, Emma has to resort to her old bail bonds tricks to track down Ashley. When they find her of course she is mortally injured. Henry encourages Emma that she has the strength to use her magic and save her life. She's able to do it and Evil Step Mother gets arrested and sentenced to highway trash pick up under the supervision of Leroy. A rather hilarious sight I must say.
Captain Swan shows its strength
With an episode written by Jane Espenson did you really expect anything less than amazing Captain Swan development? After seeing Killian interact with Alexandria, and observing Ashley and Thomas' adorable little family Emma gets a bit jealous. She reveals this in a session with Archie. She realizes she should be living with Hook, and she knows he is waiting for her to ask. This is true. When Killian was with Ashley he said that he and Emma are taking things "rather slow." She wants a future and everything with him, but she feels like a fraud because she knows she can't give him the future he deserves. Archie convinces her that maybe happy endings aren't about how it ends, they're about what happens on the way there.
After saving the day and bringing happiness back to Cinderella's family, Emma decides it is finally time to ask Killian to move in with her. He seems surprised at first, just like he is every time Emma decides to open herself up a little more to him. She jokes that she has a closet full of red jackets and she could probably make some room for some black leather. They share a sickeningly-sweet kiss that just about melted my heart.
Other Odds and Ends
Regina has a plan to win over Hyde, by buttering him up with her famous lasagna. Too bad the Evil Queen and her think a lot alike, you know because they are the same person. She beat her to the punch with an even more elaborate set up. He's already sworn his allegiance to the Evil Queen and she comes through for him when she comes and breaks him out of the asylum.
Henry and Hook show off how strong their relationship has become as of late. Emma happens upon the two of them practicing sword fighting with wooden sticks. Killian proudly says that Henry appears to be getting the hang of it. Proof that the two are clearly spending a lot of time together. Give me all the bonding moments between these two, maybe by starting with that movie night Henry promised?
Snow and Charming have a special heart to heart after Charming finds out that his father didn't die in a cart accident. He was actually stabbed before his cart crashed into the ravine. Snow urges him not to go down the path of revenge. Also Snow expresses that she is tired of this "defeat and repeat" pattern their lives have become. She wants to go back to the school and teach again. I am here for Snowing being the power couple they were meant to be. This whole episode was very season 1 and it really sparked a special feeling inside of me. Reminded me why Snow and Charming were part of the reason I fell in love with this show in the first place.
Finally shout out to Rumple for going super Scottish with a lullaby for his unborn child. He has Charming deliver a recording of him speaking what seems to be an old lullaby to Belle in exchange for the information about his father's accident.
Twitter: @TheVRO
Facebook: Variety Radio Online
Tumblr: Variety Radio Online
//