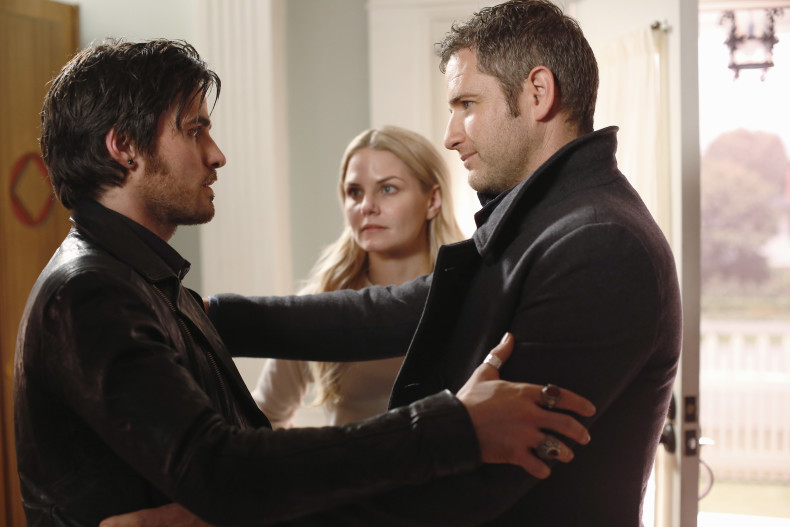 After being reunited with his brother Liam, Killian struggles with whether or not he deserves to be saved. Along the way we learn that the eldest Jones brother isn't the perfect hero his brother made him out to be.
In this episode we got a little bit of everything, a heaping pile of Captain Swan angst, some Jones Brothers (every time I type that I almost type Jonas Brothers, old habits die hard guys…maybe I'll call them the JoBros just for nostalgia's sake) backstory, and Cruella being the sassy diva that she is. Could we really ask for more?
Cruella takes Henry on a little joy ride to find the Author's quill. Henry is pretty sure he spotted something in the forest so they set off on foot to try and find it. While wandering around Henry runs in to the Apprentice. He's down in the Underworld because his unfinished business is making sure Henry makes the right choice, which would be doing as he should and recording the stories not altering them to fit his own desires.
Emma and Killian retreat to their home so Killian can get cleaned up. Hook makes a comment that Hades has beat the handsome right out of him, but Emma disagrees. No one is that powerful. With a flick of the wrist Killian's injuries are gone and he's looking all shiny and new again. However it isn't smooth sailing for Captain Swan just yet. Killian is tentative to accept Emma's affections. He's so ashamed of how quickly he fell into the darkness as the Dark One, all for revenge. At this point he isn't sure that he deserves saving.
Thankfully before any more damaging blows can be dealt we're saved by the bell, I mean…the knock. The surprise visitor at the door is none other than Liam Jones. Killian is quite shocked to see his long lost brother on his doorstep. He can't imagine how Liam ended up on the Underworld, being the upstanding man of honor that he is. Killian is convinced more than ever that Hades has the game rigged so no one can leave. He's going to defeat him so he can free the two people he loves most. Liam tells Killian that everyone who has tried to defeat Hades in the past spoken of a book. Clearly since everything that resides in Storybrooke has an Underbrooke counter part, the story book is what will help them defeat Hades once and for all.
Liam pulls Emma aside for a protective big brother speech, except he's entirely serious when he says he doesn't think Emma is good enough for Killian. He believes it's her fault he ended up in the Underworld. He had the chance to die a hero and she selfishly took that away from him. Emma wonders what we all were thinking, was Liam this self-righteous when he was alive? When it comes to Killian the answer is most certainly yes.
But Liam isn't the shining star Killian has idolized him to be. Hades pays the oldest JoBro a visit. He offers him a deal steal the pages of the story book that contain his story and he won't tell Killian the real reason his big brother ended up in the Underworld.
Henry tells his family that the Sorcerer's mansion is down there, so that's probably where they'll find the book. After Snow retrieves the key from the sheriff's station, and leaves David behind to pretend to be his brother James, the heroes arrive at the house and split up to look for the book. Surprise, surprise, Liam is the first to find the book. He tears out the pages about Hades and stuffs them away in his jacket pocket. Emma still has an uneasy feeling about Liam when they find out the pages about Hades are missing. Killian can tell something is wrong but when she tells him what's on her mind he assures her that there is no way his brother would be hiding something from him.
Emma confronts Liam as asks him why he's lying to his brother, but Killian intervenes. He thinks that Emma is trying to convince Killian Liam is a villain so he won't feel like as big of a failure. He tells Emma that he's decided he won't be going back once they defeat Hades. He's going to move on with his brother. Emma knows that no matter how many times she tells him he's good enough, Killian won't believe it until he can forgive himself for the things he's done. However after Emma leaves Killian realizes she was right. He notices there is ink from the book pages on Liam's hands. The truth Liam tried so hard to keep a secret is about to come out, thanks to Captain (Long John) Silver and a group of sailors.
In flashback we learn that Liam and Killian are about to buy their freedom from Captain Silver. They've been working on his ship since their father sold them into servitude. They've finally saved up enough money to gain their freedom, all they need is a little bit more. Liam plans to enlist them in the Royal Navy. There's a singing bonus of 10 silver pieces, enough to grant them their freedom. However, Killian's resolve isn't as strong as his brother's. Captain Silver tells Liam he can leave the ship to get their commissions, but since Killian is drunk he must stay on the ship. While Liam is away Silver goads Killian into gambling away the money he had saved. The Navy commission is useless now because he doesn't have enough money to free himself. Liam tears up both their commissions and stays on the ship with Killian.
When the boat leaves port again Captain Silver ends up sailing them right into the eye of a hurricane. The King has offered a great reward for anyone who can retrieve an illustrious jewel called The Eye of the Storm. Liam and Killian lead a mutiny and overthrow Silver to help save the crew from certain death. But when Liam goes to chat a new route, He finds Hades down in the captain's quarters. He offers him deal. He'll give him the sapphire Silver so desperately sought in exchange for the souls of the men on board. All Liam has to do is lead the ship straight into the storm and Hades will make sure he and Killian survive.
When Liam tells Killian they will stay on their present course Killian rallies the men to follow Liam. He's the only person Killian would follow into a storm. When the two brothers wash ashore they're greeted by some naval officers. When Liam presents the captain with the gemstone he offers to take them to the King for their reward. Liam wants no such reward, just the chance at honor. The captain offers them both the Naval commissions they so desperately craved, on the flagship of the Royal Navy no less, the Jewel of the Realm.
Captain Silver and his crew expose Liam's secret and try to enact revenge on the Jones Brothers. Before they can throw them into the fiery chasm Hades shows up, angry he wasn't invited to the party. Since Liam held up his end of the deal, he can live. Killian on the other hand escaped his dungeon, so he has to pay. Liam stands in the way of Hades so the deity thrusts Liam off the cliff edge with a single breath. Killian tries to hold on to his brother and pull him back up, but Liam tells him he has to let go. He must pay for the terrible thing he did all those years ago. He tells Killian to forgive himself. But to Hades' dismay when Liam is falling to his doom, the fire turns to water and a ship appears. Liam's sacrifice concluded his unfinished business. The look of sheer terror on Hades' face was exactly what Killian had hoped for. That's what you get when you mess with the Jones brothers. Liam has the remaining members of Silver's crew join him on the lifeboat. Liam tells his little brother that Emma does want what is best for him, and to tell her he's sorry. He also tells his little brother that he has become more a hero than Liam could have ever hoped to be. The two brothers bid farewell as the boat carries Liam and the sailors off to a better place.
When Killian returns home he tells Emma of Liam's sacrifice. He also tells her that since everything Liam did was to make sure Killian had a future; he damn well plans to have one. Then he plants a big ol' kiss on Emma. Cue the Hallelujah chorus because Captain Swan is back.
The heroes know that there must be something important Hades is trying to hide. Henry gets the idea that he'll start doing his job as author, and recording the stories again. Hopefully that will give them some inkling into what Hades is trying to hide. As the episode closes we see just what was on the pages. Hades and Zelena have a secret past. Oh man, this should be a doozy.
Breadcrumbs: David spends most of the day pretending to be his brother and entertaining Cruella at the sheriff's station. The evil twin and the puppy snatcher are an item. Turns out Cruella caught on quite early that Charming wasn't his twin. He doesn't have nearly as much damage. She lets him in on a little secret; James harbors a lot of resentment towards David. He clearly was the favorite son since their mother chose to keep him. When these two finally meet it's going to be one hell of a reunion.
What did you think of the episode? Personally I loved it (I know you're all so shocked). I mostly loved that the flashback gave us such a key part of Killian's backstory, and now so much about his character makes sense. Killian has been fighting darkness much longer than any of us realized. I also loved that we got to see the real Liam. Showing that he is flawed like everyone else was very important. And can I just say Cruella and James, well David, was one of my favorite parts of this episode? I really hope we get some Charming backstory soon. Plus- I can't forget that kiss. Emma and Killian are back and ready to defeat Hades. Something tells me love (cough cough true love cough cough) will win out in the end.
Make sure you check back Tuesday night as Raechel and I will be chatting about the episode on Blog Talk Radio. Until next time Oncers!
Twitter: @TheVRO
Facebook: Variety Radio Online
Tumblr: Variety Radio Online
//