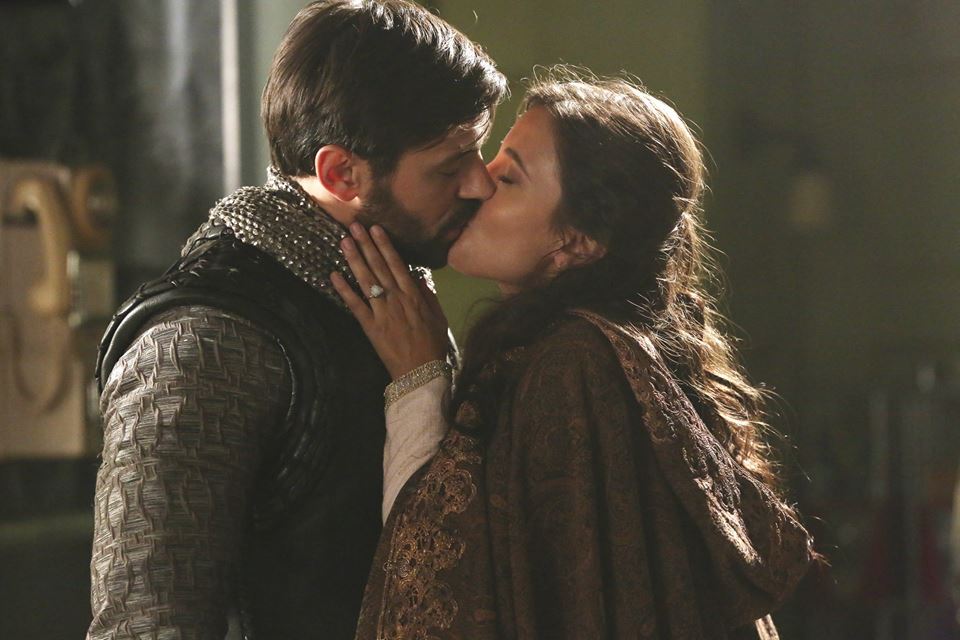 by: Emily Konopka
Once Upon a Time dove deeper into the story of Camelot with the return of Lancelot. The majority of the hour was spent in King Arthur's realm, which answered quite a few questions and revealed some major twists.
We start by establishing that Arthur and Guinevere have known each other since they were very young. Merlin (who at this point is trapped in a tree) told him that he would one day be king of Camelot and use Excalibur to mend the broken kingdom. He offers Guinevere a rose and promises that one day she will be his Queen. And as we all know that did come true. However, once he realizes that Excalibur is broken he becomes hell bent on making it whole again.
His quest for the dagger drives a wedge between him and Guinevere, so she takes matters into her own hands. She steals the Gauntlet of Merlin and uses it to find the Dark One's Dagger herself. Of course, Arthur's most trusted knight doesn't let her go alone. Along the way it becomes apparent that the two share deeper feelings than friendship. The gauntlet does lead them to the dagger, but as Rumple so loves to point out, all magic comes with a price. Rumple offers her the next best thing to having the dagger, the illusion that she does. He offers her a bottle of sand from the land of Avalon, which is said to be able to make broken things seem whole again. If she pours it over the sword it will appear whole and she'll have her husband back. She takes the deal and returns to Camelot.
However, Arthur sees her saying goodbye to Lancelot and his jealousy gets the best of him. Guinevere tells him that they found the dagger, but when he sees that she doesn't have it Arthur goes crazy. She begs him to give up his quest for the dagger so they can actually start rebuilding the kingdom. However, Arthur decides that Guinevere is the one that needs fixing, and he uses the Sands of Avalon on her. Now that she's obedient and stuff, they use another handful of the magic sand to rebuild Camelot.
So Arthur is officially crazy pants and thanks to Lancelot, Snow knows it. She tries to convince David and Regina that they shouldn't trust him, but the newly minted knight of the round table doesn't want to turn his back on his bro. Snow puts her foot down saying they won't tell anyone about the dagger until they know who can be trusted. But David runs straight off to Arthur and spills the beans.
Don't worry though, Snowing is still very much the power couple they've always been. It's all a trick to see if they can trust Arthur. Snow finds Lancelot and tells him that she needs his help hiding the dagger. He leads her to the vault, where of course Arthur has followed. Snow surrenders the dagger to him, but when he tries to summon Emma, it doesn't work. The real dagger is off being hidden by Regina. So in comes David to defend his wife and call out his new friend on his shady business. But speaking of defending spouses, Arthur stays calm even though he is captured. Must be nice to have a brainwashed wife who will do anything you wish. Guinevere shows up with a hoard of knights to free her husband. She has Lancelot thrown in the dungeon and makes sure Snow and Charming won't be a problem by blowing some sand in their faces. They're officially part of the brainwashed Camelot club, and they come back from their little adventure with news that Arthur can indeed be trusted.
When Lancelot arrives down in the dungeon he finds that he is not alone. Merida is locked away in a cell, and she tells him anyone who is an enemy of King Arthur is a friend of hers. Does this mean Arthur is the King who stole her brothers? At this point I wouldn't be surprised.
You may be asking what has Emma been up to this whole time? Well no worries, I was simply saving the best for last.
With Rumple constantly in her head, she's starting to loose it. When she almost blasts Hook with some magic he realizes there is something very wrong. He and Henry decide to take her away from the castle for the day to get her some peace of mind. Henry knows the perfect place, the stable his crush Violet's family owns. How sweet, setting up Henry's first crush to parallel Regina as a young girl. Let's just hope his situation turns out better than hers did! Hook is 50 shades of proud that Henry has a crush but Emma is concerned that he brushed it off to her. Because which is scarier right now, your mom as the Dark One or admitting to your mom you have a crush? Tough call.
Speaking of being the Dark One, Hook confronts Emma about what's been going on. She tells him that she is seeing Rumple everywhere. Well versed in nasty thoughts running amuck, Hook is determined to get Emma's mind off of Rumple. But since the Jolly Roger, his magic cure for his inner demons, isn't there they'll have to get her heart racing another way…. And before you say anything not like THAT, (well at least not yet).
Emma is discouraged when her Dark One-ness spooks the horse, but Killian assures her that this little adventure is more about her putting her faith in him and their future than being able to ride a horse. With the assurance he'll never stop fighting for them, Emma joins her boyfriend on the steed and they ride off together.
After an exhilarating ride they end up in a beautiful field of flowers, and just as Hook suspected, Rumple is nowhere to be seen or heard in her head. Now that she's shared her burden with him, there's no room in her head for those dark thoughts. Cue the most romantic Captain Swan kiss to date (possibly even the most romantic kiss period on the show). Emma finally gets her "Snowing" moment, long romantic kiss with sweeping overhead cinematography. You know? The ones that were in abundance in season one? Ah, the beauty of True Love.
This episode was all but devoid of Storybrooke, until the very end. The Dark Swan has Merida in her clutches in Storybrooke, and she has a special task for her. She takes her heart and uses it to control Merida. She wants use her bow and arrows to scare the coward right out of Rumplestiltskin. She needs her to make him Brave. Boom! Another piece of Emma's master plan revealed. But will it work?
At least now we have a small piece of the puzzle. My guess is that Emma is angry with her loved ones because they trusted Arthur when they shouldn't have. It will be interesting to see what happens to push her off the ledge into the Darkness.
Twitter: @TheVRO
Facebook: Variety Radio Online
Tumblr: Variety Radio Online
//