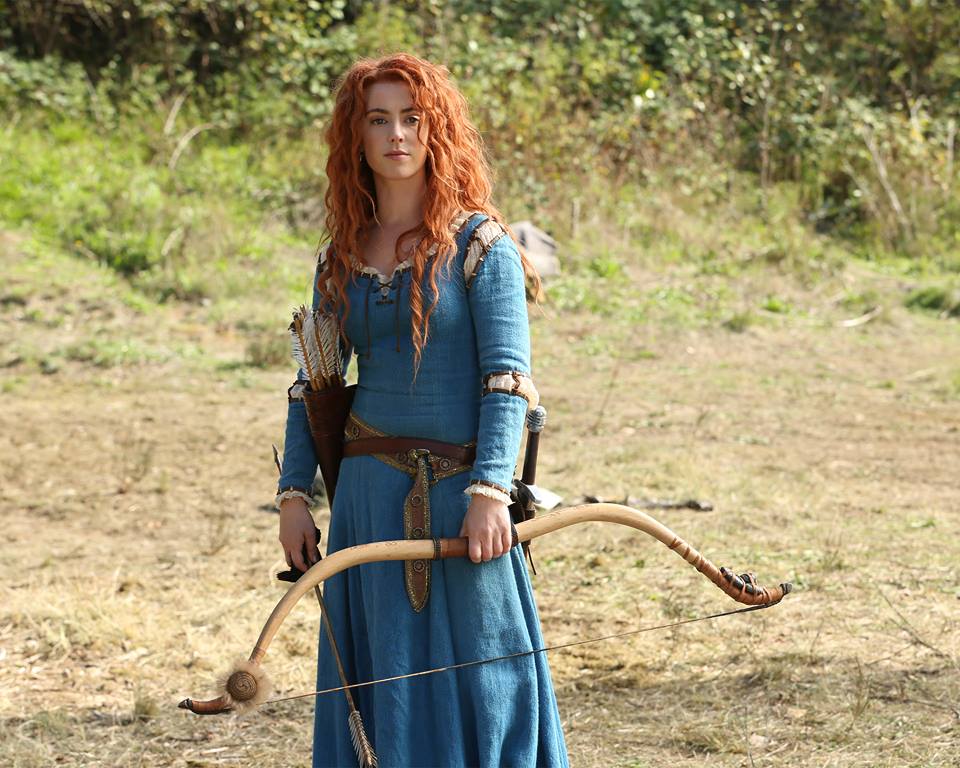 by: Emily Konopka
Merida is about to be crowned Queen of DunBroch when a familiar face shows up at her coronation. The bear crazy witch comes to collect on a debt her father owed. He went to the witch and asked for a way to ensure his kingdom's safety. Her solution was a magical helmet. The witch's demands are simple, retrieve the helm or she'll turn the entire kingdom into bears.
Merida may not have known what the helm was for, but she does know where her father had it last. He was wearing it in the battle against the southern invaders, the battle that took his life. Merida and her mother realize that the man who killed King Fergus was after the helm, and with him is where she'll find it. Before she sets off to find the magical object, she first needs to enlist some help, so she turns to an old friend. You guessed it, Mulan!
Her father hired Mulan to train Merida to fight when she insisted on coming to help fight the southern invaders. Mulan taught Merida that fighting isn't about who is stronger, but who is smarter. Except these days Mulan doesn't seem to be coping well. Last we saw her she was hot off a fresh heartbreak and had joined Robin's Merry Men. In the time since then she's become a sword for hire. Doing everything for money instead of honor.
Merida is perplexed by her friend's attitude, but she doesn't have time to stop and ask questions. For now she can live without answers if it helps her find her father's helm. Mulan and Merida return to the battlefield where they once trained together to search for the helmet. They're not alone however. Arthur and Zelena have found their way to Camelot. They too are searching for the helm, but Merida doesn't even know what the helm really does. The helmet that guarantees people will always be willing to follow you into battle no matter how dangerous.
Since neither Merida nor Arthur know where the helm is, Zelena snatches King Fergus' bow from Merida. She and Arthur will use a locator spell to find the true location of the helm. The shady duo poofs out of sight. Merida is shaken by this newfound knowledge of her father. She decides that she'll return and tell the clans that she can't find the helm, and give them a chance to search for it before they're all turned into bears. Mulan has some spunk back in her, so she decides to head off to find the witch. What she finds instead is a wolf, who really isn't a wolf at all. Mulan recognizes a human trapped in an animal's body when she sees one. With the flick of potion Ruby emerges from wolf form. But how did Ruby get back to the Enchanted Forest? Turns out Tiny didn't give up his bean growing efforts. He managed to grow a magic bean, which Ruby uses to travel back to the Enchanted Forest. She's been on a quest to find more of her kind. But before she could find any she was turned into the witches guard dog. Ruby promises that she'll help Mulan sniff out King Fergus' killer.
And who should that killer be but none other than Mr. Shady Pants himself, King Arthur. Arthur wanted the helm back in the day to help secure his rule, since he couldn't exactly show off Excalibur without people realizing he was a fraud. However when he put on Fergus' magical helm it did nothing for him, he lost his next battle. The real helm wasn't on Fergus when he died; he threw it into the sea before the battle. Merida and Arthur duke it out over the helm but before Arthur can get his hands on it, the clansmen show up as backup. She's finally won over their respect.
Merida is crowned the rightful queen of DunBroch and right on time the witch shows up. Instead of giving up the helm Merida vows to destroy it. She'd rather fight off a curse than allow anyone to have the power to lead people into a fight they don't believe in. And just like that King Fergus' wishes are complete. The magic was never in the helm; the journey to getting it back showed Merida what it takes to be a leader. As a parting gift the witch gives Merida some enchanted ale, which will allow anyone to talk to someone who has passed on into the underworld. Merida gets to talk to her father one last time and give him the goodbye she was robbed of by Arthur. After her father's spirit vanishes, Merida vows that Arthur has no idea what's coming for him.
As for Mulan and Ruby, Mulan finally admits why she was so down and out, a broken heart of course. Ruby offers her company, and asks her to come along on her quest to find more werewolves. If anything it will get her mind off of her heartache. Could Ruby and Mulan be Once's next fairytale romance? Or perhaps Mulan and Merida? What do you think?
Once Upon a Time returns on November 29th. Only two more episodes left until the winter hiatus!
Twitter: @TheVRO
Facebook: Variety Radio Online
Tumblr: Variety Radio Online
//