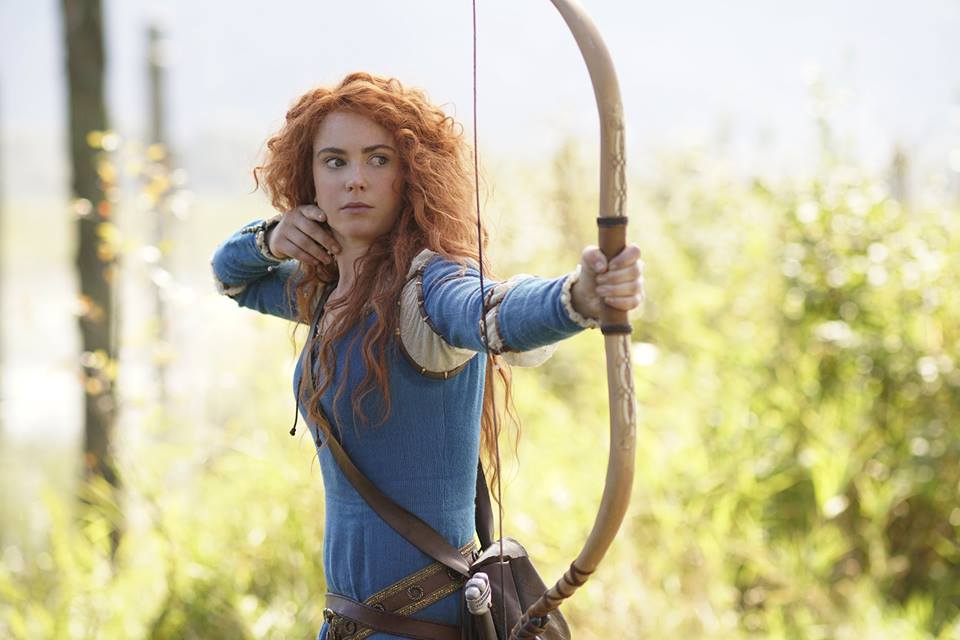 by: Emily Konopka
Merlin helps free Lancelot and Merida from Arthur's prison. Merida is still trying to rescue her brothers, but Arthur stole her wisps, so she'll have to find another way. She recognizes that Belle is the brainiac of the group so she separates her from the group and forces her to come with her. The sons of the clan leaders, you know the ones who were her husband choices in Brave, have kidnapped her brothers because Merida refuses to marry one of them. Once her father passed away they exiled her mother and kidnapped her brothers. Guess all that happy peace at the end of Brave was short lived. With the help of a little magic Merida sees that her brothers are set to be executed by the end of the day. So Merida decides that it's time to change her fate, and become a bear. Pretty sound logic if you ask me.
Meanwhile back in the present Regina tells the gang that they did find Merlin back in Camelot. Everyone is pretty confused as to why the darkness is still in Emma. Regina's solution is to revisit the magic mushroom the crimson crown from a few weeks ago. She has now mastered the spell on how to use it, convenient. Belle, however, thinks they have the answers they need right in from of them. Rumple is awake and about somewhere, and he was the Dark One for like three centuries. He's gotta know something right? The rest of the gang thinks Merlin is the one they should talk to. And the crimson crown has some rules; someone chosen by Merlin has to use it for it to work. So it's off to find Arthur.
Unhappy with everyone else's plans, Belle goes off to figure out where Emma is hiding Rumple. He makes it easy for her because he's managed to escape from Merida. He finds Belle at the library. Since he's having trouble walking, it's off to the shop to fetch his cane, and maybe some magic. Emma finds out that Rumple escaped, which proves to her that Belle is someone he's still willing to fight for. She orders Merida to kill Belle. Maybe that will spark some heroic actions in him.
While her ginger haired puppet is off following orders Emma seeks out Zelena. She needs another puppet to wield Merlin's wand. Preggo Zelena is craving onion rings, and if anyone knows what it's like to be locked up and pregnant it's Emma (ouch, right in the feels) so to sweeten her up Emma poofs them back to her house with Granny's to go bags filled to the brim with deep fried goodness. Zelena gets a thrill out of being sought out by the Dark One. Especially since she's heard the latest gossip, Emma breaking Henry's heart. That's a new level of darkness. Emma insists that Henry will get over it eventually, but Zelena knows a thing or two about parental disappointment. The sting never really goes away. Emma offers her freedom and protection from Regina's wrath if she helps her. Zelena says no dice because she's trying to turn a new leaf, and unlike Emma she doesn't mind being alone.
Merida shows up at the shop, but Rumple and Belle manage to get away. Rumple wants to drive them out of town, he nabbed some fancy powder that will negate the effects of crossing the town line, but Belle tells him that no one ever became a hero by running away. So she ditches Rumple in his car.
The rest of the Storybrooke gang has gathered with Arthur to try and talk to Merlin. However Arthur insists that he do it alone, since Merlin delivered his prophecies to him when he was alone, he thinks this spell might work the same way. LIES, LIES, LIES. Charming thinks they should give it a shot so everyone leaves. The second the room is empty Arthur torches the mushroom. Shady Arthur strikes again! He goes back out to face the others and tells them that the spell failed.
Back in the past Belle tries to convince Merida she can prove she can lead the clans without turning into a bear. She's got mad bow skills, so that should definitely be enough to stand up to those grumpy boys. Merida lets Belle know that the reason the clans don't trust her to lead is because she missed her target the one time it really mattered. Her father was being attacked and she missed so he was killed. Belle agrees to hand over the bear potion to Merida and they head up to save Merida's brothers. Except whoops Belle forgot to mention she switched the potion for water. She's left standing in front of an army of dudes in kilts, I see you Lord Mackintosh in all your shirtless glory, with no plan. The firing squad takes their aim, and just before their arrows can hit their intended targets, Merida fires one that takes out all three at once. Impressed with her skills the clansmen bow to Merida, recognizing her as the true queen.
In present day Storybrooke Belle encounters Merida in a less friendly setting. Emma has deployed an insurance policy by demanding Merida drink the insta-bear potion. Now that she's got the strength of ten men Belle is really in danger. Rumple returns to stand up to Bear-ida and before she can take a chomp at him he tossed his magic town line dust into her open and growling mouth. The powder poofs Merida back into her curly haired self. Rumple's act of faith turned out in his favor, but is his transformation into a hero complete?
In a brief flash back to Camelot, Emma makes a stop into Granny's where she finds Merlin hanging out with some candy bars. Emma has a hunch that she knows him from somewhere. Merlin gives her a little hint and Emma remembers her night in the movie theater as a child. The sorcerer warns her that since the Darkness lives inside her it is more important than ever that she listen to his warning. Leave Excalibur alone.
But present Emma clearly has thrown Merlin's warning out the window because Rumple goes to find her with Belle and Merida in tow. He says he will try to pull out the sword in exchange for Merida's heart. He knows how Dark Ones work, they're always willing to make a deal. Emma however says she was done with Merida's heart anyways so she gives it back. Rumple approaches the stone but before he tests his heroics he apologizes to Belle for everything he's put her through. Grabbing the sword doesn't instantly turn him into dust so Rumple pulls the sword from the stone. Heroic metamorphosis complete, but how long will it stay that way? Rumple gives Emma a warning, she may have Excalibur, but he's a hero now so she better bet he'll be fighting to defeat her.
Regina is a little peeved that her spell didn't work, (she practiced so hard!), when David notices something fishy. He spots the crimson crown in the ashes of the cauldron. Arthur lied to them. Gee! It's about time someone figured it out, right? It's a good thing magical mushroom totems don't burn in fire, sorry Arthur! Now they just need to find someone who was chosen by Merlin. Arthur is out, apprentice is dead (RIP), and the only one left is ah ha! The author.
Henry comes to the rescue; he's been in seclusion after the whole dream catcher incident. The magic mushroom however gets them no more than Merlin's voicemail. He warns that if they're hearing the message things have gotten worse than he feared. Not even he can help defeat the darkness now. The only one who can is called Nimue. Right before the message cuts out the Dark One is knocking on his door. What did Emma do to Merlin? That's the question Killian wants the answer too right before the episode fades to black.
Pennies for thought:
I'm not sure I'm buying what they're selling with this whole Rumple redemption arc. Unless it will pan out to be something more, I don't see how a man who spent centuries as the Dark One and a coward could all of a sudden after one heroic act end up pulling out Excalibur. Unless the fact that it's broken indicates you don't have to be as worthy of a hero to pull it out, I mean look at Arthur. For now I'm calling shenanigans.
Merida gets the line of the week: "Would you give up because a man told you you couldn't?" Yes girl SLAY. Still loving her character even though I was a tad underwhelmed by the journey into the highlands. But, it gave Belle some long overdue screen time so I guess I'll chalk it up as a win.
Other favorite moment, Emma bribing Zelena with onion rings. Because who wouldn't sell their soul for deep fried rings of yummy goodness?
Overall this was an OK episode. I'm hoping things will really kick up next week when Emma tries to join the dagger with Excalibur.
Twitter: @TheVRO
Facebook: Variety Radio Online
Tumblr: Variety Radio Online
//