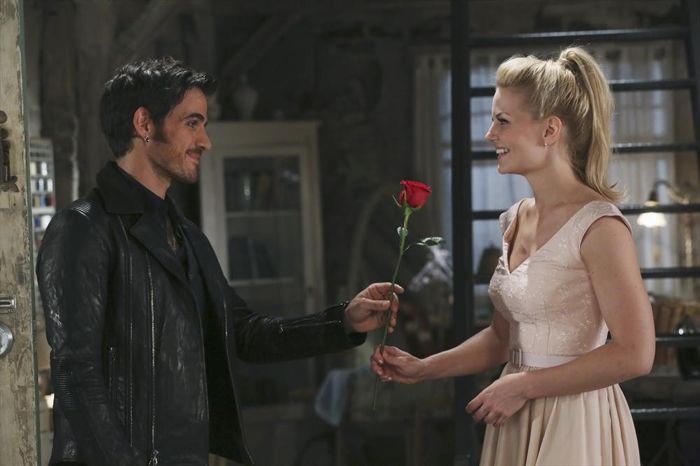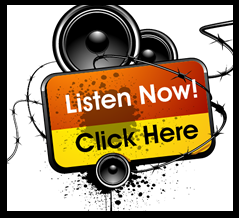 by: Emily Konopka
Do you hear that? It's the sound of Captain Swan shippers all over the world slowly melting into a puddle of feelings because Hook and Emma finally went on a real date. But when Killian turned to the Dark One for a favor, things got out of hand.
The episode opens with Henry encouraging Emma to follow her heart, because he wants his mom to be happy. For Emma, happiness means finally going on a proper date with her paramour Captain Hook. When she arrives at Granny's Killian immediately assumes that there is another snow monster to track down, but Emma surprises him when she says that she wants to ask him out to dinner. Hook is thrilled, but he asks her to let him plan their evening out.
Before Killian can plan his perfect date with Emma, he pays Mr. Gold a visit and asks him to lend him a hand…literally. Killian wants his hand back in exchange for his continued silence. Mr. Gold complies but warns Killian that since his hand is a part of the old version of himself it may influence his actions, turning him back into the ruthless pirate he once was.
Over at the Charming household David and Mary Margaret are like two parents on prom night, camera in hand and all. When Killian arrives he has a few surprises. For one he has a brand new modern outfit. When he offers Emma a rose with his left hand it takes her a minute to realize his hook is missing. With no attachment to match his moniker, Hook tells her that she can just call him Killian from now on. He also assures David that his daughter couldn't be in better hands. David responds and with one of my favorite lines of the night that he is even more worried now that he has two hands instead of one. Protective Daddy Charming isn't taking his daughter dating very well.
The good news is, Killian managed to find another restaurant in town that isn't Granny's diner. Sorry Granny, but meatloaf just isn't romantic. A cute Italian restaurant is a much better place for a date. Killian is quite the gentleman pulling out Emma's chair for her and offering to order them drinks. Emma shoots down the offer for alcohol, and to Killian's dismay it isn't because she'll find him even more irresistible after some liquid courage; it's the fact that a certain Snow Queen could crash their date. Killian grabs Emma's hands, something you can tell he's been dying to do for so long, and reminds her that he brought her out to have a good time.
Over at the bar Will Scarlet realizes that the sheriff is in the house and tries to escape the restaurant unnoticed, which of course fails miserably when he accidentally spills a drink on Emma. Killian's angry side flares up and he demands Will apologize to his lovely date. Emma decides that instead of chasing after the thief, she is going to stay and enjoy the rest of her night with Killian; slow clap for Emma Swan's character development. However, Killian is a bit horrified that what Rumple said could be true.
Our dashing pirate returns his princess home, and even lets her wear his jacket, boyfriend status achieved wouldn't you say so? Emma declares their date was a successful one, and asks Killian if he'd like to join her for some coffee inside…with her mom, dad, baby brother, and new best friend. When she realizes how crazy that sounds she declares that she needs to get her own place. Oh Emma, I would have to agree, and so would Killian. He tells her that it'll have to wait until next time. He assures there will be a next time by asking Emma out on another date. The two share a sickeningly adorable kiss on the doorstep and Emma bids her date goodnight. Hats off to Jennifer Morrison and Colin O'Donoghue for a brilliantly acted scene and episode overall. I loved seeing this lovestruck side of both of their characters.
Clearly smitten, Emma is surprised when her parents are still waiting up for her. Snow insists that Emma share every detail about their date. How was the restaurant, was there a goodnight kiss, etc. Charming on the other hand doesn't want to know every detail, especially if there was kissing. Emma's parents admit that she is clearly happy, and that Killian seems to have turned a new leaf.
Sadly for Killian, when he sees Will Scarlet trying to break into the library his pirate temper flares up again and he ends up punching Will several times. Killian finds Gold and demands he take away the cursed hand and give him his hook back. Not willing to bow to his threats any longer, Mr. Gold tells him that he has returned the real dagger to Belle, so if he wants his hook back the only way he can get it is to make a deal. Begrudgingly, Killian agrees. Satisfied to have the upper hand back, Rumple says to meet him at the docks in the morning so he can collect his favor.
That favor is that Rumple uses Killian as hit man of sorts to trap the sorcerer's apprentice with the magical hat we saw a few weeks ago. Which leads me to what was happening with Anna in the Enchanted Forest of the Past.
Anna finds Rumplestiltskin and she is all too eager to strike a deal with him. Rumple ends up tricking Anna into letting the sorcerer's apprentice get turned into a mouse (hands up if you caught that Fantasia Mickey reference). In order to unlock the hat, he needs the tear of someone who fought the temptation of darkness and succeeded. Once he collects Anna's tear he has everything he needs to unlock the hat. Somehow the Dagger falls out of Rumple's hands and Anna picks it up. She realizes the power she now possesses over Rumple and demands he send her home to Arendelle, sorcerer's hat in hand. She also discovers why Rumple wants to control the hat; if he collects enough magic with it he'll be too powerful for the dagger to control him.
Back in Storybrooke Rumple reveals that he tricked another one of our heroes. After Killian has paid his debt he gets his hook back. But Rumple is all too satisfied to reveal that Killian's hand was never cursed. It was just an excuse for Killian's old personality traits to flare up. So, according to Rumple, Killian will owe him a debt as long as he lives. To get his way Rumple is all too willing to show Emma the security tape of Killian and the poor old man he helped get rid of, which conveniently no longer contains Rumple. Not cool Rumple, not cool.
In other events Henry decides that he is going to become Rumple's apprentice at the pawnshop so he can find out about changing Regina's happy ending. Operation Mongoose is in full undercover mode.
Also, Emma confirms her suspicion that the Snow Queen is in town because of her when she finds her following her around, and double confirms it when David tells her that thanks to some census forms there is proof she never was brought over by the curse. So…who's on board with the theory that Dairy Queen was one of Emma's foster moms way back when? I am!
And finally Emma finds Will in the library passed out clutching a copy Alice in Wonderland. He also had a page about the Red Queen in his pocket. So it appears Will is trying to find a way back to his ladylove in Wonderland.Emma seems more than happy to keep the thief locked up for crashing her date. Note to Will Scarlet: don't mess with Emma Swan's dating life.
What did you think of the episode? Let me know on Twitter! And make sure you tune in to The VRO Monday at 9/8c when Raechel, Keisha, and I chat about the episode live. Hope to see you all there!
Twitter: @TheVRO
Facebook: Variety Radio Online
Tumblr: Variety Radio Online
//