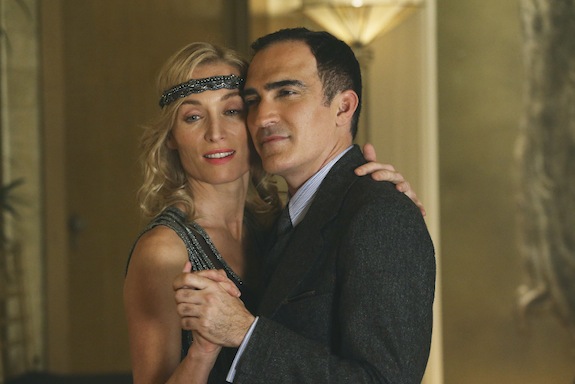 by: Emily Konopka
Once Upon a Time took a trip to a land of perpetual speakeasies and flappers to reveal how Cruella went from a doe eyed blonde to a rage-induced villain with monochromatic hair. And as it turns out, the song was right when it said, "she ought to be locked up and never released."
Cruella's story starts off like many of the other villains, with a parent showing an incredible lack of understanding of how to treat a child. Mommy dearest uses her prized Dalmatians to terrorize young Cruella. Not to mention she decides to lock Cruella away in the attic, without anything to entertain herself other than a handful of books, for the majority of her life. One day a man, the Author, comes knocking at the De Vil residence claiming to be a journalist looking for a good story to tell. He sees that Mamma de Vil has three portraits of three different men hanging on the wall; they're of her three husbands. When the Author asks about how she came to have so many husbands Mrs. De Vil tells him to go start thinking up his own stories rather than exploiting other peoples'. However Cruella heard the whole encounter, and offers her own story up to the Author, so long as he can spring her from her ivory tower.
The Author, whose name we learn is Isaac, manages to set Cruella free and after years of solitude and silence, this blonde bombshell wants to hit the town. The two roll up to a party straight out of the roaring 20's, and Cruella dishes the dirt on her mother. Turns out, her mother is a bit more black widow than champion dog trainer. Cruella says her mother locked her away because she knows she killed off all three of her husbands. When a jazz rendition of the famous Cruella de Vil theme comes on, she convinces Isaac to dance with her. By the end of their dance the Author is a bit smitten with Miss de Vil. He tells her a magical secret, that she exists in a land that exists outside of time, and he doesn't just travel around asking for stories to tell, he travels to all sorts of realms recording stories as he goes. He proves it to her by breaking out the quill and ink, giving Cruella some diamonds to go with her ensemble.
Falling fast for the blonde beauty, Isaac offers to take his car (the famous de Vil car) and drive until they're far enough away that her mother can't hurt her again. He also helps her out by writing her some magical abilities. Cruella tells him that she must go tell her mother that she can no longer control her, and she must do it alone. She'll meet him at the hotel later so they can run off together. However this is the part where those wide eyes turn from innocent to crazy in about two seconds flat.
With her new abilities of persuasion in tow Cruella heads to her mother's house to wait for her. But her mother was already looking for her, but she instead finds Isaac. She warns him that any story Cruella told him is indeed a lie. She was born with darkness inside of her, and that darkness came out in full force when she murdered her father and her two stepfathers. Isaac doesn't want to believe that the sweet innocent girl he danced with at the party could be so horrid. But when Momma de Vil arrives back home, we find out that she was right. Cruella is waiting in the shadows for her mother to return, and when she tries to hide behind the protection of her beloved dogs, Cruella busts out her new party trick. In one of the more twisted things that has ever happened on Once Upon a Time, Cruella commands the dogs to kill her mother, then proceeds to kill the dogs for her famous Dalmatian coat.
Isaac realizes Cruella has stolen his magic quill, so he heads to her house to find her. When he arrives he sees her furiously working at the sewing machine on her new fur coat. Horrified at what she has done, he tries to retrieve the quill, but in the process his jar of ink spills all over Cruella, transforming her into the black and white haired diva we're all so familiar with. With the last remaining bit of ink in the quill the Author manages to take away the one thing Cruella loves, he makes it so she can never take another person's life again.
And that fact comes into play big time back in present day Storybrooke. Regina is set to leave for New York to rescue Robin, but before she can pack her bags she and Emma get a video message from Henry. Cruella has captured him, and says all they have to do to keep him alive is to kill the Author for her. Since Emma still is giving her parents the cold shoulder she designates them to find the Author duty, in the meantime Regina, Hook, and Emma head to the forest to look for Henry. The two former villains implore that Emma forgive her parents for what they did, but she says she can't right now. Hook even says that she was able to look past all the terrible things the two of them have done in the past, but Emma tells him the difference is that they never pretended to be wholesome and good, they were honest about who they were. Not like her parents, who portrayed an image of heroics while concealing a dark secret.
Thanks to some decoy magic from Rumple the sounds of Henry's cries for help sound like they are coming from all ends of the forest, causing the trio to split up. Rumple knows about the Author's preventative measures, so he lures Emma where Cruella has Henry cornered. Snow and Charming find out from the Author that Henry's life isn't really in danger, but of course Emma doesn't know that. However when her parents arrive it is too late. Cruella taunted Emma to the point of retaliation, and she used her magic to blast the villain off of the cliff edge. Looks like the Savior just took her first giant step over to the dark side.
What did you guys think of Cruella's backstory? Did you expect her to be so innately sinister? Make sure you tune in to The VRO Monday night at 9/8c when Raechel and I discuss Cruella's crazy backstory and also chat about Zelena's wicked comeback from last week.
Twitter: @TheVRO
Facebook: Variety Radio Online
Tumblr: Variety Radio Online
//