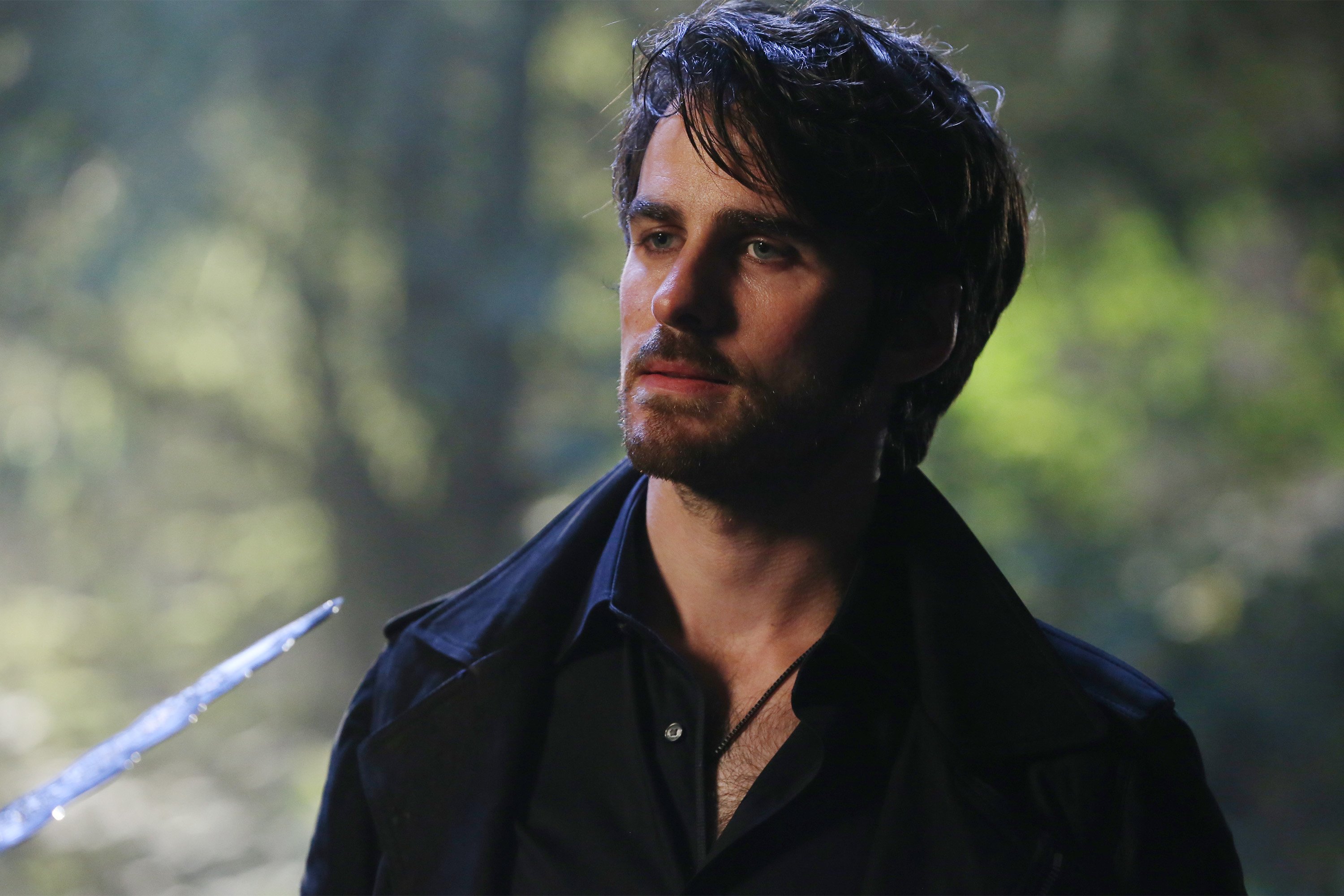 by: Emily Konopka
The gaggle of Dark Ones is out and about in Storybrooke, but to kick things off we need a little backstory about the kind of man Killian Jones really is. For that we flash back to when he was just a wee lad sailing the seven seas with his father and brother. Oh yes, we're finally getting to see the fateful night when Killian was abandoned. Killian is afraid of the storm brewing outside, so his father tells him that whenever he's afraid all he has to do is look inside and think of the kind of man he wants to be. However, Papa Hook should practice what he preaches because in the dead of night he slips away and sells his sons into servitude on the ship. Can you say father of the year?
And speaking of fathers of the year let's check in with a guy who won father of the century not too long ago. Rumple and Killian have a little forest rendezvous. Unfortunately for Rumple and everyone else, Killian lost a battle but he's going to win the war. Rumple claims all Hook's done, as The Dark One up to this point has been parlor tricks. Just wait Rumple, Hook's got the biggest trick of them all up his sleeve.
Since Emma knows what Hook has planned she and the band of heroes set off to try and stop him. Snow is surprised when Emma says they're going to have to hit him with everything they've got; this is a man she loved after all. Emma says the man she loved died back in Camelot. It's time to go in guns a blazing. The gang splits up so they can find Hook and try to stop him. Except one by one the groups get ambushed by past Dark Ones. The Dark One's don't do anything to them besides leave a mark. Rumple informs them all that they've been marked as replacements for the former Dark Ones. In order for them to stay in Storybrooke they have to send someone down to the Underworld in their place. Which means Emma's loved ones are all taking a trip down to Hades if they don't stop Hook. Rumple advises them to save their breath and spend as much time as they have left saying goodbye.
Normally the heroes are gung ho to find the solution, but this time Snow and Charming think they really might be up against a fight they can't win. They decide their best course of action is to have dinner at Granny's and spend their last moments together as a family. However, Emma is not ready to quit. She promises to meet her family at the diner, but first she's going to try and stop Hook.
Regina and Robin have the issue of a baby to deal with. They plan to keep the baby out of Zelena's hands no matter what happens to them. Regina decides that she's going to use Merlin's wand to poof Zelena back to Oz. A big green twister descends and Zelena is swept back over the rainbow. #ByeZelena? Regina has some other business to attend to, trying to talk some sense into Hook. She thinks a shared moment in their past might just make him remember the man he really wants to be.
Way back when Regina enlisted Hook to kill her mother, she put him up to a little test. If he could face a certain man and be victorious, then she'd be able to know for sure if he was ready to do what needed to be done. The thing is that man is Killian's father. It turns out Papa Hook is still kicking it and working at a tavern. Killian lingers until closing time and confronts his father. Daddy Hook looks like he's seen a ghost. Killian shares an abridged version of how he's evaded death for so long, but it's time for daddy dearest to fess up. Soon after he abandoned Killian and Liam Hook's dad was caught. He was put under a sleeping curse, hence his still youthful glow. He heard the nurse who was taking care of him day in and day out, and fell in love with her. She felt the same connection so she was able to break the curse with true love's kiss. Sadly, a few years after they were wed she died of plague. Killian feels sympathy for his father, so instead of killing him he offers to get him a letter of transport so he can flee. Killian will make Regina think he did him in. However he'll need two papers, because he has a son.
Emma has a plan to stop Hook but first she needs Excalibur so she heads to Gold's shop to retrieve it. Regina has gotten word of the Charming's plan to give up, so she wonders if Emma is going along with it. Emma asks Regina to keep the promise she made in Camelot, do whatever is necessary to get rid of the Darkness. Emma heads to Granny's to say goodbye, but she isn't able to face her family. She leaves behind a note instead. She says that this is the only thing she can do to make up for what she's done.
With Excalibur in hand Emma heads off to her and Hook's mansion, a place she knows he'll look for her. Right one cue her boyfriend shows up. He tries to convince Emma she shouldn't go through with her plan. Through some Dark One trickery he gets her to hand over the sword. Without Excalibur, Emma has no hope of saving her family. Snow finds Emma's letter but before they can leave to find her Nimue poof's the heroes down to the portal to the Underworld. Emma arrives in time to apologize to her family for failing them. Hook calls forward the ferryman to the Underworld but before he can do anything Regina throws a wrench in his plan. She brings up his encounter with his father, the one they swore they'd never speak of again. She thinks breaking up another family is not the kind of man he wants to be. Cue the flashback.
Hook has secured the letter of transport for his father and his brother. But when he arrives at his father's house he hears him giving his new son, who he named Liam by the way, the same advice he gave him as a child: remember the kind of man you want to be. Killian is rather angry with his father for one: naming his new son Liam, and two: giving out the same advice he gave when he abandoned him. He takes this as a sign he hasn't changed so he tosses the papers into the fire. With his quest for revenge recharged he does what Regina asked him to do and stabs his father, leaving Liam 2.0 without one.
The painful memory is enough to stop Hook in his tracks. Nimue uses magic to stop Emma from retaliating, but after seeing her in pain Hook calls off her attack. He takes Excalibur and calls forth the Darkness from all the past Dark Ones. Excalibur is glowing red with power. Hook turns to Emma as she realizes what he's doing. He asks Emma to take the sword and destroy the Darkness once and for all. In a heartbreaking exchange, Emma says that it should be her. Hook disagrees. He says if anyone deserves to go to the Underworld, it's him. He realizes that he was weak and gave into The Darkness. Now he's asking her to let him die a hero. He wants the heroic Killian Jones will be the man she remembers. He doesn't think he can hold on for much longer, so he gives Emma the sword. She gives him one last kiss goodbye and tells him that she loves him and he returns the sentiment. After much hesitation, Emma runs him through with the sword. She instantly transforms back into her heroic self, red leather jacket and all, as Hook falls to the ground. His heroic sacrifice is complete. As the paramedics come (Storybrooke has those?) to take away Hook's body Emma is distraught, along with the rest of the world I'm sure…I'm still crying about it. She clings to Hook's lifeless hand until it falls away by force. My. Heart. Is. Destroyed.
Gold had sent Belle away when he thought he was headed to the land of the dead again, told her to travel the world. However, Henry called her up after Hook's death to tell her what went down. She returns to Rumple and tells him that he's finally done something unselfish. She's ready to take him back into her arms.
But everything with Rumple is not what it seems. As Emma wallows in her grief (clinging to Killian's ring, again just stab me through the heart) she starts to hear whispers in her mind, the kind she heard when she was The Dark One. She heads to Gold's shop and demands he meet her there. As it turns out Gold has the Dagger in his shop. While he had Excalibur in his possession he used a vile of magic potion he had left lying around to do a little switcheroo with the sword. Instead of channeling all of The Darkness into Killian, the sword actually was channeling all the powers of the previous Dark Ones into Gold. Ta-da! Leave it to Rumple to find a loophole. At this point are any of us surprised?
Emma is PISSED. Killian sacrificed his life under false pretenses, a fact Gold is no doubt not sorry about. She blackmails him into giving her a favor. If he doesn't she'll tell Belle exactly what kind of man he his. Emma rounds up her family and tells them of her new plan. She's headed to hell, but she's not going to give into darkness. She's giving into love and taking a page from her parents' book. Since bringing Hook back requires a trade, she's going to share a heart with him, just like her parents. The whole gang, Henry included, head to the lake to catch their boat to the Underworld. Emma vows to Hook that she will always find him. (Be still by shipper heart!) It's time to #SaveHook!
So, Oncers…are you still breathing? Or are you drowning in a pool of your own tears? We now enter the long painful hiatus season. And I must say, this is the cruelest cliffhanger to date. At least we can rest easy knowing they're on their way to rescue Hook! Hats off to Colin O'Donoghue and Jennifer Morrison for their heartbreaking performances tonight. When Hook begged to die a hero, my heart absolutely shattered. It's going to be hard to top this episode, but we have the 100th episode to look forward to!
If you've been keeping up with our recap show you'll now Raechel and I predicted a lot of what went down, but there was so much more we didn't see coming! Make sure you tune in Monday night at 9/8c to The VRO for our midseason finale recap!
Twitter: @TheVRO
Facebook: Variety Radio Online
Tumblr: Variety Radio Online
//