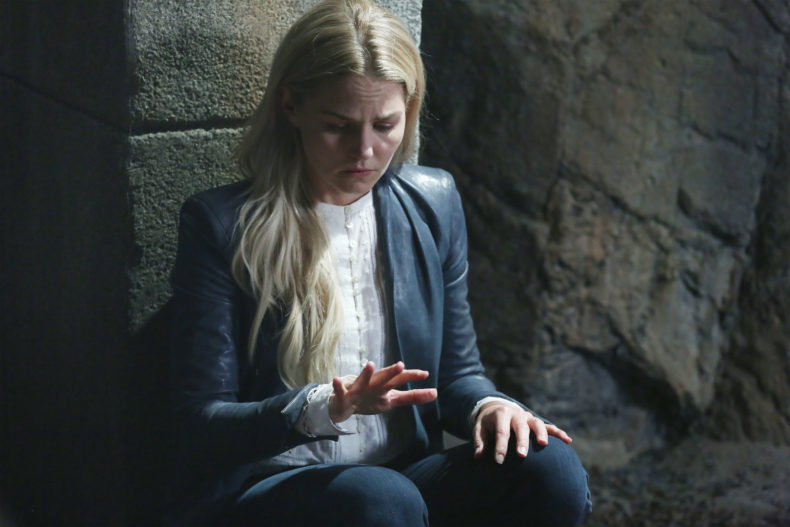 After weeks of teasing Once Upon a Time entered a whole new world, and it was a (slightly) dazzling place we never knew.
A Whole New World
Once Upon a Time's take on Aladdin and Jasmine was very different from what we've seen and with Aladdin being a Savior I was not in the least bit surprised. He's still a street rat, but instead of an accidental meet cute in the market, Jasmine seeks him out because she heard he's the best thief around. She wants his help to steal a diamond that will help defeat Jafar. He has taken control of her father the sultan and if she doesn't act fast things will get messy.
Aladdin and Jasmine find the cave of wonders and the mysterious weapon that is going to defeat Jafar. Except that it isn't the stone that is the weapon, it is Aladdin. He discovers his magic while saving their lives from the booby trapped cave. Jasmine apparently knew all along that he had magic, so she prodded him into accepting his destiny of being the Savior of Agrabah. She leaves Aladdin to ponder his fate, and of course Jafar shows up with a tempting offer. He uses his little red bird friend, who happens to be an oracle (CALLED IT, knew they were connected in some way), to show him his fate. As we know by now that fate is dying. He gives him a way out. Tells him he can have all the riches in the cave if he cuts away his magic with a magical pair of scissors. He'll avoid his death sentence, but then there will be no way to defeat Jafar.
Jafar thinks he's won Aladdin over with his promise of a brighter future, so he storms back to the palace to throw Jasmine in an hourglass, like in the movie. At this point her father is totally brainwashed. Aladdin however comes to save the day. Jafar retreats, for now, and the kingdom is safe. Instead of staying with Jasmine Aladdin parts ways with her saying they both have things they need to do. She needs to rebuild her kingdom and he needs to figure out how to be the Savior.
The Savior's Secret
Our lovely friend the Oracle turns up dead and Jasmine is found at the scene of the crime. Emma and David question her back at the station and they find out that Jasmine is looking for the Savior. Thanks to her Disney movie knowledge Emma realizes she means Aladdin. Knowing what she knows about the fate of Saviors, Emma has a bad feeling but wants to help find Aladdin to prove that maybe there is some way she can escape her fate.
So much for doctor patient confidentiality. That's what Emma was thinking as Archie barged into her home and prodded her into spilling her secret. But of course things were not all that they seemed. It was really the Evil Queen in disguise. So now that the cat is out of the bag Emma has to explain her visions to her family, tell them of what she thinks her fate is going to be, and hint to Regina that she may or may not think she is under the hood. The search for Aladdin hasn't ended but there is a bump in the road. They can't use a locator spell on Aladdin, since all of his possessions were stolen. Regina takes to her vault to whip up a potion that will hopefully lead them to Aladdin. Since Emma also has Savior magic, if she drinks the potion she'll be able to track him down.
Their search however leads them to a crypt, so it's looking like things didn't end too well for our dear street rat. Jasmine is devastated and Emma is too. Henry and Jasmine both blame themselves. They are the ones who set their loved ones on the path to becoming to the Savior. Emma tells Henry that she wouldn't trade anything that has happened. She says they shouldn't worry about how the story is going to end, they should just enjoy the middle.
However it turns out Aladdin is alive. After hearing Henry and Emma's heart to heart he reveals himself. He used the magic scissors to get rid of his magic and fled to the Enchanted Forest. He's been in Storybrooke the whole time. He gives the scissors to Emma because he wants her to have the opportunity to change her fate too. He reunites with Jasmine, but can't quite bring himself to tell her that he doesn't have his powers anymore.
All the Angst
As you can imagine Emma's secret caused a little bit of tension with her loved ones, especially Hook. He remained rather quiet throughout the episode, mostly brooding in the corner. Emma apologized for not trusting him. She also makes it clear to her whole family that she intends to accept her fate. If they can find another way to save her life than so be it, but she isn't going to take the shortcut and use the scissors. She thinks that the reason Aladdin failed as the Savior is because he didn't rely on the people he loved for support.
Killian does Emma a favor and hides the scissors under the sea so they don't fall into the wrong hands, or so she thinks. They share a cute moment down by the docks. Emma thinks the chilly night calls for some hot buttered rum in front of the fire. He'll catch up with her at home, he has to make sure the Jolly Roger is secure as there is a storm rolling in. In reality it was just a way to hide the fact that he didn't get rid of the scissors. He is still carrying them in his jacket.
Sisterly Bonding
After completely blowing the lid on Emma's secret, the Evil Queen spends the rest of the day trying to bond with Zelena. The two leave Archie to babysit and they head off to the salon. The EQ tries to convince Zelena that she cares about her because she is wicked and that she should embrace it. Zelena is afraid her daughter won't approve, but her evil sister tells her the key is to be upfront about who she is from the beginning. Then her daughter will love her for who she is, and who knows maybe she'll be just as wicked.
Thoughts
I'm still struggling to find out what their endgame is with this whole Zelena bonding with the Evil Queen scenario and where Zelena's character will go from here.
Also I think it was very on par with what we've seen so far that Killian kept the scissors. It was almost a direct parallel to what Emma did in Camelot. Going against his wishes to keep him alive. I think he would rather keep her alive and also wants the option to stay in play incase she ends up changing her mind.
I liked Aladdin and Jasmine as characters, but their backstory didn't really grab me. I'm sure once Jafar comes into play more we will dive deeper.
Twitter: @TheVRO
Facebook: Variety Radio Online
Tumblr: Variety Radio Online
//