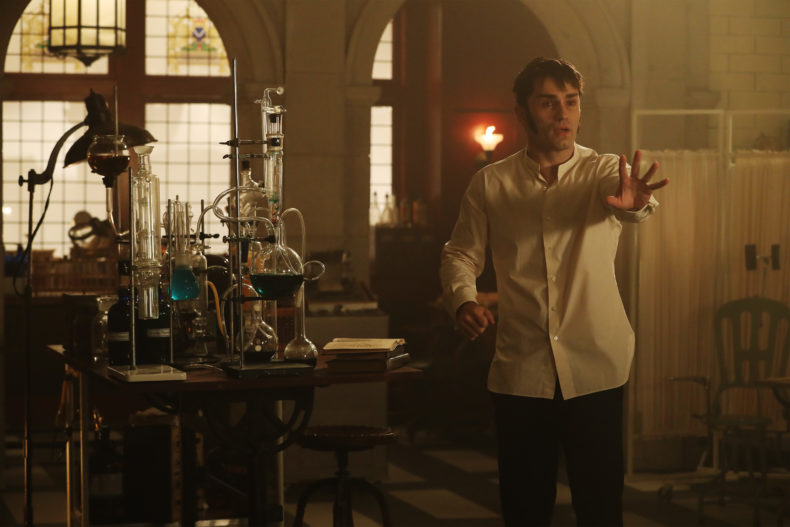 There is dark and light in everyone but not everyone is strong enough to separate them. That was the moral of this week's episode of Once Upon a Time. We dove into the back story behind Dr. Jekyll and Mr. Hyde. There were some big surprises – more on that later – but of course the least surprising thing was that Rumple had his dirty little paws all over their backstory.
In flashbacks we see the seemingly sweet and innocent Dr. Jekyll lobbying for support to develop a serum that will help a man control the beast within, you know since all men are beasts unable to control themselves and their impulses. Are they secretly in 2016? He gets turned town by the science academy to develop his magic potion, but aha maybe a little magic is exactly what he needs. In this world there is no science without magic involved. Rumple shows up because he has heard about what Jekyll wants to do and of course is interested in it for selfish reasons. With a little flick of the wrist Jekyll's potion is perfected and Mr. Hyde makes his first appearance.
Mr. Hyde goes to a party for the previously mentioned science academy to see if he can persuade them to support Jekyll's experiment. Rumple suggests he go by the name Hyde because he has been hiding in Jekyll all along. Oh, Rumple always did have a way with words. Jekyll's "friend" Mary seems quite fascinated with Hyde.
After being a smash hit at the party Jekyll realizes he can use Hyde to lobby for him with Mary. He channels him to profess his love to her. The only problem is that Mary has a thing for the bad boys and she has no romantic feelings for Jekyll, Hyde on the other hand? Well let's just say the two fall into bed with each other which makes for an incredibly awkward morning after because it is Jekyll she wakes up with. Mary is obviously terrified and Jekyll is extremely upset that she would betray him (newsflash Jekyll she was never yours to begin with). Basically Jekyll is the definition of "Nice Guy" syndrome. In his rage over the fact that she prefers his dark side he pushes her out the window and she falls to her death. Jekyll turns into Hyde and flees. Rumple is not happy that his experiment didn't turn out as planned. The serum didn't give Jekyll control over his darkness which means it's back to the drawing board for him. So now we know why Hyde has a bone to pick with Rumple.
In Storybrooke Hyde comes with the Evil Queen in hand to Gold's shop looking for a necklace. The necklace belonged to Mary and he uses it to taunt Jekyll. The good doctor has been working on perfecting the serum that will defeat Hyde, and in turn also the Evil Queen. But Hyde destroys the lab and Rumple steals the serum and puts it on his dagger. Lord knows what that will help him do.
Elsewhere Belle and Hook have been hanging out on the Jolly Roger. Hook has his belongings all packed in one chest but he doesn't want to leave Belle unprotected. He gives her a conch shell that contains mermaid magic. He has a smaller version of it around his neck. If she's ever in trouble all she needs to do is call. However Rumple comes knocking because he thinks he needs to protect Belle from Hyde. He casts a spell to keep Hyde off the Jolly Roger but at the same time it also prevents her from being able to leave.
In an attempt to make her feel better Killian suggests cracking open a barrel of rum. Too bad she is pregnant because that would have been one heck of a party. The developing friendship between these two has been one of the best parts about this season so far. Jekyll comes on board to let them know what is going on. Rumple had some kind of deal with the Evil Queen. Killian is concerned because Emma is out in the forest looking for her, so he leaves Belle with Jekyll.
Apparently that was a bad choice because as we saw in the flashbacks Jekyll really does have a dark side, and even though that dark side is currently walking around freely he still feels the effects of it inside of him. He came to the ship because he wants to get revenge on Rumple for what happened to Mary. Rumple happens to come across Hyde and he uses the dagger to stab him. The only thing is the serum Rumple stole was a fake so it does nothing. Hyde destroys the real one so it can't be used on him or the Evil Queen. Hyde now has control over Rumple's dagger so he forces him to take him to the Jolly Roger. When they arrive they find that Belle is having trouble fending off Jekyll. Since Rumple is under Hyde's control he can't get on the ship and Belle obviously can't leave it. That was a really smart plan there Rumple. Thankfully she is able to call into the conch shell and Killian swoops in to save the day. With a swift kick from Killian Jekyll ends up impaling himself on a harpoon. But that's not all folks. When Jekyll dies Hyde does too. Looks like we found a way to ensure defeat against an evil doppelganger.
This new development obviously concerns Regina. The one way for her to make sure the Evil Queen is dead for good is for her to die too. She asks Emma to promise her the same thing she agreed to do for her when she was the Dark One. If they can't find another way, do what needs to be done.
After the bodies hit the floor, literally, Belle lets Rumple have a piece of her mind. She isn't buying his new look and pretend attitude (He cut his hair because they needed a reason for Robert Carlyle to not have to wear a wig). She says he did it because he was sick of looking at the man in the mirror and seeing his old self. But deep down inside he always has been and always will be that man. Belle is standing her ground for real this time and I am singing from the mountain tops. You tell him girl!
During all of this craziness Snow has been getting back into the swing of teaching with the help of a new teacher's aid, who just happens to be Princess Jasmine. Snow is frustrated that her new class of kids from the Land of Untold Stories aren't getting the hang Newton's first law. So with the advice of Jasmine she whips out the bow and arrow and gives them a lesson Snow White would teach, not Mary Margaret. Not sure handing a bow and arrow to a 3rd grader is the best idea, but hey Snow is back to taking charge and I am all here for it. Except there is definitely something shady going on with Jasmine. After her exciting day in school she meets the oracle that we saw in the premiere out in the forest. She is determined to find Aladdin and the oracle seems more than willing to help her do it. I'm telling you, there was too much camera focus on that serpent staff for this girl not to be Jafar in disguise.
My favorite thing about the episode had to have been all the protective daddy Charming moments. We got to see Emma and her family having breakfast in her house. Charming made more pancakes than she could ever eat in a month. He's definitely not liking the fact that Emma is about to move in with her boyfriend. But if she is happy than he is happy. I am definitely here for more Emma and Charming bonding, and just quiet domestic moments like this one with the Charming family and hopefully Hook and Emma.
I must say I am kind of shocked that they wrapped up the Hyde storyline so quickly. I knew going into it that he wasn't going to be the main big bad, but it was still surprising to see that the story played out in only 4 episodes. I'm going to miss that slow drawl of his. Hopefully we'll still get to see him and Jekyll in flashbacks to the Land of Untold Stories, because I feel like there is more that they are connected to.
Next week we finally get our Aladdin backstory episode!
Twitter: @TheVRO
Facebook: Variety Radio Online
Tumblr: Variety Radio Online
//