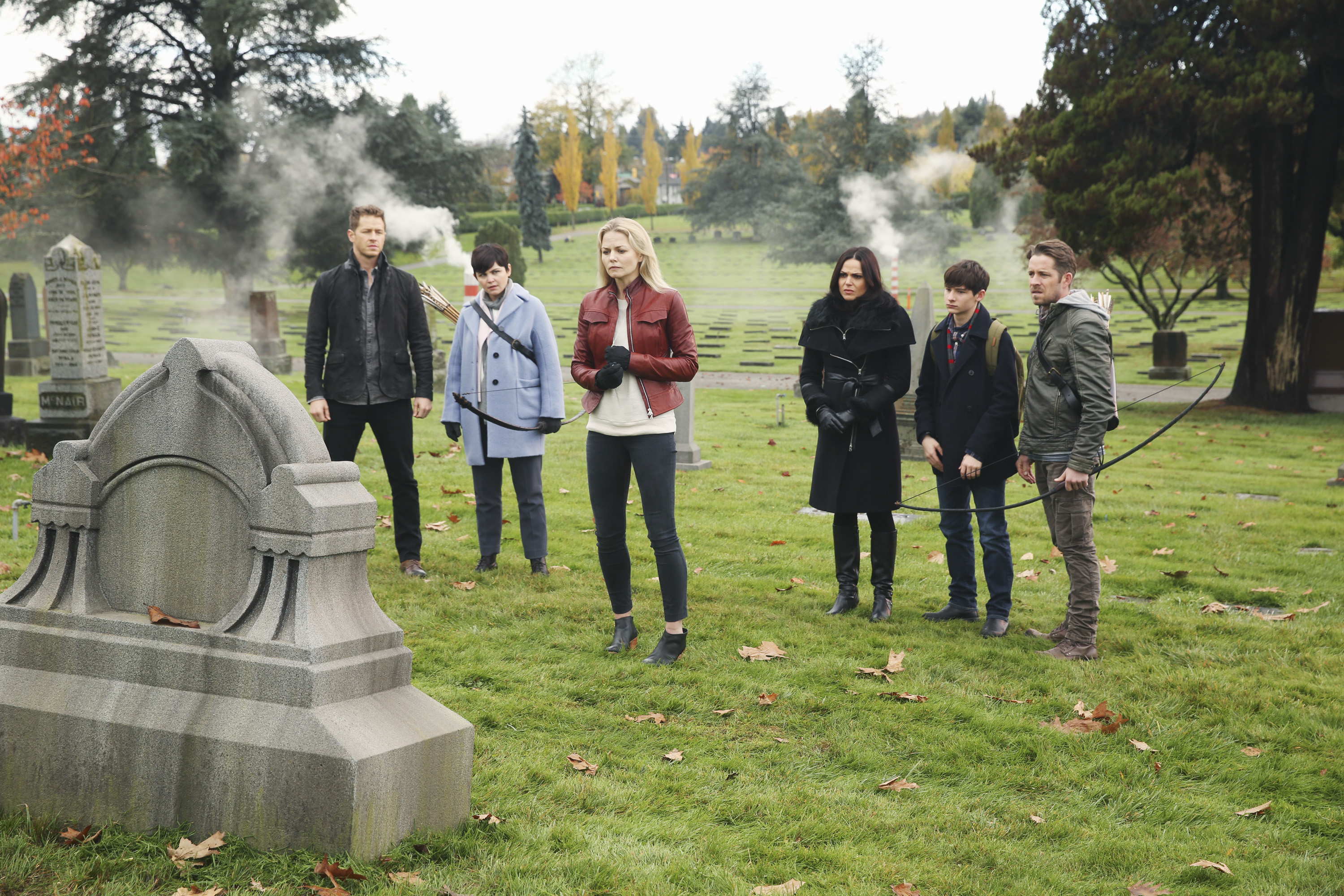 by: Emily Konopka
Once Upon a Time's 100th episode was full of old familiar faces and the cameo appearances kicked off almost immediately. Emma wakes up in her yellow bug to find Neal waiting for her. Her former flame already knows why Emma is there, to find Hook. She apologizes to Neal for not coming to save him, because she didn't know it was something she could do. He lets her know that it doesn't matter because he isn't in the Underworld. He's in a better place because he died with no unfinished business. However he came to give Emma a warning: turn back while she still can because the Underworld is not an easy place to leave once you're there and saving Hook will be harder than she thinks. Just hearing that Hook is indeed somewhere in the Underworld is motivation enough for Emma to continue on her journey.
When Emma comes to from her "long distance call" with Neal she's still on the boat to the Underworld with the rest of her family. As soon as they arrive they realize the Underworld looks exactly like Storybrooke, but everything is just a bit off. The group splits up in hopes of finding Hook as fast as possible. At Granny's the Witch from Hansel and Gretel runs the restaurant, offering things on the menu such as gingerbread or children. Another familiar face pops up in an unexpected way. David's twin brother James manages to briefly trick Snow into thinking he is her husband. But James scurries off before he can finally meet is twin face to face. That's one reunion I can't wait to see. With no sign of Hook Rumple decides he's going to move things along by doing things his way. He knows of something in his shop that will help speed things along.
Regina is off looking for help when she finds out her mother is looking for her. Regina's reunion with her mother is happy at first, but it doesn't take long for Cora to get back to her old tricks of manipulation. She warns her daughter to leave the Underworld, she's arranged for a boat to take her Robin and Henry back. When she realizes Regina is hell bent on staying (pun definitely intended) she threatens to do something drastic. Turns out in the Underworld you're in an in-between state. You either finish your unfinished business and move on to a better place, or you eventually end up in a worse place. Cora threatens to cast Regina's father down into the fiery pit, dooming him to an eternity of suffering, unless Regina leaves on the boat.
Speaking of parental reunions in this anti-Storybrooke who else would run Gold's Pawn Shop than Peter Pan? Pan makes it clear that he has every intention on getting back to the land of the living. He threatens that one of the people who made the journey down might not make it back if he has his way. He offers Rumple the thing he was searching for as a show of good faith. My guess is this isn't the last we've seen of Rumple Sr.
In a series of flashbacks we get a look at Regina's birthday. The one present she wants is Snow White's heart on a platter. Papa Mills is convinced that Regina needs to give up her quest for vengeance to truly be happy (now where would we all be if she would have listened?). When she won't listen to him he decides he needs to call forward the one person who has always been able to get through to her, Cora. He has the mirror summon Cora, but everything is okay because she's trapped in the looking glass right? Wrong. When Henry's conversation with Cora goes nowhere he leaves to go find Snow White and then Cora discovers that she is no longer trapped in the looking glass. She wastes no time in tracking down Snow White herself, and with the help of a glamor spell is able to snatch her heart and bring it to her daughter.
Cora gives Regina the one thing she's always wanted but it doesn't go as planned. Henry swapped Snow's heart with one from Regina's stash. To keep her father from meddling again she shrinks him so he's small enough to fit in a box. But Cora gets the last laugh. When Regina orders the magic mirror to drag her mother back into the looking glass Cora snatches the box away from Regina causing both her mother and father to fall into Wonderland.
After finding out Regina's ultimatum Emma tells her that she should leave while she can. Gold however gives them another option. Since they can't seem to find where Hook is, they'll just have to ask him. Then maybe they can all make that boat back. The object Gold procured from his father was the same object Merida used to speak to her father from beyond the grave. All they have to do is find Hook's grave in the cemetery, everyone in the underworld has one. Emma uses the magical item to see where Hook is but what she sees doesn't reassure her. A beaten and bloodied image of Hook appears, but he can't hear anything Emma is saying to him.
Now that it's apparent finding Hook is going to be more complicated than they originally thought, Regina knows she can't leave now. When she confronts Cora telling him to spare her father her mother doesn't listen. But when the fires below come to drag Henry down it doesn't work. Suddenly a brighter light at the end of the tunnel appears. Henry Sr. realizes in that moment what his unfinished business was. By convincing Regina to stay and fight for her friends she finally did what he always hoped she would. After a quick meeting with his grandson, Henry Sr. is able to move on to that elusive better place. In a call back to the pilot, once her father is gone the clock begins to tick again.The heroes have now realized that the people down there can be saved, which now means their mission (dubbed operation Firebird by Henry) is about a lot more than just saving Hook.
Henry's redemption is bad news for Cora. She was acting under direct orders from Hades to make sure Regina left the Underworld. Hades doesn't take it lightly that one of his lost souls has moved on. As punishment he transforms Cora back into the peasant she once was and orders her to mill flower for the rest of eternity. This dude is devilishly charming and downright cruel. I can tell already that he's going to be loads of fun.
So what did you think of the 100th episode? For me it felt like kind of a let down. Premiere episodes on this show have a tendency to be rather lackluster, so it's unfortunate that they chose the 100th episode to be a premiere rather than a finale, which are always so dramatic and exciting. After that huge emotional cliffhanger in December this episode in a way almost didn't live up to it. I'm hoping now that a lot of the nuts and bolts of this storyline are out of the way we can move on to the action. Those final minutes with Hades were probably the best part of the episode. I will give them this; I did enjoy a lot of the reunions, especially Pan. Henry getting to meet his Grandpa was a sweet moment, and it was good to see Michael Raymond James again, even though I was never that big of a fan of Neal.
Let me know what you think. Raechel and I will be discussing it tonight on Blog Talk Radio, you can find it right here on The VRO later tonight!
As for next week, we get to meet Hercules! Until then Oncers.
Twitter: @TheVRO
Facebook: Variety Radio Online
Tumblr: Variety Radio Online
//