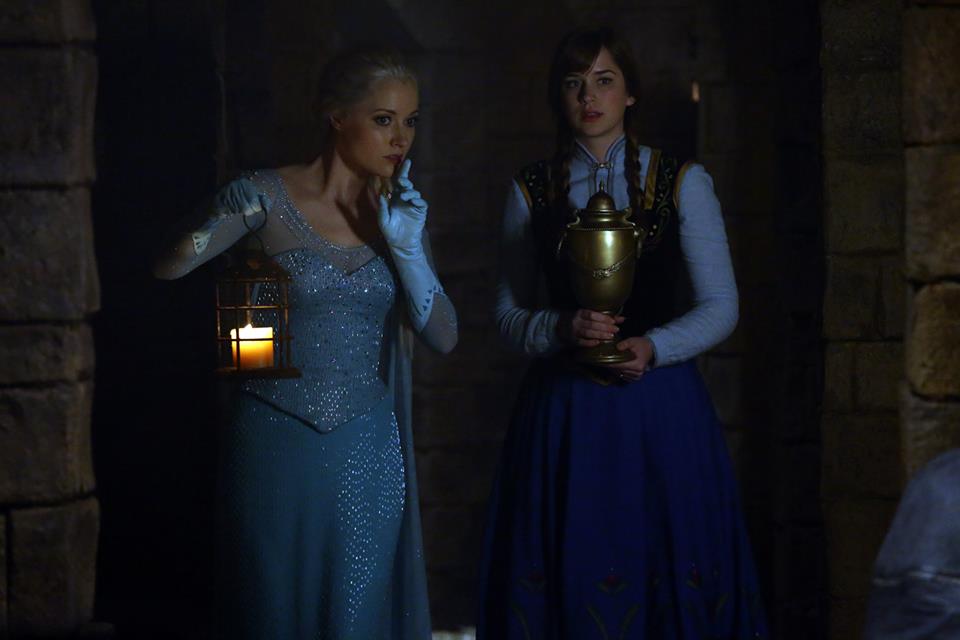 by: Emily Konopka
With no new Once Upon a Time this week, thanks to the AMA's, the gods of ABC blessed us with two glorious hours of Once Upon a Time last week.
So, in case you're feeling a bit 'Lost' without a new episode tonight, I decided to take a trip down memory lane and talk about the highlights of the two hour tale.
To refresh your memory here's what went down with our favorite fairytale friends.
In Arendelle the Snow Queen tried to pit Elsa against her sister. We were led to believe that Elsa had sided with her aunt, but really it was all a ruse. The two sisters have a stronger bond than Auntie Ingrid anticipated. Anna and Elsa come up with a plan to get rid of their aunt, all they'll need is to find the urn. Should be easy right? In Anna's days of childhood loneliness she explored every nook and cranny of the old castle so she spear heads the search. With her fiance and sister in tow the princess brings them to the mysterious east wing of the castle. Anna gets a surprise when she opens a wardrobe to find a frozen Hans and conveniently, the urn.
Things seem to be going according to plan until Anna gets the bright idea to ambush the Snow Queen down in the dungeon. Turns out that she had a back up plan in case Elsa didn't turn on her sister. Ingrid happens to be carrying a piece of the mirror that resided in her bedroom as a child and, after quizzing her niece in Norse mythology, casts the spell of shattered sight on her.
Feeling all doom and gloom, Anna finds her sister in the ballroom. Elsa is very confused when Anna doesn't get overly excited about the feast of chocolate she has prepared for her sister's return. Good call there Elsa, there is obviously something wrong if a table full of chocolate doesn't get you excited. Anna unleashes a whole pot of repressed emotions on her sister. Anger over being ignored for so many years, distain for feeling like she had caused her sister to turn her away. Ingrid tells Elsa that this is Anna's true self coming to the surface and the only way she'll be happy is if she gets rid of her sister. But Elsa loves her sister too much to harm her so she allows Anna to trap her in the urn. Auntie Snow Queen isn't too pleased about this so in a fit of rage she freezes over the whole castle, Anna and Kristoff included!
And as if things couldn't get worse for Ingrid, (though I'm not sure why she can't just open the urn and let Elsa out? Maybe since she has magic she would just get sucked in too?) Rumple shows up and steals the urn. He says she can have it back when she retrieves the sorcerer's hat. Ingrid makes a choice to return the hat to the sorcerer's apprentice when he tells her that the sorcerer has found the perfect third sister. He gives her a portal to our world, a place where he says her perfect sister will exist someday soon. Ingrid takes the offer and travels to our world circa 1982.
In Storybrooke Emma has been struggling to control her powers thanks to the mind games of the Snow Queen. Henry tries to get through to her, but he ends up getting hurt in the process. This causes Emma to spiral even more out of control. So much so that she decides her best solution is to seek out the Dark One for help. Rumple assures her that there is a way to get rid of her powers, but the effects would be permanent. Emma is longing for the opportunity to be ordinary so she tells Rumple she's game. However the spell has the potential to level main street so its off to a secluded location on the outskirts of town. Emma did the Snow Queen mess with your superpower too because Rumple is L-Y-I-N-G.
The Charming clan along with Killian and Elsa have spent the night searching for Emma, and when Henry returns to tell them what happened they're even more concerned for their daughter. Thankfully Snow gets a call from Emma that went a little something like this: "Hey Mom just calling to let you know I'm going to get rid of my powers forever. K thanks bye!" Okay so that wasn't the exact conversation but you get the point. Snow and Charming are ready to let their daughter make her own decisions, but her best friend and her boyfriend have other ideas.
Killian leaves Emma and urgent message and heads straight to Gold's shop. With his favorite crocodile nowhere to be found, Killian sees Emma's handprint seared onto the cover of a book. He now knows for certain that Emma has been to see Gold so he whips out his talking phone (Killian's words not mine) and gives his girlfriend a ring, on the phone though I'm sure hoping by season's end he'll be giving her a ring of another kind. With no time to loose Killian pours his heart out into Emma's voicemail box. He warns Emma about the hat he knows Rumple will certainly use to steal her powers and in turn confesses as to why he knows such a dark secret. He tells his love that he only wanted to be a better man for her and he failed and now because of it he might loose her. Thankfully our lovestruck pirate sees a map locating where Rumple and Emma will rendezvous.
Elsa isn't too keen on Mary Margaret and David's plan to let Emma make her own decisions and do the heroic thing by giving up her magic. You see they know Emma's magic is what is drawing the Snow Queen to her, so without it she's of no use to her. Regina (who has just returned from a steamy night and morning with Robin Hood) has dropped off a locator spell that Elsa takes while the Charmings discuss the pros and cons of magic-less Emma.
When Emma arrives at the house where Rumple spent his honeymoon, the Dark One has everything in place. He tells Emma that the "spell" has been cast inside, all she needs to do is go into the room and her magic will be gone. Beginning to sense that she may be making a mistake Emma asks Rumple if he would do it. As we all know Rumple says he would always choose power because he always does the wrong thing, Emma however always does the right thing. Nice reverse psychology you got there Rumple. He leaves Emma to make her choice and finds her lover outside. He's not about to have Killian's dashing rescue ruin his plan so he casts a spell on the fence outside and it wraps its metal clutches around him.
Emma is about to open the door where the magic hat awaits but thankfully her bestie Elsa shows up just in time. She tells Emma that she doesn't need to get rid of her powers. She can control them if she learns to accept and love who she is, the good and the bad. She uses herself as an example that it can be done. Anna's love wasn't the only thing that helped Elsa get control of her powers, accepting herself was just as big a the part of the battle. Elsa reaches out for Emma's hand and in that moment Emma's power comes into check.
This is bad news for Rumple, and Killian couldn't be happier to see that his Swan didn't give up her powers. However Rumple has another secret up his sleeve. Ingrid told him the missing ingredient to separating himself from the dagger last week, and just like we all thought that ingredient involves Killian. Rumple needs the heart of someone who knew him before he became the Dark One, and Killian is the only person who fits the bill. Rumple rips out Killian's heart and proclaims that he is going to use him to get what he wants and when he's done with his new puppet he's going to kill him. Uh oh!
Once Killian is free from Rumple's clutches he rushes inside to make sure Emma is alright. Knowing that every moment with her could be his last Killian greets her with a very passionate kiss. Emma gets the inkling that something is up with her beau but he assures her he is just relieved she's okay. Emma is quite awestruck with Killian's loving gaze, if he gazed any harder he'd burn a hole through her skull.
Ingrid is quite happy that Rumple's master plan fell through. She has managed to magically link herself to Elsa and Emma with the yellow ribbons Rumple so foolishly gave back to her. Now that Emma has accepted who she truly is, the three 'sisters' can draw on each other's power. Ingrid now has enough magic to cast the spell of shattered sight on a grand scale. And that's where they left us to wait impatiently for two weeks.
So what do you guys think? Was this episode worthy of two hours? Or do you wish they would have saved the extra hour for a different episode?
Once Upon a Time will be back next Sunday when Storybrooke braces itself for the instant bad mood it's about to receive.
Twitter: @TheVRO
Facebook: Variety Radio Online
Tumblr: Variety Radio Online
//