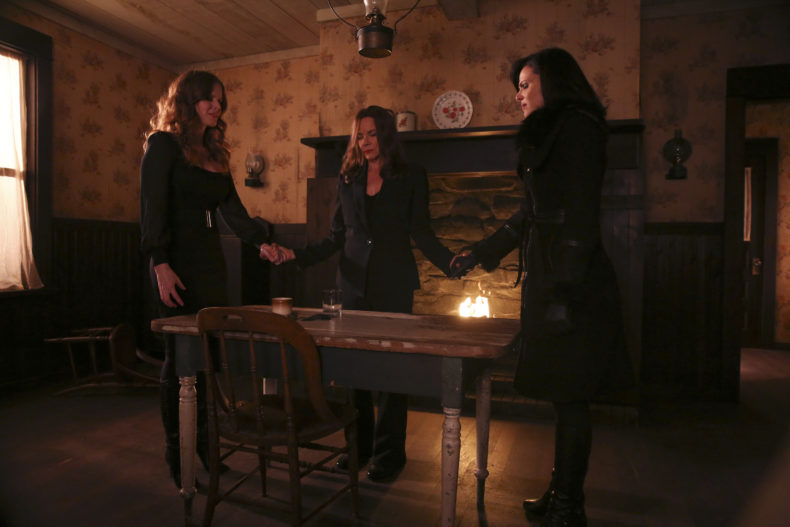 It was all about the sibling showdowns on Once Upon a Time's episode "Sisters." David and his long-lost twin James finally met face to face, and Regina and Zelena discovered a sisterly bond they didn't expect.
Regina is searching for a way to reach out to Zelena. She feels like her dalliance with Hades is going to lead down a bad path and they need Zelena on their side. She knows the only person who can get through to Zelena will be the one person she's always longed to meet, her mother. Hook helps rescue Cora from Hades' lair, and once she's free Regina fills in mommy dearest on her eldest daughter's exploits with the Lord of the Underworld. Cora agrees that this love affair between Zelena and Hades must end, so she heads to the farmhouse for the mother-daughter reunion of the century. Except it's not the first time they've been reunited.
In flashbacks we learn that Regina and Zelena weren't quite strangers when they first met. The ever-strict Cora doesn't show Regina much affection as a child, which leads her to snoop around her mother's things when she's bored. Cora keeps a powerful wand locked away, and when Regina tries to use it the magic rebounds. The only way to save her is to find someone else who shares their blood magic, and Cora knows just where to find that person.
She heads off to Oz to find her first-born daughter is being pushed around and mistreated by her adoptive father. Cora tells her that she shouldn't be ashamed of her power, and offers her a way to use her magic to help someone. She takes Zelena home with her where she is able to heal Regina. Before Cora takes her back to Oz, Zelena and Regina bond quite quickly. While they're playing Zelena is able to open the wand box, which was sealed by blood magic. Regina realizes that this means she and Zelena must be related somehow. Cora confirms her suspicions but the heartless (literally) witch realizes Regina's love for her newfound sister. Since love is weakness to Cora she immediately takes Zelena back to Oz and makes both girls forget they ever met. Mother of the year once again goes to Cora.
With all that nasty business in her past Cora has a lot to make up for. She confesses her regret over abandoning Zelena and her eldest daughter buys it, for about five seconds. She knows Regina is hiding around the corner. Cora and Regina had planned to use magical water that acts as a forgetting potion on Zelena, so she wouldn't remember loving Hades. The same water Cora used on her daughters so many years ago. With her heart restored in the Underworld Cora actually feels emotion towards her two daughters. She offers them a little piece of their past back so they can see they truly loved each other once. With their memories back Regina and Zelena realize they should put aside their differences, because family is what really matters. As if the families on this show weren't already dysfunctional. This just reached a whole new level.
Now that they're reunited Cora can sense her unfinished business has been dealt with. Except after all that she's done she realizes there's a chance she might not move on to somewhere pleasant. Her daughters watch as she crosses the bridge to the other side, and at first flames surround her. Cora tells them not to worry, she can accept her fate knowing she brought them together. But then the flames disappear and the bridge to finding peace appears. Cora is able to move on and find peace.
Now that we've covered the sweet mother and daughters moment time to move on to the troubling twin reunion that's been years in the making. James is hell bent on getting his revenge, he's not angry his mother gave him up he's mad that David got credit for everything that was supposed to be his. So as payback he locks David up and poses as him for the day. James and Cruella round up Emma and Robin and plan to cast them into the harbor, damning them to the River of Lost Souls. Except James didn't account for the fact that David would know how to break out of his own jail. With Emma and Robin safe, it's time for a twin showdown. Much to David's dismay he's not able to reason with his brother and when push comes to shove, literally, James ends up falling into the harbor himself.
The brotherly reunion was so short-lived, but it appears reconciliation wasn't in the cards for James. But what about Regina and Zelena's new found sisterly bond? Do you think it will last? I can't help but feel torn about the fact that Cora got to move on, but poor innocent Milah was cast into the River of Lost Souls. Here's hoping those people aren't lost forever and sometime before we leave the Underworld for good they are rescued.
Twitter: @TheVRO
Facebook: Variety Radio Online
Tumblr: Variety Radio Online
//