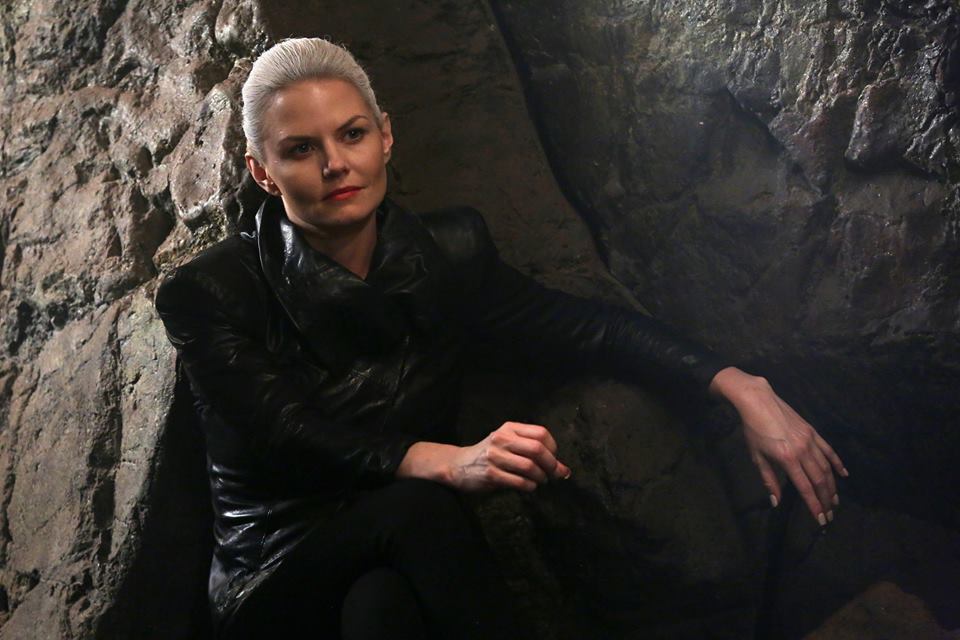 by: Emily Konopka
Emma is desperate to free Excalibur from the stone, so she steals Happy's ax to try and get the job done. When that plan fails, her inner Dark One tells her the only way she'll get that stone free is to find a hero to remove it…and she knows exactly who she needs to do it.
In Camelot, the Storybrooke gang continues to search for a way to free Merlin, and their efforts bring them a glimmer of hope. A magical mushroom that would allow them to break through a magical barrier gives them a way to talk to Merlin. Arthur and Charming go on a quest to find it. Along the way the two commoners turned royals bond over the similarities in their lives; just don't tell Hook he's lost a bro too, he has enough emotional turmoil to deal with right now.
After finding out from a pack of angry dwarves that his daughter is flaunting her darkness around town, David's tempers flare. He is frustrated that he can't do anything to save Emma. Maybe some heroics will cheer you up Dave. He and Arthur team up (again) to track down a thief who has raided the Camelot camps. After some trickery and a semi truck joust, David catches the culprit. The guilty party is one of Arthur's trusted friends. It's off to the Storybrooke jail for this one.
The new friends reach the magic mushroom but there are a few challenges in their way. Much like his adventure to Lake Nostos, he barely escapes, but this time he manages to loose the thing he was after, or so he thinks. That's all right though, because all it takes to impress Arthur is a good days effort. When they return to the castle empty-handed Arthur gives Charming Lancelot's empty seat at the round table for good measure. But hold the horses, the King of Camelot is not so noble. He tricked Charming and pocketed the magical mushroom. And to add to the shady train, Lancelot makes an appearance in the halls of the castle to tell Snow that one: he's alive, and two: there's a new villain in Camelot, and it isn't the Dark One, it's Arthur (As predicted by Raechel and I during our recap show last week I might add).
Arthur's shady business doesn't end in Camelot. Even without his memories, he knows he was tricked into letting the Dark One into his kingdom. He arrives at the jail to visit the prisoner, but he's less a thief and more of a pawn. Arthur arranged the elaborate ruse to gain David's trust. Since they can't get back to Camelot, he'll just have to build a new Camelot in Storybrooke. He asks his friend to sacrifice his life, i.e.: drink viper venom, to act as the corner stone of their new kingdom. Desperate to please his king, he drinks down the poison. It's a good thing Arthur doesn't know what security cameras are right?
And speaking of shady business Emma is up to some of her own. Killian has a bad hunch about the secret door in Emma's new house so he heads off to talk to Robin about it. But when he arrives at Granny's Emma has a takeout order with a message waiting for him: meet me on your ship. Emma tries to gain Killian's trust by showing him things can be just the say they used to be. With the snap of her fingers Emma trades her black leather for the pink dress and ponytail look from their first date. But no matter how much charm she turns on, Killian is not buying what she's selling. Her first mistake was trying to compare their relationship to Belle and Rumple. Second mistake was saying that she's better now that she is the Dark One. She boasts that is no longer scared, her walls are non-existent. Emma attempts to convince him that Rumple's transformation from coward to Dark One made him a better person, but Killian admits that he was the villain in the start of that story, Rumple was just a man trying to keep his family together (slow clap for A++ character development). He wants to know why Emma wants his trust so bad. He knows how Dark Ones work and she obviously wants something. He can tell she's playing games because she won't tell him what is behind the mysterious door in her house.
Emma insists that all she wants is his trust, but he can't give it to her. Killian knows the woman he is standing in front of is not the one he fell in love with. That's right, the big L was dropped, but in PAST tense. Emma asks Killian if he loves her, if he says no she'll let him go. He tells her that he LOVED her. With that, Emma poofs away before the look of pain can fully take over her face.
On another romantic front, Rumple's life now hangs on my a mere rose petal. But Belle found a spell in Merlin's book that should be able to save him. All she needs is something that touched him before he was the Dark One. As the last petal threatens to fall, all of a sudden the rose begins to reform. Which means he's starting to wake up. However, when Belle arrives at the shop, Rumple is nowhere to be found.
Turns out Emma's lunch date with Killian was about more than just gaining his trust. She managed to slip away with Killian's sword, the very blade he held to the neck of a cowardly Rumplestiltskin. Leave it to the Dark One to always be one step ahead of everyone else. When she awakens Rumple he is confused as to what she wants with him. Luckily for her, he is now a blank slate, no longer Dark, but not light either. She hopes to mold him into the purest hero to ever live, and then she'll have a job for him to do. Something tells me this isn't going to go over very well.
Twitter: @TheVRO
Facebook: Variety Radio Online
Tumblr: Variety Radio Online
//