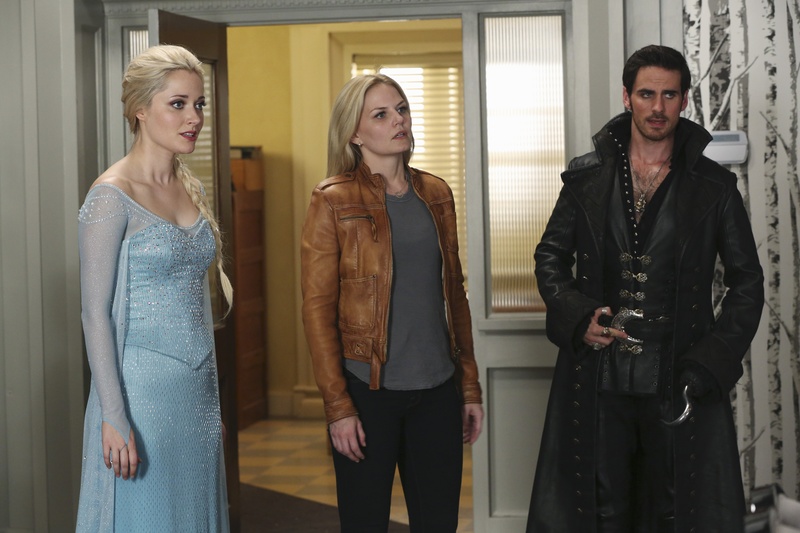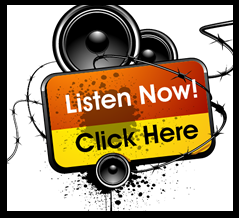 by: Emily Konopka
Hope you've got your parkas handy, because Once Upon a Time descended deeper into frosty territory this week with the official arrival of the Snow Queen.
As we discovered at the end of last week's episode, Elsa isn't the only one with icy magic. The yet to be named Snow Queen wasted no time in causing trouble for the residents of Storybrooke. Thanks to the begging of little Roland, Robin and Marian stop in to grab some ice cream with their son. The Snow Queen makes sure Marian's first experience with the frozen treat gives her more than just a brain freeze. While attending Mary Margaret's first fireside chat as mayor (where might I add the townspeople have turned quite unruly as of late with Grumpy as their rabble rousing leader) Marian begins to turn to ice a la Frozen.
Regina and Henry are chatting about the possibility of having their own secret mission to find the author of the storybook when Robin arrives to ask for Regina's help. Regina isn't sure how to help Marian's condition. When Hook and Emma arrive with Elsa, Regina instantly passes the blame onto Elsa. Elsa promises that this was someone else, and she lets everyone in on a rule all Frozen fans know, the only thing that thaw ice magic is an act of true love. The ever-dashing Robin Hood attempts true love's kiss on his wife but, to everyone's surprise (but mine), it doesn't work! David believes that this situation could be similar to Frederick's gold curse, where the ice is blocking her lips. Emma decides she's going to go hunt down whoever is really responsible for cursing Marian. She gives strict orders to her boyfriend Killian to take Elsa to the sheriff's stations away from any danger.
In the Arendelle of the past, Kristoff and Elsa find out that Prince Hans is leading an army towards the kingdom. Kristoff, against Elsa's wishes, goes to spy on Hans to see what he is up to. (Who else was excited to see the return of Sven?) He finds out that Hans is seeking out a magical urn that will be able to trap Elsa inside of it. In attempt to avoid war, Kristoff offers to go destroy the urn before Hans can reach it. Elsa agrees to let him do it on one condition: she comes with him.
In Storybrooke Hook has decided to go against Emma's wishes and seek out the danger Emma is throwing herself towards. Emma and David are combing the woods when they find someone rummaging through Robin Hood's camp. It is none other than Will Scarlet, our sassy thief friend from the short-lived spin off Once Upon a Time in Wonderland. He informs Emma and David that he thinks he knows who is behind the ice magic, after trying to run away of course. He tells them about how he went looting during the blackout and noticed something off about the ice cream shop. The power had been out for hours but the ice cream was still totally frozen. A quick trip to the ice cream store proves what Will was saying; there are no cooling systems at all in the shop, just an icy back room. In true thief fashion, Will bolts the second Emma and David have their backs turned.
Killian and Elsa have to make one quick pit stop at Mr. Gold's shop on their way to find trouble. Unconvinced that Rumple has turned a new leaf, Killian decides to call him out on it. He lets him know that he knows that dagger that Belle has is a fake, and he's willing to prove it to Belle. Begrudgingly, Rumple agrees to help Killian. Elsa gives him a lock of Marian's white hair, and he is able to transform it into its original magical form. Rumple promises them that the flurry of snowflakes will lead them to its owner.
Back in Arendelle, Elsa and Kristoff manage to find the urn, but Elsa is reluctant to destroy it because she believes it can help her find out if there are more people like her out there. Her hesitation costs them because Hans and a few of his brother's show up and threaten Kristoff's life if she doesn't hand over the urn. However when Hans tries to trap Elsa he gets a different surprise. The Snow Queen has been trapped in the urn, and she freezes Hans for referring to people like Elsa as monsters. Elsa is ecstatic to have found someone who is just like her. In an adorable line Elsa asks if the Snow Queen has ever brought a snowman to life (sadly I think this is the closest thing we'll get to Olaf). The Snow Queen drops a bombshell on Elsa when she tells her that she is her mother's sister. So I guess ice magic is genetic? Something tells me that there is more to this story.
Out in the woods of Storybrooke Elsa and Hook have managed to track down the Snow Queen. Hook pulls out his handy dandy new cell phone or as he likes to call it the "Emma button" and gets sassy with her answering machine when she doesn't pick up. Tired of waiting for her to call back, Hook decides they need to go look for Emma, but the Snow Queen has other plans in mind. She freezes Hook's feet to the ground. Since she and Elsa have so much catching up to do she wouldn't want them to go anywhere.
Elsa is confused because she doesn't remember ever meeting the Snow Queen. She finds out that the Snow Queen has been causing trouble to teach Elsa a lesson, that normal people will always turn on people like them. Snowy decides that she's going to continue that by dropping a load of icicles on Hook. Before she can do that though Emma and David show up to save the day. Strangely, our new villain seems to be very emotionally effected by seeing Emma, whom she claims not to know. I feel there is going to be a very big explanation coming soon about all of this. Emma proves that when her loved ones are in danger her magic comes out in full force. She is able to get Hook to safety, but the Snow Queen escapes in the process.
Emma points out a very important fact, she brought Elsa to Storybrooke on accident, but the Snow Queen was already there. Clearly there is something else going on other than trying to frame Elsa for a bunch of things. Speaking of things Elsa was framed for, Marian has almost completely turned to ice. Robin knows deep down that there is a reason his kiss didn't save Marian, and it's not the reason everyone thinks. It didn't work because he is in love with someone else. Regina seems so shocked when Robin admits that he is in love with her. But even though he loves her he still feels obligated to stay with Marian, talk about frustrating! Regina thinks that extracting her heart will stop the curse from killing her. When she takes her heart it is still in perfect condition. Until Regina can figure out another way to break the curse, Marian will remain frozen.
Emma isn't too happy with Killian for putting himself in danger. Killian apologizes but insists that she needs to trust him. Emma seems baffled that he thinks the reason she is backing away from him is trust. She tells him that she does trust him; it is just that every man she's ever been with has died. I hadn't thought about it that way until now, but wow…girl's got a point. She tells Killian that she can't bear to loose him too. He assures her that she has nothing to worry about because what he does best is surviving, and to seal his words he plants a super passionate kiss on her right in the middle of the streets of Storybrooke.
And what would a good episode of Once be without a little cliffhanger at the end? Rumple encounters the Snow Queen in the woods. He asks her if Emma recognized her, and if she's ready to make a deal yet. It seems that Hook was right about Rumple not being able to turn a new leaf. I'm interested to find out how exactly these two villains know each other.
Next week Hook gets his hand back and changes his clothes because Emma finally asks him out on date. I don't know about you, but I can't wait!
Twitter: @TheVRO
Facebook: Variety Radio Online
Tumblr: Variety Radio Online
//