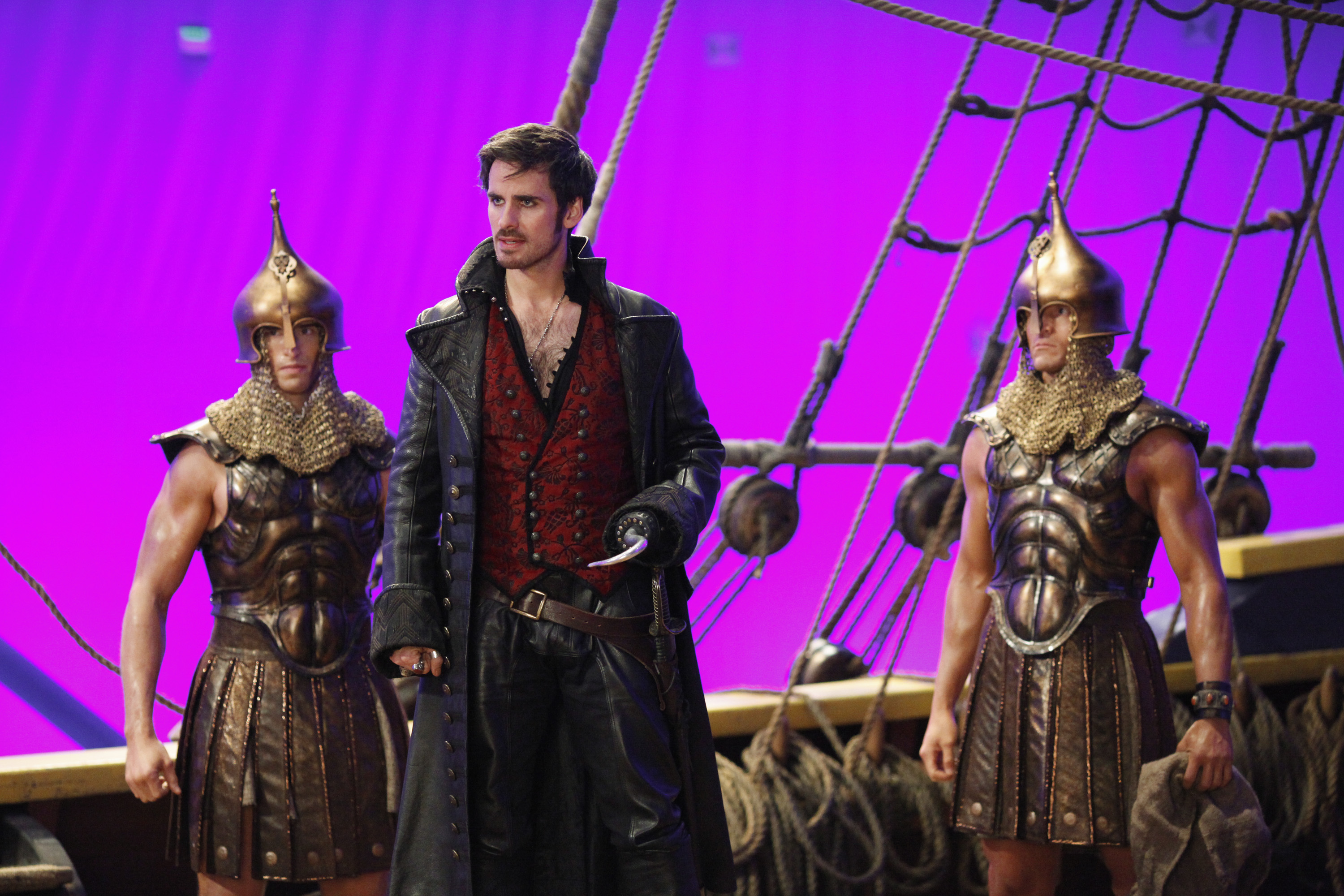 by: Emily Konopka
This week on Once Upon a Time we went back under the sea to learn about Ursula's painful past with Hook. However, in the present he offered her a deal she couldn't turn down.
With August back to his scruffy adult self; it's time for the villains to play a little game of who can make this puppet dance first? Ursula and Cruella have some old school methods, threatening him with a mere blade. Regina tells the amateurs to step aside, she knows what will get him talking, a big ol fireball. After all he did spend pliantly of time made of wood. This gets August to spill the beans that he brought his research on the Author to Storybrooke with him. Of course we all know that, it's now in the possession of Henry thanks to Marco, but the villains don't know that so off Rumple goes to search August's trailer.
The heroes have taken to tracking Regina through the woods. When the trail comes to an end they've all but given up until Mary Margaret notices a smoke signal. Regina uses some body jumping magic to relay a message through Mary Margaret. She tells them about August, plus how Rumple is back, and his plan involves more than just finding the author.
Emma, Killian, and her parents pay a visit to Belle letting her know of her husband's return. They ask her about the dagger, but she tells them that she gave it to Killian the night before. Killian assures her that after centuries of searching he'd surely remember holding that dagger in his hands. Killian is furious that Gold has managed to snake his way back into town. His former pirate starts to show when he says they should have stabbed Rumple with the Dagger when they had the chance. A concerned Emma reminds him that it would have meant his name would be on the dagger, but Killian says it would be a small price to pay to be rid of him once and for all.
And speaking of the former pirate Killian used to be, Hook is making his way back to Neverland with his crew when they hear an alluring sound. They're all transfixed by the song until Hook comes to his senses and realizes they're about to run aground. He tells Smee the only explanation is mermaids. As it turns out that mermaid is a young Ursula. Her father Poseidon has ordered her to use her singing voice to lure sailors to their deaths. Ursula's mother was killed by a pirate so he's using his daughter to get revenge by making her use the gift her mother taught her for evil, at this point are we surprised she turned out a villain?
Wanting to be free of her father's revenge plot she steals a land-walking bracelet from Daddy Sea King's vault and makes her way to port where she runs into Killian and his crew. Recognizing the singing voice right away, Hook chats up the young mermaid. He learns of her father's revenge plot and feels sympathy for her. Her voice was able to make him briefly forget about the pain he has harbored for the last century, so he offers to give her passage to any port she desires.
When Poseidon gets word his daughter is about to run away with a pirate, he pays the Jolly Roger a visit. He offers Hook a deal, steal Ursula's singing voice so she'll see just how bad humans can really be and he'll hand over some squid ink that will help Hook immobilize the Dark One. Being a man with a code, Hook tells Ursula of her father's plan and offers her a counter deal; if she steals some squid ink for him he'll still give her passage and let her keep the one thing that she has left of her mother. But Daddy gets word once again, and when he comes to strip Hook of his chance for revenge he gets back at the Sea King by stripping Ursula of her voice. Angry with her father Ursula rids herself of her mermaid tail to take on the image of the sea goddess she was named for. Now she's more powerful than Daddy dearest, so he should start fearing her.
Back in Storybrooke Killian has decided that Emma and her parents can handle finding August while he tries to find out information about Gold's plan. He thinks if he can offer Ursula her happy ending back, she'll spill the beans on his plan. In order to get her happy ending back he's going to need the Jolly Roger back. Ursula helps him by opening a portal in the ocean and retrieving the ship.
However the Jolly Roger isn't at her former glory, she's in a bottle. Killian knows just who to ask for help, Will Scarlet (who spent plenty of time in a bottle). With the help of some magical Wonderland fungus, the Jolly is back to her full sized self. Once aboard, he removes his hook to reveal a key on the other end (nifty!) and retrieves Ursula's voice shell from his safe. There's a hiccup though, the shell doesn't return her voice. Technically it's not Killian's fault the shell doesn't work, so he's expecting to receive his end of the bargain, but Ursula says no dice. Killian goes full on pirate rage and pulls a pistol on the Sea Witch, but she quips that he shouldn't threaten a woman with eight arms when he only has one. She tosses our dear captain overboard, but thankfully Ariel happens to be swimming in the waters below and saves him.
Ariel lets him know that Blackbeard was using his ship to terrorize many kingdoms, one of which was Arendelle, so when Elsa put his ship in the bottle, Ariel happened to get swept up in the magic (strange, but if that's your story I'll take your word for it Ariel). She reminds Killian that maybe the reason villains don't get their happy endings is because they always go about it the wrong way.
Speaking of villains who go about things in all the wrong ways, Rumple knew August's past of lying, I mean he did once pretend to be Bae (man that seems like ages ago!), so he didn't even go to the trailer, he went to steal some magic from the fairies. This magic will return August to his wooden self for a bit, which will hopefully inspire some truthfulness out of him. If not that pesky lie detector will be active once again. Every lie August tells his nose grows closer to the open flames in the fireplace. August finally spills the beans that the Sorcerer trapped the Author behind a door, so the first stop for Regina, Maleficent, and Rumple is the Sorcerer's mansion. Cruella will stay and play watchdog.
While villains are on their little field trip, Emma and her parents manage to make it to Gold's cottage. Snow uses her banditry skills to knock out Cruella and just when Emma is set to free her old friend, Ursula shows up. However, Killian isn't far behind her. He tells Ursula that there is a way for her to get her voice back. Ariel has brought Poseidon through the portal so he can return it to her. In a very touching father daughter reunion, Poseidon returns Ursula's singing voice and she tells him she wants to return home with him. So one villain officially has her happy ending. Guess this means bye bye Ursula?
These pirate relapses has Killian thinking about how they haven't addressed the issue that he too was once a villain. Therefore by the storybook's standards he'll eventually lose his happy ending. This makes Emma realize that if he's afraid of losing his happy ending he must've already found it. Well duh Emma! Killian, surprised Emma hasn't realized it yet, lets her know that she is his happy ending. Cue the tears ladies and gentleman! Plus, now that he has his ship back Killian and Emma can really sail off into the sunset together!
Ursula, happy to be reunited with her voice and her father, gives Killian the information he was seeking. She tells him that Rumple wants to turn the Savior's heart black forever. Because in this world the Author can't give happy endings, that job belongs to the Savior. And speaking of the Savior she has August safe and sound back at the loft, where Regina pays them a visit. She's on an official villain mission to get the page with the door. When August wakes up he finds out Regina is really on the good side, and lets her know that they didn't find the door at the mansion because The Author is trapped in the book itself!
So, what did you think of Killian's big secret? How about that love declaration? How long until those two say those three little words do you think? Follow me on Twitter (@xemilyxmariex) so we can chat about the episode. Sadly there will be no recap show this week since Raechel is off having fun at the Eyecon: One Tree Hill convention.
Twitter: @TheVRO
Facebook: Variety Radio Online
Tumblr: Variety Radio Online
//