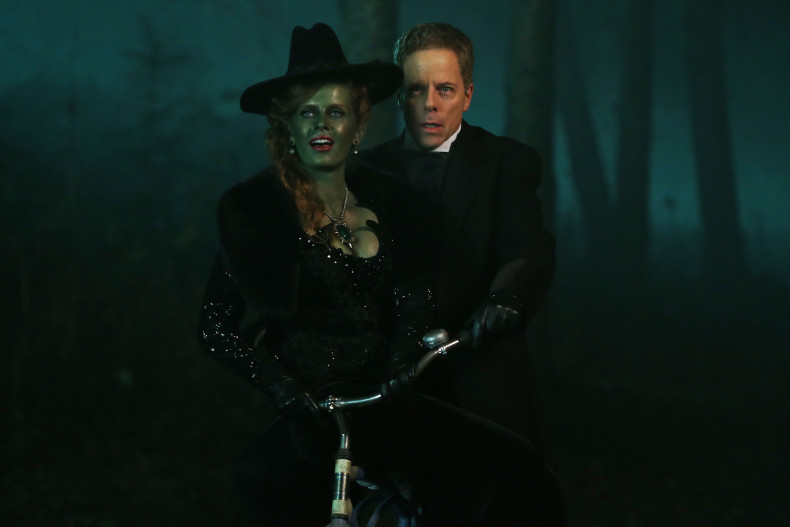 Baby, baby, baby, oh? It was all about the wee ones this week on Once Upon a Time. From Belle's baby on board, to Zelena's bundle of joy, and a ghost message to baby Neal, we hit the mother load.
Hades has Rumple working furiously to open a portal to Storybrooke. He has his eyes on something back in Storybrooke, Zelena's baby. Belle has been taking care of baby Neal and baby…Green? Let's just call her that since Robin has yet to name his daughter. Anyways Baby green and Neal are snoozing away at the convent when Belle realizes there's something off about Mother Superior. That's because she's actually Zelena. If there's one thing she picked up from her mother is her extreme ability to fool people with a body-shifting spell. Just after Zelena reveals herself a portal to the underworld opens under them, dragging Zelena, Belle and Zelena's baby down to hell.
When Belle and Zelena realize where they are Zelena gets inkling as to why. She knows that Hades is most likely after her baby. The two have a troubled past, but before we get to that Belle has to learn of her bun in the oven.
For that Belle needs to reunite with Rumple, which as I'm sure you can image is all daises and roses. Please note the sarcasm. Good ol Rumple bumple lets his wife know that she's been dragged to hell by accident, because he's trying to steal an innocent baby. Or well Hades blackmailed him into doing it. But don't worry Belle; he only did it to protect your unborn child. Since, you know, he sold away that child in a deal long ago. As you can imagine Belle is happy about her bundle of joy for about 2.5 seconds, until she realizes Rumple once again has let her down. But Rumple has some other news to share, an epiphany of sorts. Belle didn't fall in love with him because she saw the man behind the beast; she fell in love with him because he is both a man and a beast. It's the best of both words, and he can have it too. He can have both power and love. Even when he was a coward he and loved his son more than anything he longed for power. So pretty much what this means to me is that Rumple is flawed beyond repair and that he's always been the person he is now deep down inside. Belle isn't having it, thankfully, so she takes Zelena's baby and heads off to find the rest of her friends from Storybrooke.
Zelena also has the same plan. She makes it to the loft and begs Robin and Regina to help her protect her baby. She knows that Hades is after her. Robin reluctantly agrees to work with Zelena for the sake of their daughter.
And now to the reason Hades is after Zelena's baby in the first place. Back in Oz, before Zelena had the whole time travel thing figured out, she was searching for the ingredients she needed. She's a quest to hunt down the Scarecrow so she can pluck his brains. Lucky for the Scarecrow Dorothy has returned to Oz as an adult. She got word that Zelena was still alive so she came back to protect Oz. Even though her plans were derailed Zelena still has some hope to hold on to because Hades comes knocking on her door. He's heard about her time traveling plans, and he wants in. He wants to go back to the moment when Zeus got everything and make sure he's the brother that ends up ruling Mt. Olympus.
Hades helps Zelena track down Dorothy and the Scarecrow. He teaches her to ride a bike and long story short he falls head over heels for her. He's been under a curse thanks to his big bro Zeus and his only other option to breaking the spell besides time travel is True Love's Kiss. Zelena successfully retrieve the Scarecrow's brains and when she returns home, Hades is waiting with a candlelit dinner. All the romance has Zelena a little fishy. She thinks Hades is using his feelings as a way to steal her plans to time travel, because if he breaks his curse he'll be free to perform the spell for himself. Again long story short, Zelena pushes him away and Hades warns her that she'll regret it.
Belle brings baby green by the loft and is wary to trust Zelena with the child. Robin assures her that it's all right. He's going to take his daughter into the woods where he feels he can better hide from Hades. Regina and Zelena join him; Zelena is seemingly harmless at this point because she doesn't have her magic back. But that doesn't last for long because once Zelena gets her hands on her daughter she poofs them to her farmhouse, guess that whole no magic thing didn't stick.
Once Zelena realizes that her magic has hurt her child she willingly surrenders her daughter to Robin when they come looking for her. She wants to protect her from Hades, she figures he wants to use her baby for his time travel spell as revenge, no matter what happens to her.
Except what Zelena doesn't know is that Hades has no intention of harming her or her child. He brought her baby down to the Underworld so her baby could be free from the grasp of the awful heroes. Oh, and the reason Storybrooke looks like an upside-down Storybrooke? It was Hades' way of giving Zelena everything Regina had. He even tortured a Miller's Daughter for good measure. The current state his domain is a testament to his ever-burning love for Zelena. Do you guys ship it yet? What should we call them? Wicked Devil? Green Fire? I'm sure the fans on Tumblr have already dubbed their ship name; I'll have to investigate. Now that Zelena knows Hades has her back, she's all for trying to get her daughter back. This tag team is going to cause major trouble.
One last nugget in the baby department, Snow and Charming have decided they want to find a way to let baby Neal know his parents are out there and thinking of him. The Blind Witch lets them in on a little Underworld secret; you can use the phone booth to haunt people in the land of the living. They use the phone booth to sing a lullaby to baby Neal. They find out it worked because Henry has been recording stories as they happen, however when he writes them he really loses himself in his work, i.e. he blacks out and when he comes to has a whole new story written. His latest masterpiece is about how baby Neal went to sleep hearing the voices of his parents come through his unicorn mobile. Say it with me now, awwww.
So that does it for "Our Decay." I'll be honest; I was totally underwhelmed by this episode. Fingers crossed this is just a bump in the road and we'll get back on track in the next episode. Do you trust Hades? Do you think he really does love Zelena, or does he have other motives? Let me know what you think!
Twitter: @TheVRO
Facebook: Variety Radio Online
Tumblr: Variety Radio Online
//