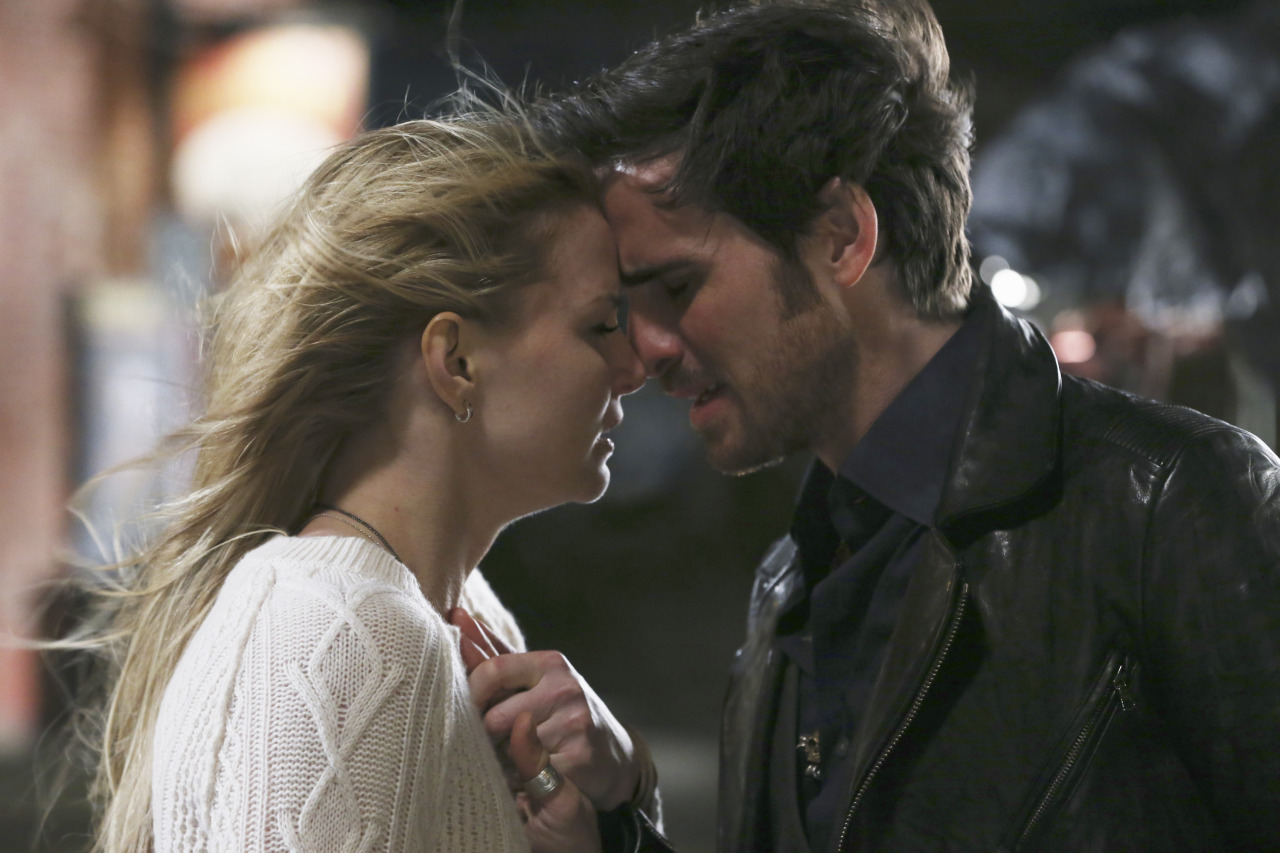 by: Emily Konopka
With the touch of quill to paper, Isaac begins rewriting the story so villains get the happy endings.
But first, flashback to 1966 where Isaac is unsuccessfully selling color TVs, enter the Apprentice who offers him the chance to be a writer, because their previous Author recently passed away (anyone catch that Easter egg? 1966 is the year Walt Disney died). Isaac jumps at the chance to finally be a writer and dives into the magical world.
Back in Storybrooke the heroes are at the mansion searching the empty storybooks for clues. August knows about the Apprentice and Hook shares the reason why he knows exactly where to find him. Thanks to the Blue Fairy, they free the Apprentice, so it's off to stop Isaac and trap him in the book.
Meanwhile Rumple is directing Isaac on how to rewrite his story. Isaac's happy ending doesn't have anything to do with the Enchanted Forest; he wants his to be in the real world. The only piece left of Rumple's story is how he wants to remember Neal. He wants his memories of his son, with a slight adjustment, a world where he did right by his son. And with that final detail the story is finished and as Isaac writes 'The End' it starts to become reality.
Henry awakes to find he is the only one left in Storybrooke, so he takes his one driving lesson as a sign he should speed out of town looking for everyone. Henry notices Isaac's new book 'Heroes and Villains' sitting out and races to find him. Isaac is enjoying his happy ending as an adored best selling author. However when Henry finds him at a book signing he has something that could ruin it all, the key to the doors in the book. Henry gets sucked into the pages of the final chapter and finds himself and Isaac in the new Enchanted Forest.
Since Isaac knows the book so well he ditches Henry to be devoured by an ogre, but he didn't count on the noble knight known as the Ogre Slayer to come to his rescue. And who might this knight be? Rumplestiltskin. In this new reality Rumple is living happily with Belle and their child. Henry still has a copy of Isaac's book with him so he uses to find Regina, who has taken on the role of bandit, and tries to convince her to find her true love Robin Hood. But that plan doesn't go over so well.
Isaac finds himself in a pickle when he gets picked up by the dwarves, who now work for the Evil Queen, Snow White. In this reality Snow's lost love is Charming's brother James, she took Charming's heart and forced him to be hers. Henry convinces Snow to let him live in exchange for knowledge of Regina's whereabouts. Ginnifer Goodwin lays on the evil real thick and it pays off, hands up if you love this role reversal.
Before Snow can apprehend Regina, Robin Hood swoops in and saves the day. Regina can't help but be smitten over her thieving competitor, but that is too bad for her because he is marrying Zelena later that day. Henry finds out that Emma does exist in this new story; Snow White locked her away in a tower on an island. So Henry goes to find the one person he knows can help him get to this island: Hook.
Meanwhile Isaac has heading to Rumple's home to warn him his happy ending is in danger. He tells him about the book and tells him the only way to keep his happiness in tact is to kill Regina.
When Henry finds the Jolly Roger he doesn't find the swashbuckling pirate hero he remembers, instead he finds a cowardly deckhand who serves under Blackbeard. So he takes matters into his own hands and knocks out Blackbeard and helps Killian commandeer the ship. When they arrive at the island Henry finds his mom, who remembers everything. Her punishment from Rumple was retaining her memories but not her magic. Which means Killian doesn't remember her at all, but that doesn't stop him from having heart eyes for the Savior.
As they are fleeing the island Emma's prison guard Lily chases after then in her dragon form, Hook and Emma work together to escape her and when they make port Emma needs to help Hook brush up on his sword fighting skills. Hook realizes from their close interactions that he and Emma are together in this other reality, but their flirty sword lesson gets interrupted by Snow and Charming.
Killian takes a leap of faith and decides to take on Charming all by himself so Emma and Henry can escape. He hopes that if this reality isn't real, whatever happens to him in it will get reversed when they return to their true selves. This means Emma has to watch her love die and in that moment Emma finally admits to herself that she is indeed in love with Killian. She shares this with Regina in hopes of convincing her to stop Robin's wedding. Her only chance at getting to tell Hook how she really feels is if Regina tells Robin how she feels and stops his wedding.
However, Rumple has taken Isaac's warning to heart and shows up to try and stop Regina. While Emma and Rumple engage in a sword fight outside, Regina heads up to the church, but is hesitant to go inside. When Rumple makes it past Emma and goes after Henry, Regina makes the choice to stand between Rumple and the boy and takes the fatal blow herself. The church bells begin to toll signaling the end of the book so Emma demands Isaac rewrite things to bring back Hook and Regina. However he has no power over the quill anymore, but when Henry picks it up it accepts him as the next author. With a little bit of Regina's blood Henry undoes all of Isaac's work with one small sentence.
Back in Storybrooke Emma goes to find Hook and make sure he is ok. When she arrives at the loft her parents haven't seem him so she fears the worst. However the sneaky pirate woke before everyone else and went upstairs to look for Henry. Overjoyed that he is alive, she tackles him to her bed and lets him know she has something to tell him. You can tell by the look in Killian's eyes he knows she wants to tell him 'I love you' but Emma's fears get the best of her once again and she settles for thanking him for sacrificing his life for everyone.
Now that he's back in town, Isaac tries to make a run for it but Snow but Charming catch him. They ask why he was so keen on setting them on a dark path all those years ago. His answer? They reminded him of his mean boss from the TV store. The golden rule of the episode: don't be a bad boss; you'll make people want to be evil! Henry and the apprentice have a little chat about the powers of the quill, and once Henry realizes he can't bring back his father with it he pulls a movie version of Harry Potter and snaps it in half because no one should have that much power.
With his happy ending unwritten, Rumple's clock is still running out. Belle finds him in the shop and tells him if he would have been happy with what they had none of this would have happened.
The town has gathered at Granny's for a 'hooray we won party', and if we've learned anything from watching this show it means things are about to get serious. Belle arrives warning everyone that Rumple's humanity is nearly gone, and once it is they are all in danger. The Apprentice has a plan: use the Sorcerer's Hat to suck all the darkness from Rumple's heart. However the hat doesn't contain the darkness for long. When it gets free it tears through the Apprentice leaving him to explain how to stop it with his dying breaths. The Sorcerer bound the darkness long ago to a human soul to contain it. That Sorcerer is named Merlin and he's the only one who can help them stop the darkness.
With the darkness looming around town, the main cast gathers outside to find it. However it finds them first. While the darkness is snuffing out the light in Regina Emma makes the decision that she needs to be the person the darkness gets tethered to. She trusts that her parents will be able to find a way once again to free the darkness from her, except this time they'll do it as heroes. Before she thrusts the dagger into the cloud of darkness she finally tells Killian she loves him. As the episode ends Emma disappears leaving only the dagger emblazoned with the name 'Emma Swan' behind.
So there it is! Emma Swan did indeed go dark like was promised in the midseason promos, however they took it to a whole other level! Who's excited to see Dark Swan next season? And how about the announcement we'll most likely be heading to Camelot? Time to start making guesses as to who will play Merlin.
Tune in to the VRO Wednesday night when Raechel and I for our season wrap up show. We'll chat about everything from how the Queens of Darkness storyline played out to that shocking final minute of the season. You don't wanna miss it! And as always keep up to date on everything entertainment on our social media pages.
Twitter: @TheVRO
Facebook: Variety Radio Online
Tumblr: Variety Radio Online
//