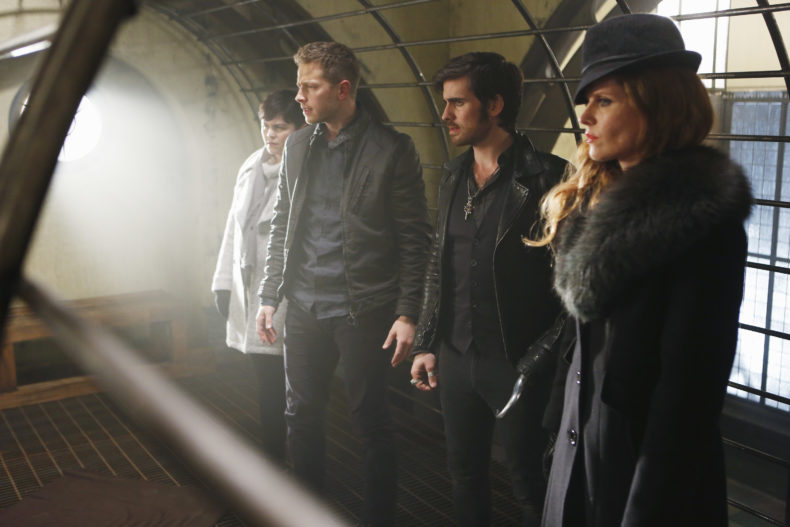 On the season finale of Once Upon a Time the door to a whole trove of untold stories was opened.
Everyone has gathered at Granny's for Robin's wake and Emma thinks it's best Killian stay outside until she can fill Regina in on the situation. However before Emma can break the news to her bursts of magic cause the ground to shake, Rumple is using the Olympian crystal to harness all of Storybrooke's magic. Concerned that Emma might be in danger Hook bursts into the diner, revealing to everyone else that he is alive and well. The best reaction by far to Hook being alive is Charming, who gives him a hug once the shock wears off. I just love how far these two have come in their friendship. Three season finales ago Charming punched Hook in the face when he walked into the room, now he's embracing him as part of his family. The Captain Charming bromance is alive and well and I couldn't be happier.
The gang goes to see what the commotion was about and Zelena deduces that Rumple has snagged what's left of the Olympian Crystal. Since Rumple can't wake Belle with True Love's Kiss, he needs as much magic as he can get his hands on to do it. Regina is gung ho to track down Rumple and handle things, but Emma thinks it might be best if she sits this fight out. Regina can tell Emma thinks the Evil Queen is going to come back. Henry doesn't like the fact that magic has put his moms at odds with each other again. So what's an angsty teenager to do besides take matters into his own hands.
Henry gets the bright idea that he is going to destroy magic. He enlists his (girl)friend Violet in his plan (oh yeah she's still hanging out in Storybrooke). He swipes the crystal from his Grandpa and sets off with Violet to somewhere they can destroy the crystal. When Regina and Emma realize Henry has run off, he texted them and spilled the details of his bright idea, they set off to track him down. But they're not the only ones. Rumple is hot on Henry's trail too, good thing Emma put a GPS tracker in Henry's phone. Except he's a smart kid (sometimes) and put his phone on a bus to Boston, while in reality he and Violet are on their way to New York. Henry tells Violet that before his Dad came to Storybrooke he was in New York looking for a way to destroy magic. The only clue he has is that he was at the New York Public Library.
Turns out the key to Neal finding what he was looking for was having the thing he wanted to destroy. Since Henry is carrying the Crystal with him magic is now in the real world. Back in a back room of the library Henry and Violet find more storybooks just like Henry's but these are filled with completely different stories, and that's not all they find. Violet spots a cup that looks an awful lot like the Holy Grail, almost like its twin. Instead of being the start of all magic, this cup is the end of it.
Regina and Emma end up tracking Henry down in New York, but Rumple beats them to it. He gets the crystal back and heads off to try and wake Belle.
While all of this has been going on the rest of the gang is back in Storybrooke. Zelena used the sorcerer's wand to summon a portal, sans twister, and all the Camelot and Enchanted Forest residents who've been hanging out in Storybrooke head back home. Before Roland heads back to Sherwood Forest with Little John he gives the tail of an arrow to Zelena to give to Regina. Zelena promises they'll bring his little sister to visit him soon. Apparently after five seasons portal jumping is no problem anymore. Once everyone is through the portal Zelena tries to seal it up but instead the portal reaches out and grabs our group of heroes and tosses them into an unknown land.
Killian, Snow, Charming, and Zelena end up on the lawn of a rather creepy looking hospital. They stumble upon a groundskeeper who is very nervous. He warns them he shouldn't be speaking to them. A strict orderly runs the hospital and he decides the Storybrooke gang needs to be locked up. The cage they're trapped in has been reinforced with some kind of magic, and the warden is even less pleasant to deal with than the orderly. He suspects the Dark One has sent them there. Snow tries to convince him that the Dark One is their enemy and that Rumple is trying to steal power to get his wife back. The warden is intrigued by Rumple's potential weakness so he departs. Soon the grounds keeper, who we find was a doctor before he landed in the hospital, comes back to help them. He promises to take the sorcerer's wand, which broke during the trip over, and mend it in hopes of sending them back to Storybrooke. It's not the best plan, but it's the only one they've got right now.
The doctor takes the wand back to his lab and is able to fix it, but the orderly finds him experimenting and forces him to drink a serum. The doctor then magically morphs into the warden, exposing that we've been dealing with Dr. Jekyll and Mr. Hyde all along. Hyde has the brilliant idea that he will get the doctor to carry out his rescue mission, however Hyde will be tagging along when they head back to Storybrooke. He's got a bone to pick with the Dark One (at this point who doesn't). Once Hyde goes back to being Jekyll he goes and rescues the Storybrooke gang. He leads them from the hospital to his apartment to fetch something. He's been working on a serum to separate the good and evil in a person. Jekyll explains that this mysterious steam punk looking world they're in is called the Land of Untold Stories. All the people there have fled from their own realms and their stories remain unfinished. Once at his apartment Jekyll successfully separates himself from Mr. Hyde. Hyde retaliates against Dr. Jekyll but before he can kill him Snow zaps him with a magic gadget that knocks him out.
Back in New York Henry and Violet don't tell anyone what they found in the library. When Henry tracks Rumple to a hotel, Rumple's excessive use of magic has causes a cloud of magic to form over the building, he ends up using the grail to destroy the crystal. It would be all good and well, but Granny has left a message with Emma telling her that the rest of their friends and family have been sucked through a portal. With no magic from Storybrooke left, they're going to be trapped there.
Rumple knows where they can look to find someone to help. The group heads to Chinatown and who do they find there but the Dragon. Turns out Peter Pan had a hand in bringing him back. The Dragon lets them all know that magic exists in the real world if they look and believe hard enough. This gives Henry the bright idea that a wishing well is the perfect place to recharge the crystal with magic. In a very Elf like fashion Henry gets up and implores the citizens of New York to believe. With the power of everyone's wishes the fountain becomes a portal, which Snow and the others emerge from.
Since Regina has been struggling with her Evil Queen instincts, she flat out admitted she hates doing good. If she goes all dark she will lose everyone she cares about, if she goes all in on being a hero more bad things will end up happening to her loved ones. Snow comes up with the brilliant (terrible) plan to inject Regina with the rest of Dr. Jekyll's serum. That way Regina can destroy the Evil Queen once and for all. Regina takes the shot and the Evil Queen separates herself from Regina. Regina takes her darker counterpart's heart and crushes it, thus ending the Evil Queen.
Once back in Storybrooke Henry and Violet reflect on their adventure together, and he finds out her dad isn't originally from Camelot. He's from a land called Connecticut, which means they'll be sticking around in Storybrooke. Henry plants a sweet kiss on Violet, with his mom's looking on. Regina jokes that "Operation Mix-Tape," which is what he referred to his latest adventure as, was a success. And speaking of sharing feelings Emma has something she'd like to tell Killian. Now that they're not facing death and everything is normal, she wants to let him know that she loves him. She may have said it half a dozen times before, but this time her walls are completely down.
Meanwhile Regina untethers the magic from Storybrooke from the crystal, and who should show up but Mr. Hyde. You see when the portal opened to bring the heroes back Rumple took it in the opposite direction. Hyde had used magic to summon Pandora's Box, stealing Belle away from Rumple. While in the Land of Untold Stories Rumple made a deal with Hyde. Storybrooke is now under his control, and he's brought some friends with unfinished stories along with him.
To close the episode we see that crushing the Evil Queen's heart didn't actually kill her. Apparently you can't kill a manifestation of your inner demons so easily. She finds The Dragon and promises that even though Regina won the battle the fight between light and dark is a war, and the queen is back.
So there we have it, season five has officially come to a close! How are you all feeling? Personally I was a bit underwhelmed watching this finale. Overall it didn't have as much wow factor as the last few finales have had. However, I am excited and intrigued by the Dr. Jekyll and Mr. Hyde story, and the concept of a land full of brand new characters with untold stories coming to Storybrooke. Hopefully over the next three months we'll get more information that will get me more excited for season 6. Overall season 5 had a lot of strong moments, I am excited to go back and watch it all as one piece and really absorb the story as a whole. Until next time Oncers, may your hiatus be as cheerful as you can make it.
Twitter: @TheVRO
Facebook: Variety Radio Online
Tumblr: Variety Radio Online
//