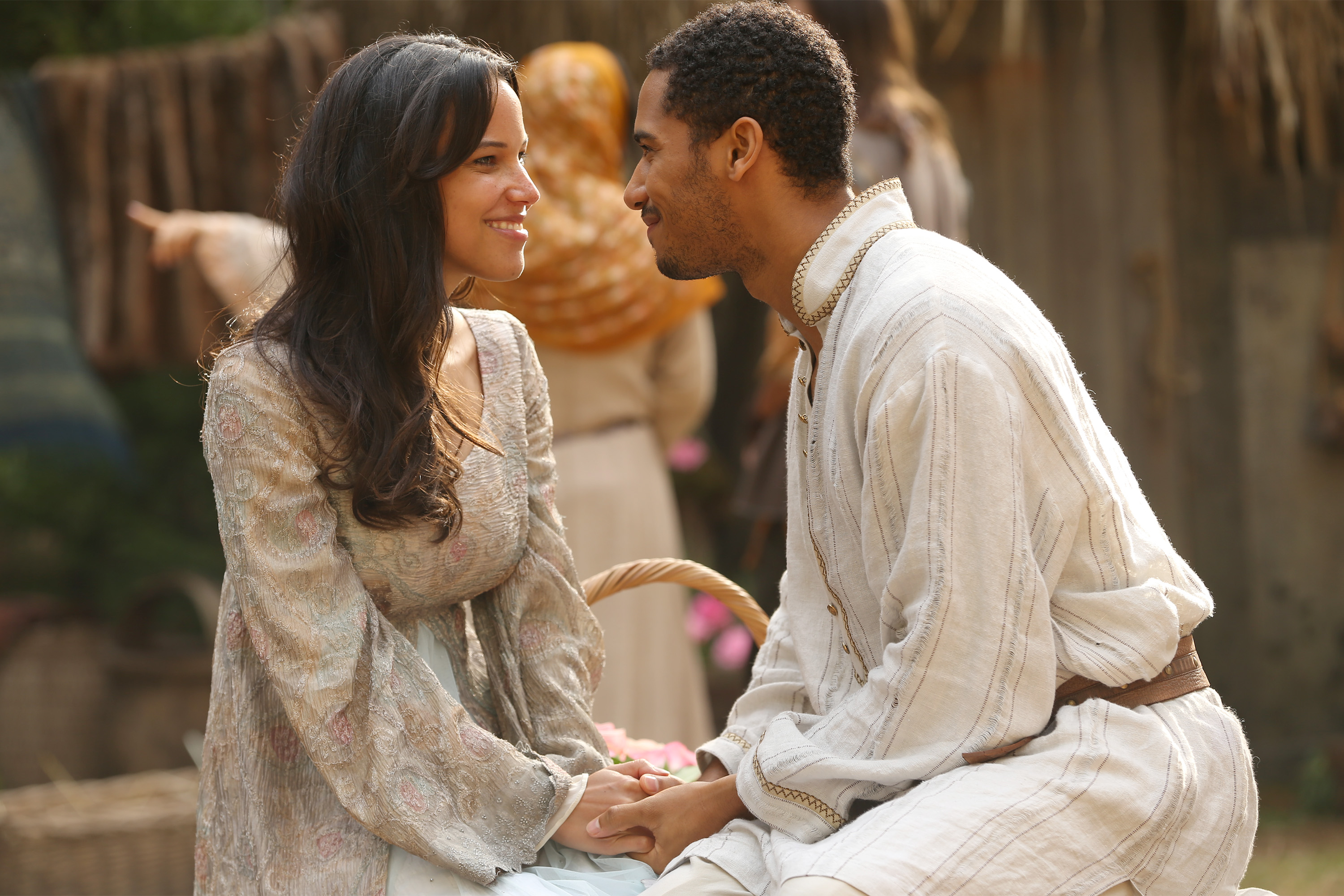 by: Emily Konopka
In Camelot way back in the day

To start off we get a small glimpse into Merlin's beginnings. He gains magical powers when he finds the Holy Grail he is able to drink from it without self-destructing. Once he drinks the water the scorched land around him turns to lush green. We find out that quite a few centuries ago Merlin was basically the town healer and granting magical requests. When a lovely maiden named Nimue comes to him he's a little bit awe struck. She asks him to plant the remnants of the flowers that grew in her village, an evil man came in and burned everything to the ground. He uses his magic to plant the flowers, and asks her to stick around to enjoy them.
Fast forward a bit and she and Merlin are blissfully in love. He wants to marry her, but there's that pesky immortality thing to deal with. He tells Nimue about the Holy Grail, but instead of having her drink from it too he decides it's better to forge it into a sword so he can use it to cut away his magic and become mortal again. Ah the things people are willing to do for true love. They end up back in Nimue's village where she sees the true carnage for the first time. She says if she had power like Merlin's she'd stomp out anyone who tried to enact evil. When they find the ground littered with cups Merlin realizes said evil masked man was on a quest for the Grail. They find their way to the flames of Prometheus, which is mankind's original spark. Merlin transforms the grail into Excalibur, but mystery hooded man shows up to cause some trouble. Nimue thinks she can take him, but she is cut down by the masked figure.
Except jokes on all of us, because Nimue appears at the perfect time to snatch death eater looking man's heart. When Merlin's attention was diverted she drank from the Holy Grail. She's drunk with the power of being immortal. He tries to bargain with her but she's hell bent on avenging her village. As she crushes the man's heart her skin instantly turns reptilian, and the first Dark One is born. She takes Excalibur and crashes it against the alter where the flame once burned for good measure, snapping it in half.
In Camelot 5 months ago
Merlin promises to help Emma force Excalibur and the Dagger to destroy her darkness. Hook isn't too pleased that there's more talking and less action going on. All Emma does instead of sleep is make dream catchers, so she may be loosing it a bit. Merlin goes to Emma and tells her that he knows what they must do to make Excalibur whole again, they must obtain a spark from the Flame of Prometheus, but to do that she'll have to summon the original Dark One. The flame lives on inside of the Dark One. And if that wasn't reason enough to worry there's something else. The journey will go one of two ways: Emma will either resist the persuasion of the OG Dark One, or she'll succumb to the Darkness and in turn kill Merlin.
Before she sets off on her quest Hook stops by with some words of encouragement and love. Yep, the big L word finally came out to play. Hook gives her one of his rings around a chain, but hold your horses y'all he's not proposing (yet!). He's had this ring for as long as he can remember, and it's what's kept him alive, or so he thinks. Either way it can be a reminder that there's a man who loves her waiting for her safe return. Emma gets so giddy hearing Killian say that magic word she plants a big ol smooch on him and tells him she loves him too. If everyone could excuse me for a moment I need to go cry for about an hour. Now that I've got that out of the way shall we continue on?
While Emma and Merlin go to find mankind's OG spark from the OG Dark One, Hook and the rest of the gang are on sword retrieval duty. While they bicker over what plan is better, poofing into Merlin's chamber or just storming the front door, Zelena has a thought she wants to share with the class. All that time spent pretending to be Regina's mute handmaiden wasn't wasted. She managed to find a way to escape the castle. She'll tell them where it is if they'll do her a teeny tiny favor giving her back her magic. Camp Storybrooke decides to trust Greenie, and her story is confirmed when they happen upon a gated tunnel. With no magic to get her past the bars at the end of the tunnel she was SOL. Mary Margaret stays back to babysit Zelena, the rest of the gang heads off to get the sword.
On their way to find the spark Emma lets it slip that deep down the darkness is winning, so Merlin's survival chances look a little bleak. Once they get to the alter of fire he instructs her to summon the first Dark Once, hoping she'll take the right path. Too bad Merlin forgot to mention that OG Dark One is Nimue. Merlin's lover tries to convince Emma that she should just kill Merlin because he's trying to take away her power. Emma attacks Merlin but is able to shut out the voices inside her head. She's more than just the power the darkness gives her. Atta girl Emma! Nimue hands over the spark, but reminds Emma that she'll be there inside her head waiting for when she wants to play with the dark side again.
Before Merlin and Emma can make their way back to Camelot Merlin is whisked away. You see Arthur has been brewing potions like a mad man. He's concocted a little elixir that will melt off your flesh; some might call that an extreme day at the spa, I just call it crazy. Camp Storybrooke makes its way into the castle and is able to avoid getting splashed with the melting potion. But there's one little catch. Zelena hoodwinked them. She got Arthur to take off her magic blocking cuff in exchange for a binding spell. Now Merlin is tethered to the sword the same way the Dark One is to the Dagger. Arthur uses it to summon Merlin. At this point shady pants Arthur won't see reason. Merlin tries to tell him that he'll still be the great king who expelled Darkness from the realm if he'll only hand over the sword. But all Arthur cares about is the glory so he refuses to hand it over. He orders Merlin to poof away the intruders.
Present day
Back in Storybrooke Emma is all set to make Excalibur whole again. Rumple-bumple is there to cheer her on, and Nimue joins the viewing party. She didn't want Emma to do it before because she was going to use it to snuff out the Darkness, but now that she's getting rid of the light she's all on board. In fact every single Dark One there's ever been is there to root her on. Emma takes the ember and ignites it back into a flame. Once the blade is whole again she remembers something important, Merlin's warning. However the lure of the power is too great and she takes the sword into her hands. Uh oh, there's about to be a hell of a lot of trouble.
Next week promises to be a crazy ride as we're getting TWO WHOLE HOURS of Once Upon a Time! If you need me, I'll just be re-watching this promo like my life depends on it until next Sunday.
Twitter: @TheVRO
Facebook: Variety Radio Online
Tumblr: Variety Radio Online
//