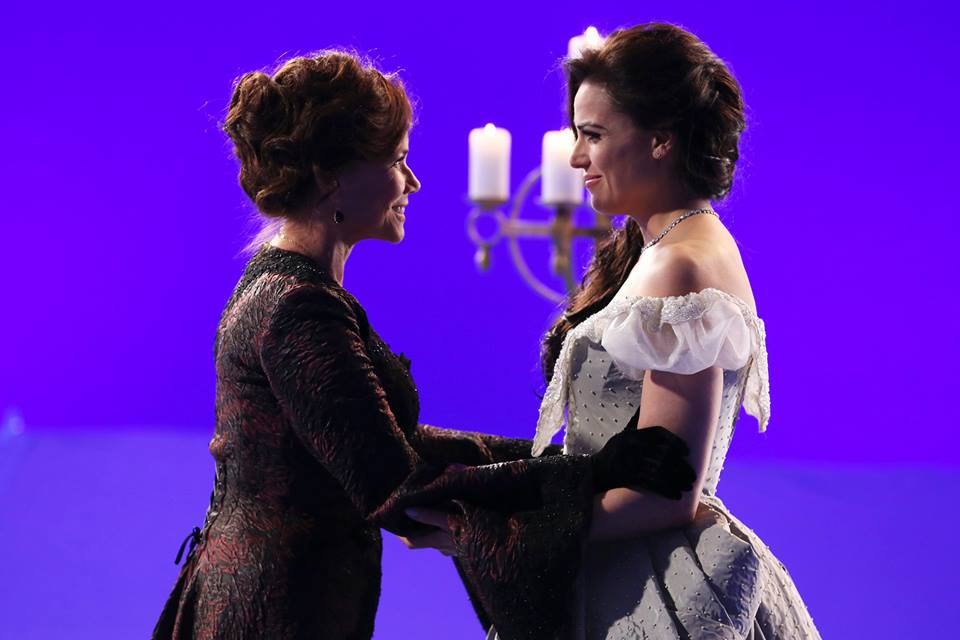 by: Emily Konopka
While Maleficent reunited with her daughter in the present, Cora returned in the Enchanted Forest of the past to make amends with Regina. Plus the author finally has all the pieces to rewrite the storybook.
Emma and Regina arrive back in town with double the amount of people they left with. Maleficent is waiting for the return of her daughter, and their first meeting is a bit timid. Maleficent is ready for mother daughter bonding, but all Lily wants is to get revenge on Snow and Charming.
Now that they're back in town Regina decides to lock Zelena up in the asylum until they can figure out what else they'll do with her. Pregnant or not she is still a villain after all. Can't have her running around town, even without magic. Now more than ever Regina wants to find the author and get her happy ending fully restored. Since Rumple is weakening by the day, Regina heads to commandeer the author and his quill. The only thing missing is the ink, which will take a bit more work to get since Emma didn't go dark when she confronted Lily. However Regina realizes that Lily holds all of Emma's darkness inside of her, so she works as an ink supplier as well.
In Flashbacks to the Enchanted Forest we see Regina dark as ever unloading her rage over the anniversary of Daniel's death on a poor newlywed couple. When she arrives at his grave, she finds that her mother has beaten her there. Cora hitched a ride back from Wonderland with the White Rabbit, and she has come to make amends. She has heard about Tinkerbell's true love prophecy, and she offers to help Regina find her soul mate.
That search takes her to Sherwood Forest where she meets the Sheriff of Nottingham. She finds out Robin Hood is a thief, and decides she likes the ambitious sheriff better. She gets him to pretend to be Regina's soul mate. However the reuse doesn't fool Regina for long, and she demands to know why her mother did this. Nottingham says it's because she wants Regina to have a child. Regina doesn't like that he mother is trying to use a child to secure power over her, so she takes a potion that makes her unable to have any children. Wowza. A whole bunch of things about Regina make a lot more sense now.
Meanwhile in Storybrooke Emma and Killian are catching up by the docks. He tries to convince her to ease up on her parents. They were just trying to make her proud by turning themselves around. Emma admits that she would have liked them more in the beginning if she knew they fought to get their goodness, since she likes it when people find their good hearts along the way.
However, when Lily realizes Maleficent is not interested in getting revenge, she reacts to the fact that there is magic in Storybrooke, and turns into a dragon. Maleficent helps the Snow and Charming find her and when they do Snow gets a blow to the head for her troubles. Post dragon outburst Maleficent goes to comfort her daughter. Lily is kind of disappointed her mom isn't the scary dragon bitch she had heard about. Mal tells her daughter that she wants to focus on the future rather than live in the past, and in that future she'll teach her how to be a scary dragon bitch.
This little dragon incident brought more than one mother into her daughter's good graces. Emma rushes to her mother's side when she realizes she is hurt. She takes Killian's advice and forgives her parents.
Since reconciliation seems to be the theme of the episode, Regina decides she isn't going to let Zelena's pregnancy ruin her happiness. She was set to rewrite her story, but then she realized, the only person standing in the way of her happiness was herself. The Author doesn't feel too thrilled about this though, so he uses his magic ink to poof himself back to Rumple, where he begins writing the new story: Heroes and Villains.
Twitter: @TheVRO
Facebook: Variety Radio Online
Tumblr: Variety Radio Online
//