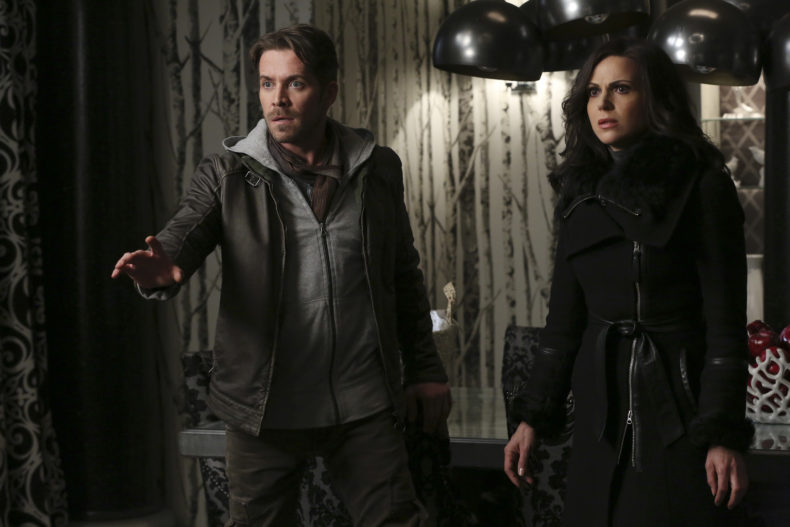 One of our heroes made the ultimate sacrifice as the fight against Hades came to an end.
First things first, this episode was a roller coaster of emotions (or lack of emotions at times if I'm being brutally honest). For every bit of bad there was a little bit of good. But in the end this episode left a gray cloud over the show that won't soon go away.
Hades and Zelena have landed in Storybrooke and they haven't even been there five minutes before Hades insists they go on the defensive. He assures Zelena that her sister and the others will be arriving soon, but they can't very well just saunter into town. Snow White hasn't been informed of his reformed ways. Zelena has Hades take her daughter to the mayor's office for the time being. She will explain everything to Snow and things will be great. For someone who was once so devious, you'd think Zelena wouldn't be so naïve.
Before Hades can head to town he runs into a fleeing Arthur, who despite the handcuffs assures Hades that he was wrongfully imprisoned. He's a king who was destined to rule a kingdom, and Hades sure likes the sound of that. Except Storybrooke is his kingdom now, so Arthur will have to help him take care of another one. With the flick of the wrist Hades snaps Arthur's neck sending him down to the Underworld.
Down in the Underworld there's a certain handsome pirate still hanging around. When Arthur arrives he knows something must be going on in Storybrooke. The disgraced king has a hard time coming to terms with the fact that he's dead, but Hook doesn't have time for all the wallowing. Once he learns Hades is who did Arthur in he knows he has to try and find a way to defeat him. He promised Emma he would move on, and he can't do that until he knows she is safe. If Arthur wants to move on to the better place, he's going to need a pretty big good deed to score him some redemption points. Nothing a quest for Killian's own personal Holy Grail can't fix.
Killian and Arthur set off for Hades' throne room to look for the missing pages from the storybook. They contain Hades' weakness. Thanks to Arthur's knowledge of where kings keep their most treasured items, they recover the pages from inside of Hades' throne. Now all that is left is to get the message up to Emma. The only problem is Cruella ripped out the phone booth. So our two unlikely bros head to ask her what she did with it. While taken with the Underworld's newest scruffy resident (I do believe "scruff sandwich" is now my favorite thing Cruella has ever said) she destroyed the telephone booth. Can't have people moving on from her new domain can she. But there's still one lick of hope left, the storybook itself. Cruella has stored that for safe keeping in the River of Souls. Looks like it's time for Scruff Sandwich adventure 2.0.
Meanwhile back in the land of the living Zelena finds her sister and Robin and is delighted to see that they've made it back. However they're there to rain on her parade. She doesn't exactly believe them when Regina tells her that Hades tried to trap them in the Underworld. When she returns to Hades and her daughter she tells him what happened. Her lover insists that the heroes are never going to leave them alone, so they might have to use a display of strength in order to live happily. All Zelena wants is a house with a garden for her daughter to play in. Hades wants that too, along with total domination, but shh don't tell Zelena that. His ace up his sleeve is something called the Olympian crystal. Zeus didn't want him to have it so he stopped his brother's heart and broke the crystal. Now that Hades' heart is beating once again he can restore it.
Being back in Storybrooke launches Emma into full tilt Savior mode. She's determined to find a way to defeat Hades, but her dad thinks she should take some time to grieve before she goes in guns blazing against a god they don't know how to defeat. Regina would have to agree. She and Robin decide they will go rescue his daughter from Zelena. Even if they don't know how to defeat Hades yet, at least his daughter will be safe.
While the couple heads for the secret tunnels that lead to the town hall, the rest of the gang heads to the library to find a way to stop Hades. Emma on the other hand has some other plans. She heads to see Rumple, who she finds is about the beat up Belle's dad. He's refusing to wake Belle because he'd rather she be under a sleeping curse than be cursed to love him. Ouch, but Maurice is spitting the truth here to be honest. Emma asks if Rumple knows a way to defeat Hades, but he's fresh out of ways to end a deity.
When Emma returns to the library her parents can see she is still struggling. She admits that she can't mourn for Hook's loss because she knows he is still trapped in the Underworld suffering. Snow convinces her to hit the books so they can find a way to stop Hades, and help Hook move on.
Speaking of Hook last we saw him and his newfound ally were on their way down the River of Souls. When they arrive at their destination they find the storybook, but some pesky spirits from the river almost prevent them from getting it. Killian risks not getting the book to save Arthur from one of the souls, apparently they can attack people. The book is almost stolen by one of the rogue spirits, but Killian catches it just in time before it drops into the river. Hook places the pages about Hades in the book hoping they will appear to Emma in the world above.
As she's browsing through the books Emma gets the urge to look through Henry's storybook. She has the page with her and Hook dancing bookmarked (gee thanks I didn't need my heart for anything) and after she takes a trip down memory lane, the book magically flips to the new pages. Emma knows what she needs to do to defeat Hades.
Regina and Robin make their way through the tunnels under the town hall and Regina apologizes for trusting Zelena. She wanted to give her a second chance. Robin still isn't happy with Regina, but he's willing to see that perhaps everyone does deserve a second chance. Before they head off into an uncertain encounter with Hades Robin assures Regina that she is his future. She lets him know that she is with him, no matter what. The two head inside to get Robin's daughter and while they do Emma provides the perfect accidental distraction. Zelena is trying to convince Hades that they can go live somewhere else where they don't need to fight to be happy when Emma starts throwing magic at Zelena's protection spell. While she goes outside to get her to leave, Hades searches the building for others because he knows the heroes never work alone.
Zelena is furious when she finds out Emma is intending to hurt Hades. Emma shows Zelena the pages and tells her she knows about the crystal and what he can do with it. Inside the office Hades finds Regina and Robin with the baby, and he's got the Olympian Crystal in hand fully restored. Turns out the crystal doesn't merely kill you, it ends you. No afterlife, no nothing. You just cease to exist. And that's the fate he wants to unleash on Regina for trying to turn Zelena against him. Except being the self-less hero that he is Robin throws himself in-between Hades and Regina and ends up getting struck with the magic from the crystal. He's able to turn around and share one final look with Regina before his soul exits his body and disappears forever.
When Zelena returns she finds Hades with the Olympian Crystal pointed at Regina. Hades tries to convince Zelena Robin threatened to kill him. Ultimately Zelena ends up with the crystal in her hands. Regina convinces her that Hades is lying. Robin sacrificed himself to save her, which is what true love really is. Hades is never going to give anything up for her. So Zelena takes the crystal and stabs Hades with it, turning him into a pile of ash.
Down in the Underworld Hook can sense that Emma has accomplished what she needed to do; they share some sort of true love telepathy it seems. Now that Hades is defeated he can move on. He asks Arthur to come with him, but the king elects to stay behind. He was destined to repair a broken kingdom, and the Underworld is his chance to do that. Killian bids him farewell and walks into the light. What he is greeted with on the other side is a bit surprising. Zeus is waiting there to greet him and let him know the people above have defeated his brother. Now it is time for Zeus to take Killian to where he belongs.
Emma has officially started to grieve now that her mission is complete. She brings a flask of rum to the cemetery to place on Killian's grave. She knows he'd prefer that to roses. She wants to be happy knowing he's hopefully in a happier place now, but now it just feels like he really is gone for real. Emma Swan sobbing at Killian's grave, mark that on the long list of things from this season that will haunt me forever.
The real reason she's at the cemetery is of course to say goodbye to Robin with the others. His friends all take turns placing arrows with roses tied to them on his casket. The most heartbreaking moment is watching little Roland honor his father with an arrow.
After the ceremony Emma lingers by the grave. Snow tries to quell her guilt by telling her that this is by no means her fault. After Snow leaves there's a flash of light. Emma is stunned when she hears Killian call out her name. She runs to him and attacks him with kisses to make sure he's really there. Killian explains that Zeus must have sent him back as a thank you for helping to defeat his brother. Emma doesn't care how it happened; all she cares about is that the man she loves is back in her arms.
That happiness is sure to be short lived though because Rumple retrieves the remaining piece of the Olympian crystal from Hades' ashes. What he's going to do with it, well I'm guessing it's not going to be good.
So there we have it. They promised this death was going to change the heart of Storybrooke forever, and it seems it will. Were you shocked by Robin's death? What do you think this will mean for Regina going forward? I would love to hear your thoughts, because I certainly have a lot of them, too many to fit in this blog post.
In terms of deaths on this show, I would say I disagree with this one the most. With Graham and Neal, while beloved characters, I could understand the need for their deaths from a storytelling perspective. But this one doesn't seem to serve any purpose, aside from potentially testing Regina's resolve in keeping her dark side at bay. Which, how many times do we need to see her struggle with that? It's getting a bit old. It seems like such a waste to me to have Robin become a central character, be confirmed soul mates with Regina, and then just rip him away after a year or so. Even worse that they orphaned a child, and left another one without a father. The worst part to me is that emotionally during the episode, his death didn't really strike a chord with me, which makes me so disappointed. I loved Robin, but I honestly cried more when Neal died (and if you didn't notice, Neal was not my favorite). As I said, I could go on and on about this. I will certainly discuss it more during our Once Upon a Time recap show on Blog Talk Radio. Feel free to reach out to me on Twitter and we can discuss it further.
I will close by wishing Sean Maguire all the best in his future endeavors. He was a fantastic addition to this cast and he will be sorely missed.
Twitter: @TheVRO
Facebook: Variety Radio Online
Tumblr: Variety Radio Online
//