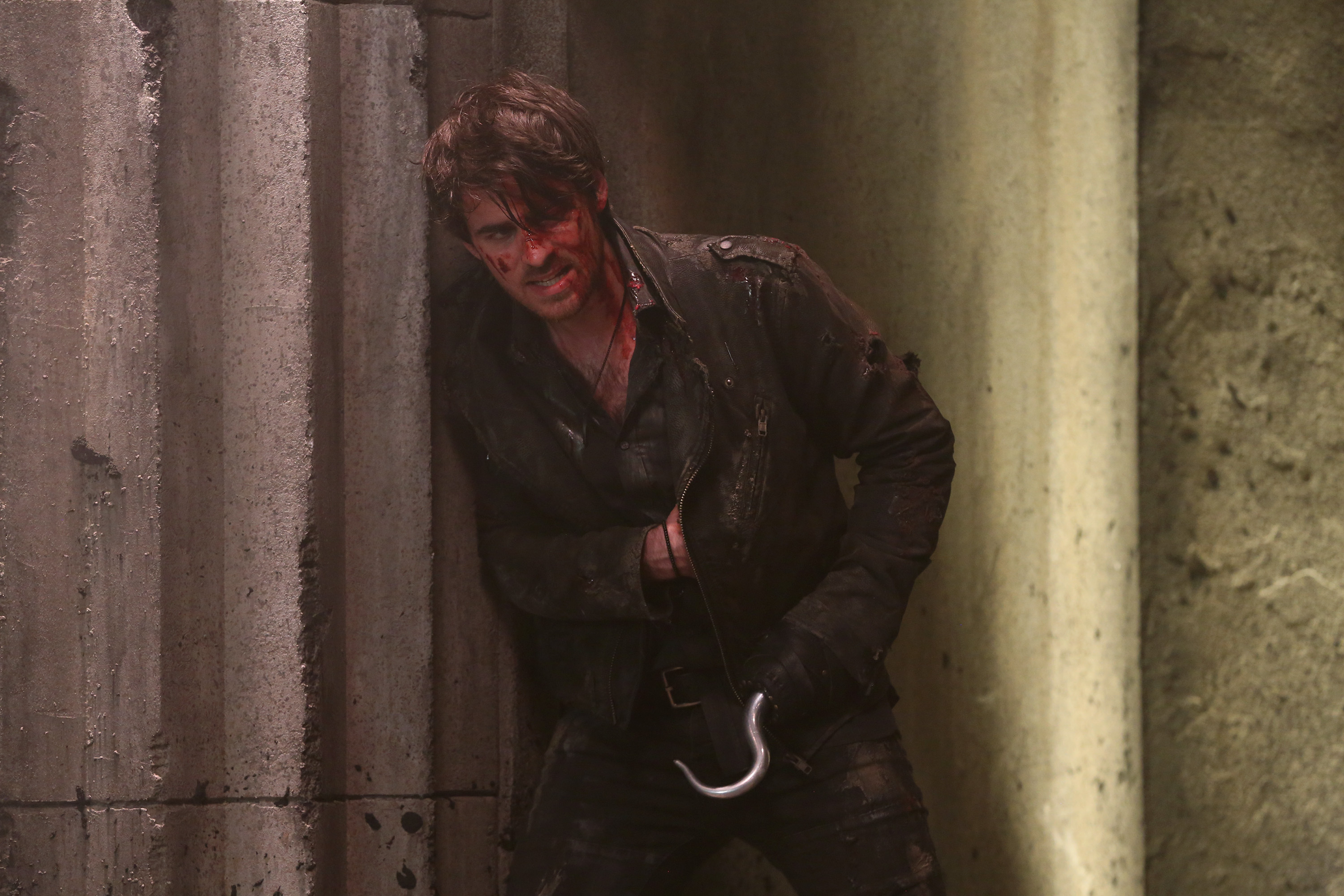 By: Emily Konopka
Hook's go to phrase "bloody hell" has become quite literal for the pirate captain. We find out he's being held captive in some underground caves, but worry not because he knows Emma is here to save him. Even though he couldn't communicate back with her, he got his lover's message. His fellow prisoner, who we later learn is Meg, warns him not to try and escape. There's a three-headed hell beast guarding their prison, plus there's no way to know for sure the message he received wasn't just one of Hades' tricks. But Killian knows better, because when you love someone you just know. Be still my beating heart, these two haven't even seen each other and I'm already swooning. He offers to lead the beast away while she escapes, as long as she finds Emma and gives her a message. The old Captain Hook probably would have left her in the dust, but this is Captain Killian Jones we're talking about here, a hero through and through. Can we all just take a second and applaud this fabulous character development?
Meanwhile Emma and Henry are combing the forest with Robin and Regina. At the suggestion of Regina, Robin and Henry head off to her office in hopes of finding the Underworld's version of a city plan. Emma and Regina find a trail of blood, but it isn't from Hook. They find his fellow prisoner hiding scared among the trees. She warns them of the hell beast and confirms Hook's current location. Before the beast can come after them, Emma poofs them to her parents' apartment. It lies vacant; seemingly waiting for the day they die and occupy it. Can you say creepy?
Speaking of the royal couple, they're searching the graveyard for Hook when Mary Margaret realizes something. All the headstones are people from her father's kingdom, people she was supposed to protect. Things get worse when she finds the grave of an old friend, Hercules. Turns out the two knew each other when Snow was younger. Charming gets a little jealous because how often do you find out your wife was pals with a god…er demigod before she met you.
Cue the flashback to a time we haven't seen yet! Color me super excited. Bandits are ravaging Snow's kingdom, but her father is away on business. She and Regina sit side by side on thrones (now there's something I didn't think we'd ever see) listening to the people's problems, but young Snow (hey Bailee Madison, nice to see you again!) is the one who holds the power while her father is gone. In this flashback Regina hasn't gone full tilt Evil Queen, yet. The princess is a far cry from the confident hero we've come to know her as. Enter Hercules. The two meet for the first time in the forest. After some idle chit chat, he offers to train her to be a hero, he's only one heroic act away from taking his rightful place on Mount Olympus, he figures he'll stay a while and spend more time with her. This little Herc x Snow schoolyard crush is too cute! (Sorry Charm Charmz you're still my #1)
After some failed attempts at heroism (and us finding out Regina is bankrolling the bandits so the kingdom will turn against Snow) she finally finds it in herself to stand up to the bandits sending them away for good. Before Hercules leaves to fight his last challenge, the three headed hell beast Cerberus, he plants a big one right on Snow. Guess you did have a reason to be jealous Charming.
Down in the Underworld Hercules is the one who could use some hero coaching. The demi-god has certainly lost his mojo. Snow enlists him to help defeat the three-headed monster, but before they can make their way in to face him, Hades stops by for a visit. He's relocated Hook to his rainbow river room, that's what I am going to call it until further notice, and has temporarily called off his pet so he can taunt the heroes. He's quick to point out that his nephew failed as a hero. He died trying to slay the beast the first time. He also delivers a message to Emma from Killian, well sort of. He shows her his bloody hook and warns she shouldn't be worried about what he's already done, but what he's going to do to him it they don't stop what they're up to.
Back at Regina's office Henry has a run in with a familiar face. Hide your puppies kiddos because Cruella is back, and she has a mater plan in mind. She doesn't like the two alternatives Hades has handed them, move on to a better place or a worse one, so she's come up with a third: get back to the land of the living. She misses the music and gin way too much to stick around in the Underworld. Are her and Pan in cahoots? Now there's something I'd love to see. Cruella has learned a thing or two during her time down under. Turns out, Henry still has some power as the Author. When he destroyed the quill he destroyed a living thing, meaning it has unfinished business since there are still plenty of stories out there to record. Cruella wants Henry to find the quill and restore her to her former status of being alive. If he does, Emma will no longer be a murderer; her soul will be pure again. Though after her stint as the Dark One how pure can she really be?
The time has come to face Cerberus. Snow gives Hercules a boost of confidence by pointing out this time there is strength in numbers. He wasn't able to defeat the beast before because he tried to do it alone. Herc, Snow, and Meg lure the dog into the library. Each of them is armed with a weapon for when the three-headed beast barges through the door. In rather anti-climactic fashion all it takes is one synchronized jab from the three of them to reduce the beast into a cloud of black smoke. The gang returns to Granny's victorious, Herc's unfinished business finally settled. Turns out he and Meg have met before. He helped her escape from Cerberus right before he was killed, she didn't fair much longer once he was gone. Part of their unfinished business was with each other. Now they can move on together and be happy.
Mary Margaret has realized something important in all of this. The version of herself she was in the Enchanted Forest took way more risks, and frankly was way more of a badass. She's gone a bit soft from being in Storybrooke. There's one way to get her feeling like her old self again, to ditch her cursed name. So long, Mary Margaret. Hello, Snow White! It's a change everyone is more than willing to comply with. Can I just say it's about damn time? I gladly welcome back badass Snow.
Hercules and Meg make their way to the bridge to the other side. As they're walking towards the light Hercules sees Olympus appear in the distance before them. He's finally earned his place as a true hero. Cue the tears, and just keep them flowing because more souls moving on means Hades is not happy. When Hades isn't happy that means Hook gets hurt. The sassy villain has decided he no longer wants to get the heroes out of his hair; he wants to trap them in the Underworld as payback. For every soul that moves on, he's going to keep one of Hook's friends permanently. The catch is, Hook gets to decide who stays and who goes. He's got three headstones and a chisel ready to go, so who's it going to be?
Dun, dun, dun! How about that for an episode? And that promo for next week? It's what we've all (read: mostly Raechel and I) have been waiting for. Hook and Emma's glorious reunion, and from the looks of it there's going to be a lot of angst, and a lot of pain. Bring. It. On.
Join Raechel and I Tuesday night on Blog Talk Radio when we discuss this episode! Until then, what did you think? The ball is definitely rolling with this Underworld storyline, and I love it. This week was a much-improved step up from the premiere, and it seems like next week it's going to get even better. As always Oncers you can keep up with me on Twitter @emkonopka
Twitter: @TheVRO
Facebook: Variety Radio Online
Tumblr: Variety Radio Online
//