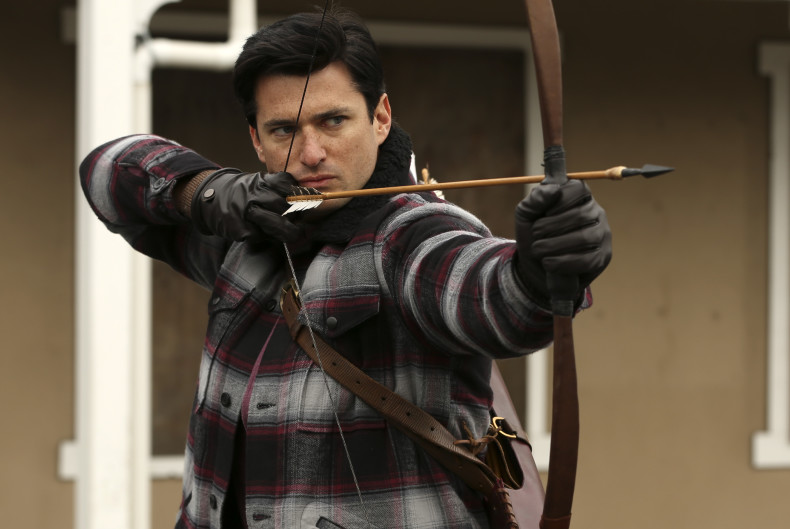 A familiar handsome face from Belle's past makes an appearance and Hades takes full advantage of his quest for revenge.
Gaston gets the good news that Rumplestiltskin has finally arrived in the Underworld. He's been waiting a long time to get his revenge on him for killing him. Hades gives him a weapon that will finally let him do that. Arrows forged from the River of Lost Souls. If Rumple even gets nicked with one he's doomed to the river for all eternity. Belle is determined to do things her way. She wants to find a way to get her baby back without using dark magic. She believes Rumple can do what Merlin said and one-day use the Dark One dagger for light instead of Dark. That's a heck of a lot of faith to be putting in a man who has done nothing but deceive you, Belle. But that plan quickly gets put on hold when Gaston comes in arrows a blazing.
Belle is convinced that she can help Gaston move on, which is exactly what Hades does not want. She believes she might be her former fiancé's unfinished business. But in reality he's just really intent on killing Rumple.
Back in the Enchanted forest of longish ago, Belle's father is getting worried. The orges are encroaching on their kingdom's lands and he doesn't have a big enough army to defend them. Enter Gaston, whose family has a rather large army and who just happens to be looking for a wife. Belle is repulsed by the idea at first; she's heard stories of the man who hunts down women just as much as he hunts wild game. However Belle decides to give him a chance, I mean have you seen his face? I would at least give him five minutes to prove himself.
While they're walking along and starting to warm up to each other they run into an ogre who has fallen in a hunter's trap. Belle wants to show the creature mercy and find a way to prove he maybe just wandered too far from home. Gaston appeases her and they head to the library to see if there's a magical item that can help them. Enter a certain mirror that can expose the darkness in someone's soul. If they take the mirror and hold it in front of the ogre, they'll know for sure if the ogre was there to harm them or not. However when the time comes the mirror reveals that Gaston is the one with dark intentions. He tortured the ogre leading it to attack him. She sets the beast free. However soon after the ogres officially infiltrate her kingdom. Her father decides the only way to strengthen their borders is to force Belle to marry Gaston.
Now that the flashback is over back to what Belle is up to in the Underworld. Hades decides to pay her a visit and he offers her a deal. If she gets Rumple and Gaston to fight it out and one of them pushes the other in the river of lost souls, forgive the debt and let Belle keep her baby. Belle declines Hades' deal, but decides telling Rumple about it is the best thing to do. However, Rumple isn't feeling like being an honorable person so he immediately poofs away when he finds out all he has to do is cast away Gaston to free his child.
Belle arrives at the docks just as her husband is about to make shark bait of her former fiancé. She tries to reason with him, even tells him that he was right and she did know what she was getting herself into with him. She loves him because of the darkness. But did she really mean it? I'm left wondering because she used her kiss as a distraction to get his dagger and order him to let Gaston go. But Gaston takes this as his opportunity to strike but Belle pushes him out of the way and into the harbor, dooming him to the river of lost souls forever. But Hades, much like Rumple is all about the wording. He said if Rumple cast Gaston into the river their baby would be free. Since Belle was the one that did the deed, no deal. He tricked her on purpose to bring hopelessness back to the Underworld. There had been one too many flowers growing around town.
And I can't forget the extra odds and ends, aka the two scenes to make us Remember there are other characters on this show than the ones who are pulling focus in the episode. Emma can now add clairvoyance to her list of Savior skills because she starts having dreams about a monster coming to the Underworld via cyclone and she's figured out a spell to burn her name off the tombstone. This dream starts to become a reality. After some avoidance from Emma, Snow ultimately dies in this dream and she's trying to prevent it from coming true, they decide to go face this beast together. But it's not a beast at all, just Red who has some how made her way to the Underworld. Confused? Me too.
My what a guy, that Gaston! Didn't think you'd ever enter a world where Gaston is the one you're rooting for did you? I know I certainly didn't. But that's exactly what this episode of Once Upon a Time had me doing. As the past between Belle and Gaston was explored deeper, I'm not going to lie, I was kind of rooting for him to get the girl. Even though Gaston was obsessed with capturing monsters, he was less of a monster than the man Belle is actually married to. Harsh? At this point I think we've passed the point of pretending Rumple is actually a good guy. He's owned up to it, even gone so far as to insist Belle only fell for him because he is indeed a "beast." So from here on out I think we can throw the Rumple redemption train off the tracks for good, because honestly there's just no going back for him anymore in my opinion. I know this show is based on hope, but he seems pretty hopeless to me.
Next week we'll get to see Ruby and Mulan team up to save Dorothy in Oz. This should be, interesting? Hopefully we'll get some much-needed answers too.
Twitter: @TheVRO
Facebook: Variety Radio Online
Tumblr: Variety Radio Online
//