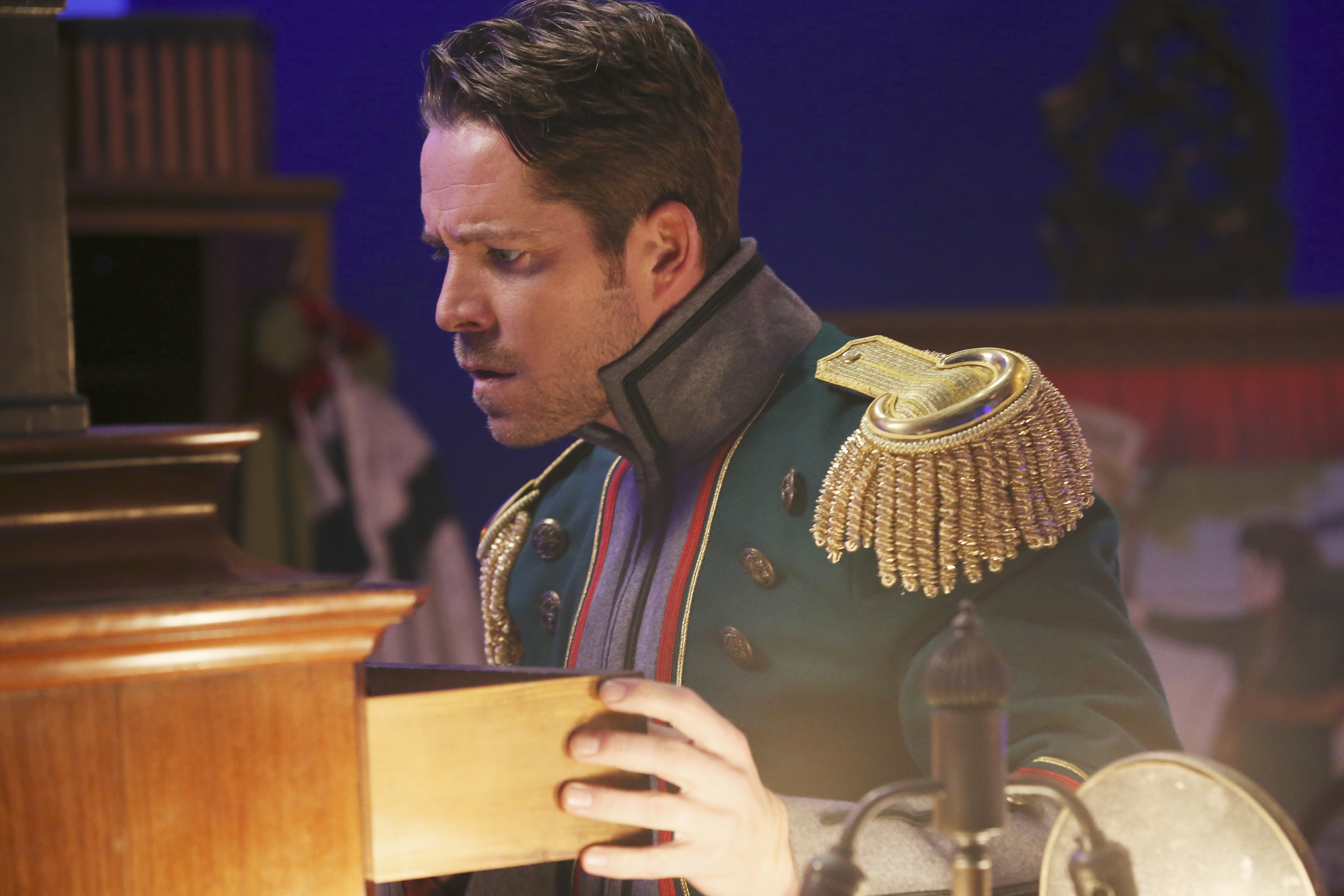 by: Emily Konopka
This week on Once Upon a Time Robin Hood took a trip to the merry old Land of Oz, and a familiar face revealed she is alive and well.
With the author on the loose it was only a matter of time before the Dark One caught up with him. Rumple convinces the author that he should join team villain because he'll get to rewrite quite a few stories. The only person left to convince is Regina. Now that she is a prisoner Rumple decides to play his cards and tell her that he knows of something that will insure she'll take his side.
But first it's time to rewind nine weeks to catch up with Robin and his family in New York. Thanks to Regina's help Robin and his family were able to seek refuge in Neal's old apartment. But they're not the only displaced Storybrooke residents wandering the Big Apple. Rumple appears on their doorstep and seeing Robin's family occupying the apartment gives him a heart attack, literally. Heart attack is the real world explanation for what happened, but Rumple knows it's really a culmination of all the dark things he's done in his life poisoning his heart now that he has no magic to protect him. He asks Robin if he remembers the last time he asked him to steal something for him because he might just know where that thing may be residing right in New York.
And cue the second set of flashbacks for the evening; Robin Hood's long awaited backstory has finally arrived. Now that he and Marian have tied the knot he's decided to hang up the bow and arrow and head down the straight and narrow. He doesn't bite when Little John gives him the heads up that King Midas' carriages will be passing through town. However, things aren't going so great for Robin financially. The tavern he is running is overdue on their taxes, and the Sheriff of Nottingham has come to collect. And when there is a debt to be settled you know Rumplestiltskin is never too far. He shows up to make a deal with Robin. He'll hand over some of his famous gold woven straw, if Robin will use his master thieving to head to Oz and procure something for him, the Elixir of the Wounded Heart to be exact. Long story short, it's a potion that can mend a broken heart.
Robin takes the deal and when he arrives in Oz he runs into another thief, Will Scarlet. Will asks for Robin's assistance in getting free from a trap and the two get to chatting. Robin tells Will of the potion he is there to apprehend and asks if Robin would snag him a dose as well. Robin manages to get into Zelena's castle but before he can secure a second dose of the potion she shows up. However the nimrod manages to escape thanks to some crafty bowman ship. When he returns he tells Will he has failed. He commends Robin, however, for doing the best he could to save his future with his wife. Robin learns that Will was not planning on pawning the potion; he wanted to take it so he could forget the pain of losing his sister. When Robin is gone Will notices the thief snuck the vial of potion into his jacket during their parting handshake.
Now that Robin has broken his deal with the Dark One he does not have the money to pay off his taxes, so when Nottingham comes knocking Robin decides from then onward he's going to steal from the rich and give to the poor…so alas Robin Hood is born. He and Marian take on a life of being outlaws, because no matter where they are all she wants is to be with him.
Back in the recent past of New York Robin is on a mission to retrieve some of the elixir. Rumple has a feeling Zelena left some of it with Walsh when she sent him to watch over Emma. Robin arrives at his furniture store aptly named The Wizard of Oak, and is able to escape with the potion just as the police arrive. Marian is not happy that Robin could have potentially gotten arrested trying to save Rumple's life. She thinks it might be the best thing for the greater good if they just let him die. Robin is concerned that his wife is acting strange, but since he is a man of honor he goes to bring the elixir to Rumple. In exchange for the bottle Robin makes Rumple promise that he never has to see him again, and that they can live in Neal's apartment in peace.
When Rumple drinks the potion, however, it doesn't work. That's when Marian arrives to reveal that she switched the bottles with some cough syrup. But before you start accusing Marian of being a shady lady, there's more than meets the eye going on here. With a few strokes of her necklace Marian transforms into Zelena! Ding-dong, this Wicked Witch is anything but dead. Zelena delivers the time honored this is how I did it villainous monologue and Rumple lay dying in the hospital bed.
When Rumple thought he killed her, her life force actually just left her body before it was destroyed, explaining the green cloud that opened the portal in last season's finale. So Zelena kept tabs on Hook and Emma as they tried to rewrite the mistakes they'd caused in the story, and when Emma decided to save Marian she saw her opportunity. Sadly for Marian even though Emma saved her from being killed by Regina that day, her sister came along and finished the job for her. With the help of one of the six clovers of Oz, she was able to use a glamour spell to turn into Marian, giving her the opportunity to return to Storybrooke and still mess up Regina's happy ending. But faking it with Robin doesn't seem to be working out as well as she'd like so she wants Rumple's help getting the author to rewrite her story too.
When Zelena returns home to Robin (who was just having a nice little brooding session in the shower, thanks for that visual Adam & Eddy) with her disguise back in place she gives him an ultimatum. In the end, being a man of honor, Robin choses to stay with Marian since she gave up everything to be with him when they decided to be outlaws, so now he is returning the favor.
Flash back to the present timeline; Rumple is ready to offer Regina the ammo she needs to join the dark side. He hands over Robin's number and tells her to give it a call. Marian is the one who answers, however. Zelena quickly reveals her true colors to get a rise out of her sister. Regina is horrified that her sister is out playing house with her true love, and even more horrified that Rumple kept this information from her for this long. Rumple asks her to choose between her true love, Robin, or keeping the Savior from going dark. By the trademark evil queen smirk she gives before the episode fades to black, I'm guessing she's choosing Robin.
So what did you think of the Zelena twist? Were you surprised or did you see it coming? Make sure to tune in to The VRO at our usual time 9/8c for our recap show. Raechel and I will be having an extended show to talk about the last several weeks that we've missed so make sure you tune in because we've got a LOT to talk about!
Twitter: @TheVRO
Facebook: Variety Radio Online
Tumblr: Variety Radio Online
//