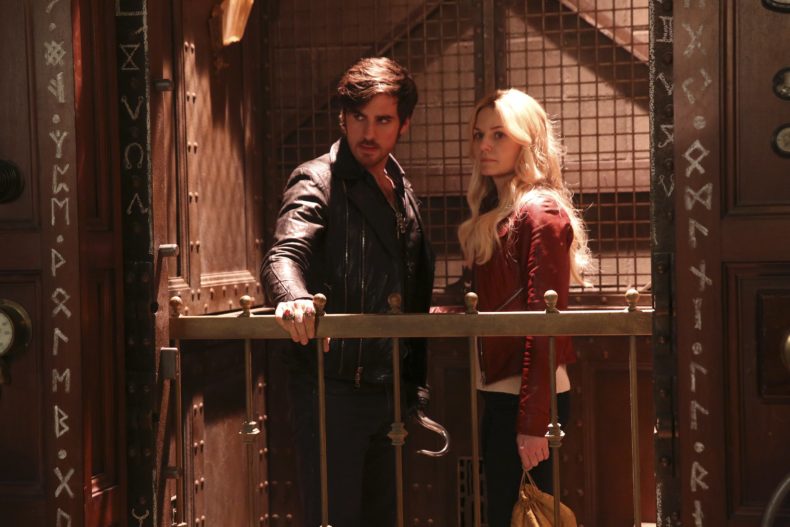 Hook and Emma's love was put to the ultimate test as the time to exit the Underworld arrived.
Hello? Is everyone still with me? Oh you've been crying since Sunday night? Me too. Never before has an episode affected me in this way, and trust me there have been plenty of feels over the years. This stabbed me in the heart harder than seeing Hook actually get stabbed to death (not once, but twice!).
So I guess we might as well get right to it, let Operation Firebird commence:
Rumple and Pan have kidnapped Zelena and Hades is desperate to get her back. Desperate enough to turn to the heroes for help. He promises Emma that he will take everyone's names off the tombstones if she helps get Zelena back. Rumple and daddy dearest come knocking and Hades promises to rip up the contract. However that's not going to be good enough to get Zelena back. Pan has plans to use her heart so he can return to the land of the living. But Emma exposes Rumple's true colors when she points out that Rumple already has what he wants. Rumple leaves his dad in the dust, and Zelena and Hades are reunited. The misunderstood duo shares a kiss, true love's kiss to be exact, and Hades' heart is magically restarted. With his banishment to the Underworld ended, it's time for everyone to head back to Storybrooke.
The clock tower has relocated to the graveyard, it's going to turn into the portal that takes them home, and at sundown the portal will open and they can return to Storybrooke. So first things first Emma has to split her heart and give half to Hook. There's just one problem though, Hook has been in the Underworld for too long. The only reason the heart split trick worked on Charming was because his soul hadn't left his body. Emma isn't ready to take no for an answer. She came to the Underworld to save the love of her life, and that love might just be what saves him.
Hades tells Emma of the only instance where someone was able to travel to the Underworld and bring someone back, the story of Orpheus and Eurydice. Long story short Orpheus fed Eurydice ambrosia, the fruit of the gods, to bring her back to life. This special fruit resides in the deepest corner of the Underworld, a place even Hades has not dared to venture. Hook and Emma are in a race against time to get the fruit and make it back to the portal before it closes at sundown.
Before we get to daring rescues and declarations of love, let's get to those flashbacks. We see Emma's first interaction with a bail bondsperson, right after she got out of jail in Phoenix. She's made it all the way to Maine to hunt down the restaurant she was taken to as an infant. A bail bondsperson has tracked her down there. Everything about her interaction with Emma was exactly like the very first time we saw Emma Swan in the pilot, from the way she asked her questions to walking out into traffic. After discovering that Emma can easily escape handcuffs the woman, whose name is Cleo Fox, agrees to help Emma look for more information about her past at the courthouse in exchange for Emma going quietly with her back to Phoenix.
When Emma doesn't find what she's looking for she breaks into the courthouse convinced there is something missing from her file. However all that does is get her and Cleo busted by the cops. As they're fleeing Cleo ends up falling on some broken glass from the window leaving her with a fatal wound. Turns out Cleo gave a daughter up for adoption, making her and Emma pretty much one in the same. She tells Emma that she needs to find her armor to protect her from getting hurt; her wild emotions are getting in the way. When Emma tracks down Cleo's daughter years later, she finds her red leather jacket at the store where the girl works, making her armor finally complete.
The magic elevator in the library takes them down to the deepest depths of the Underworld and once they reach the bottom they're faced with a scale and a closed door. Since Killian knows how to speak Latin (he learned it in the Royal Navy, can you say hot?) he deciphers that only a person with a heart filled with true love can pass. So this is it, the ultimate test to see if Killian and Emma are indeed true love. Emma is ready to place her heart on the scale, and Killian shows some doubt. He knows that he loves Emma and she loves him back, but True Love is the rarest and most powerful love of all. Doubts be damned Emma places her heart on the scale, but instead of a pretty rainbow swoosh and an open door she gets a shooting pain through her chest. Then to top it all off Hook is engulfed in flames. But wait, does this mean they're not True Love? Not a chance, Emma decides she'd rather save Hook from the flames than grab her heart. When she knocks him away from the flames the door opens.
Ladies and Gentlemen, shippers of all ages, before we get to the pain and heartbreak (because you and I both know it's coming) let us all take a moment to relish in the fact that KILLIAN JONES AND EMMA SWAN ARE TRUE LOVE. And it was confirmed not by some run of the mill kiss either, but a test of wills designed by the gods. Can you say, epic? Okay now that my five-second celebration is over let's get to the back stabbing and heart crushing.
Totally gob smacked over being True Love, Hook and Emma enter the room where the ambrosia awaits. Except when they enter there's just one thing missing, the fruit. Someone, cough cough Hades, cut down the tree and destroyed it. Hook and Emma realize this was all a trap by Hades meant to keep them from getting back to Storybrooke so he could go alone. Killian convinces Emma they will find another way to save him, but they have to leave now.
When they arrive safely back at the elevator Killian breaks the bad news. He won't be returning with Emma. He knows they aren't going to find anything to save him and time is running out for her and her family. He wants to say his goodbyes to her in quiet, without everyone else hovering round (I'm sorry, this is when the tears started flowing). Killian tells Emma that she needs to let him go, she can't make the same mistake she did in Camelot. With tears in his eyes he asks her not to build her walls back up even though she's going to lose him (at this point the gross sobbing began). Emma wants Killian to promise her one thing too. She doesn't want him to linger in the Underworld waiting for her. She wants him to move on. As Emma gets back in the elevator and Killian pulls down the gate, he tells her one last time that he loves her, and she gives him one final I love you as well. The passionate goodbye kiss they shared between the bars of the elevator was enough to do me in, the emotions were just pouring out of me at this point, but wait it gets even worse. As the elevator starts to rise Hook holds on to Emma's hand until the last possible second. The image of a tear stained Killian Jones watching his True Love rise up out of his grasp will probably haunt my dreams for an eternity.
When Emma gets back to the rest of her family she fills them in that Killian won't be making the trip back with them. The look Henry had when he realized they failed their mission was gutting as if this episode wasn't already torture enough. While Emma and Killian were off having their True Love adventure, the Blind Witch and Cruella, with the help of Hades' magic, trapped the heroes in the library. Hades and Zelena and baby green are waiting at the portal with Zelena none the wiser to her lover's betrayal. With the help of Emma's magic they break free and head off to the graveyard to catch the portal before it closes.
Hades convinces Zelena the heroes will catch up and the two are the first to pass through the portal. Next up is Rumple, who put Belle in Pandora's box for safe transport, oh and he betrayed his father by putting a "heart" into his body that was actually made of water from the River of Souls. So it's bye-bye Peter Pan, I must say I really am going to miss him. The heroes arrive to the portal just in time. Before she crosses through Emma takes one last look of hope to see if Hook found some way to follow them, but he's not there. Charming convinces her that there's nothing more she can do. Not willing to lose anyone else Emma passes through after her dad leaving the Underworld behind.
Are you as wrecked as I am? Even though being the spoiler addict that I am has allowed me to see things which strongly indicate we have nothing to worry about, that doesn't mean I am not an emotional mess. There was a True Love confirmation (FINALLY) and the parallels between Hook and Emma's first adventure on the beanstalk and beyond were beautiful. Now we just wait patiently until Sunday to see what other unfortunate soul kicks it, because the promo for "Last Rites" (ominous title right?) strongly hints something devastating is going to happen.
Until next time, Oncers, I hope you have your tissues handy because it seems like it's going to be a tearful journey to the two-hour finale.
Twitter: @TheVRO
Facebook: Variety Radio Online
Tumblr: Variety Radio Online
//