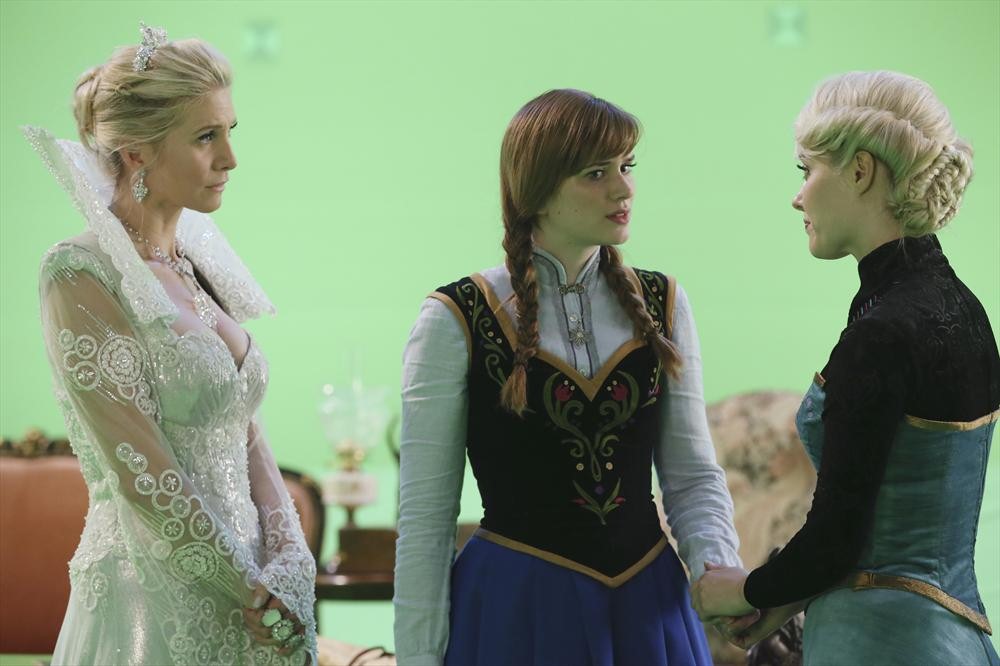 by: Emily Konopka
"We are family, I got all my sisters with me," seemed to be the theme of tonight's Once Upon a Time. In the dramatic hour the entirety of the Snow Queen's evil intentions were revealed and in the past Belle went on a journey that had extreme consequences.
Now that Emma has learned that the Snow Queen was a bigger part of her past than she realized she rallies the whole gang to the sheriff's station to fill them in. Thanks to the youthful insight of Henry our heroes realize the one place they haven't searched yet is the Snow Queen's ice cream truck. The group splits up to comb the forest. Rumple insists that he works better alone, and Belle decides to head to the library to research the Snow Queen. Elsa tags along hoping to find something about Anna.
In the woods Regina, Hook, and Emma come across the truck near Robin Hood's camp. When they search the vehicle Emma finds a folder full of things that prove the Snow Queen has been tracking Emma since she landed in our world. Regina isn't too comfortable being in such close proximity to Robin. Since he can't have conversations with his popsicle of a wife, the dude is longing for come FaceTime with his current love. Regina tells him that she doesn't think she can find a way to cure Marian. The only way she'll get defrosted is if Robin forgets about Regina and falls back in love with his wife. This episode is all about memory loss, so foreshadowing much?
Since no one seemed to question Rumple's intentions when he insisted he be a search party of one, he is easily able to meet up with the Snow Queen in the forest. They both throw vague warnings at each other. Rumple is looking for her to make a deal, but the Snow Queen doesn't bite. She tells him that she intended Emma to find out about their past and warns him to stay out of her way.
Belle has been rather uncomfortable and jittery being around Elsa and there's an explanation why in this week's flashbacks.
In the fairytale land that was Belle and her mother fall victim to an ogre attack. Belle survives, but her mother does not. However Belle doesn't remember a thing, so of course she finds the answer in one of her books. She learns of the rock trolls that reside in Arendelle and ventures off to find them. Anna has just reunited with her sister and she gets an even bigger family reunion when Elsa introduces her to their aunt, Ingrid. Ah ha! The Snow Queen finally has a name. Anna isn't too convinced by her so called aunt's story so she knows Grand Pabbie is the one person who can give her answers. Anna runs into Belle at Oaken's Trading Post and Sauna. When Anna hears Belle is seeking out the rock trolls she offers to lead her to them.
Belle gets a stone from Grand Pabbie that will bring her memories back when she returns to the site she lost them. Anna finds out from Pabbie that her mother did in fact have two sisters, and the reason no one knows about them is because when they mysteriously disappeared Pabbie was asked to erase everyone in the kingdom's memories of them. Anna realizes that she must get back to Elsa right away and warn her that their aunt hasn't shared the whole truth, but she and Belle get stuck in a storm thanks to the Snow Queen. Belle has to make a choice between saving her memory stone or helping Anna and she choses to save her memories. That was bad decision because her stone falls to the ground and so does Anna. Belle's new friend is captured by Ingrid along with the Sorcerer's Hat.
Afterwards, Belle makes it back home safely, and when she returns her father tells her that her mother sacrificed herself to save her daughter. Belle tells her father that they need to summon Rumplestiltskin to help them get rid of the ogres once and for all. No matter the price of magic she is willing to pay it to be a hero like her mother. When Anna awakens Ingrid has locked her up and she tells her niece that she just wanted the three of them to be a happy family. However, Anna isn't like her and Elsa, so she'll just have to find a replacement for her.
Which brings us back to Storybrooke. Belle has decided that she needs to fix the mistake she made in the past and hunt down the Snow Queen. When Rumple refuses to help her, she has no choice but to use her (fake) dagger to command him to take her to the icy sorceress. She knows the Snow Queen has the Sorcerer's Hat and she is going to use to to threaten her into telling them where Anna is. Belle instead finds the mirror Frosty assembled last week, and it has some nasty tricks. The mirror reveals a reflection of Belle's biggest regrets and weaknesses. Her reflection tells her that she is a coward and that Rumple only married her because he needed someone weak who he could manipulate. She also hears that the dagger she possesses is a fake. When Rumple enters the Snow Queen's lair to alert Belle she is on her way back, he finds his wife in a deranged state. He poofs them back to his shop and tries to calm her down. She confesses her secret about Anna to him, and tells him that she doesn't think she deserves to be with him anymore because she knows he would never keep anything from her. Oh Belle, if only you knew what was really going down, I think you'd be singing a different tune. Rumple returns to the frosty lair later to inform Ingrid that the leverage she thought she had, the Sorcerer's Hat, is in his possession.
Elsa has been doing some more digging at the library and has managed to find something huge: a family tree of the royal family of Arendelle. She reveals to Emma and Hook the forgotten detail that Ingrid is her aunt. The family tree also shows something even more revealing, the third sister bears a striking resemblance to Emma. Elsa notices a scroll amongst the pile of the Snow Queen's things. She is able to read the accent Runic writing and tells them that her aunt knew that the savior was powerful long before Emma knew herself. It also says that the savior shall become Ingrid's sister. Elsa realizes her aunt is trying use her and Emma to replace her sisters. Belle comes to the station with some information from Rumple. The Snow Queen is planning on using her mirror to perform a spell called the Spell of Shattered Sight. Everyone in Storybrooke will turn on each other. Emma realizes that there will only be three survivors of this spell: Elsa, herself, and the Snow Queen. She'll finally have the perfect family she's been searching for.
Next week Emma's powers grow more powerful, but with one seed of doubt planted by the Snow Queen she starts to loose control over them.
Share your thought on the episode with me on Twitter. I'd love to hear what you thought!
Twitter: @TheVRO
Facebook: Variety Radio Online
Tumblr: Variety Radio Online
//