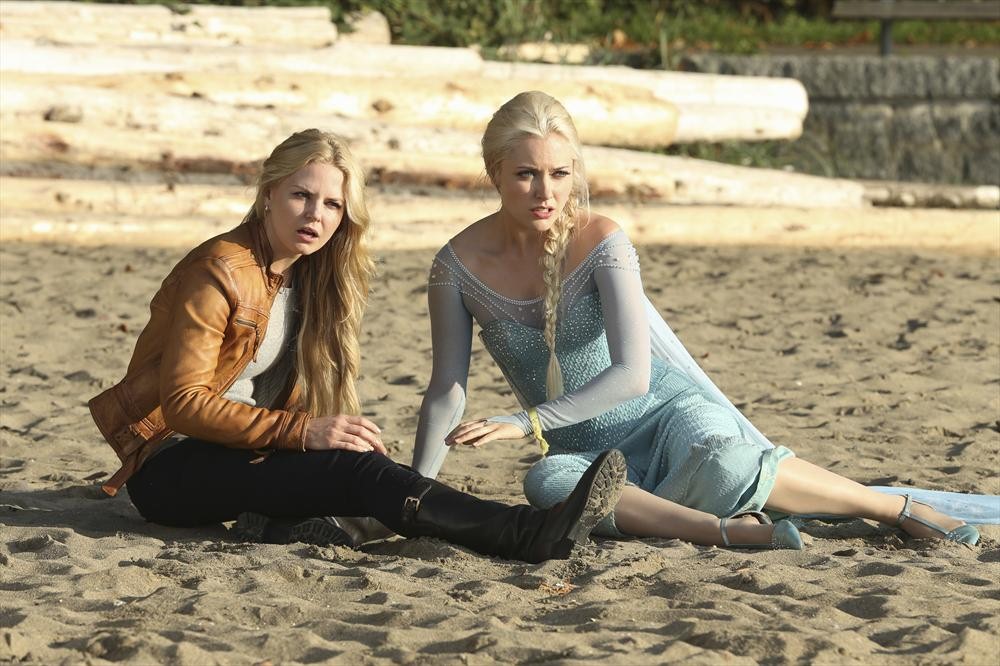 by: Emily Konopka
This week on Once Upon a Time Storybrooke prepped for the worst as the Spell of Shattered Sight approached the town. Elsa and Emma raced to find Anna, who could be the town's only hope.
The Snow Queen's curse was a bit more slow moving than past curses to hit Storybrooke, and let's face it there have been a lot, so the doomsday clock was set for sundown. Rumple who is apparently immune to the curse (the perks of being the Dark One just keep revealing themselves don't they?) strikes a deal with our dear villain. He gets to take Belle and Henry to safety or he stays in Storybrooke and makes her life a living hell. Ingrid chooses the former.
When Emma and the band of heroes head to the town line in hopes of finding a way to escape the curse they find an unexpected solution. Elsa finds her sister's necklace near the ice wall, which she takes as a sign that they're going to win. Now with an item of Anna's they can use a locator spell to find her. Ever faithful in her sister, Elsa realizes that Anna must have been under the Snow Queen's spell when she put her in the urn. Thanks to Belle's ability to find information about anything in that mysterious library of hers, she believes that a counter spell can be made if they have a strand of Anna's hair.
Before the curse hits, Rumple needs to fill up his magic hat with power. Lucky for him the fairies have turned Granny's diner into Professor Snape's potions classroom. They're busy trying to brew a counter curse. All Rumple has to do is get Belle away from the "pesky moths" so Killian can do what needs to be done.
Anna's enchanted necklace leads Emma and Elsa down to the mines, but their search halts when they hit a dead end. Elsa is determined that her sister may be on the other side of the wall, but Emma isn't ready to recreate her first encounter with her newest friend, so she stops her from blasting through the wall with magic. There's apparently still enough time to enlist the help of the dwarves.
When the two return to the library Regina isn't too keen on their plan to waste time looking for Anna. The fairies believe her necklace might be enough to create the cure. There is still dust from the curse lodged in the it. So the heroes must make a choice, potentially save the town, or save Anna. Regina makes a good point when she tells them that being a leader means making the tough choice. When Snow is in agreement Regina's shock is quite comical. Emma retrieves the necklace from Elsa, and they take it to the fairies. But trick's on them; Elsa only handed over the necklace bag, not the necklace. You'd think after the magic bean situation with Hook she'd know better by now.
Emma catches up with Elsa in the mines just as she is blasting a hole in the wall. The two are shocked when the beach is on the other side of the wall. The necklace continues to glow until al of a sudden it just stops. Emma tells Elsa that magic isn't perfect and it has been 30 years, something could have happened to her. When Elsa makes a pure hearted wish to be reunited with her sister something magical happens. And that leads us to what we learned via flashback.
In the Arenedelle of the past Anna, Kristoff, and the rest of the kingdom unfreeze from Ingrid's spell. Which means that Prince Hans is alive and kicking too. After overhearing Anna admit to trapping Elsa in the urn he bursts in proclaiming that he is taking over the kingdom and charging Anna with treason. Arenedelle has some weird rules about taking over kingdoms, or maybe that's just Hans…to think Anna sang with him! (Who else loved that line?)
Anna and Kristoff escape into the forest ready to find Rumplestiltskin and get Elsa back. When Kristoff isn't sold on the thought of seeking out an evil wizard, Anna suggests they could find the pirate Blackbeard. Her parents were searching for the wishing star, and lucky for them Blackbeard had possession of it. With the royal coffers at their disposal, Anna decides that pirates are better than wizards. Anna I'd say I agree with you.
When Anna and Kristoff find Blackbeard it turns out Hans has beaten them there. And since he's now ruler of Arendelle, he's already paid off the pirate to do his bidding. Hans shares an important tidbit of information, the kingdom of Arendelle has been frozen for 30 years! If you're wondering how Blackbeard could be alive, well a certain little mermaid saved him after Hook shoved him off the deck of the Jolly Roger. Speaking of Hook's second favorite lady, the Jolly Rodger is once again in the hands of Blackbeard…which means Killian must have traded it to Blackbeard in exchange for a magic bean! Who's ready to see that exchange via flashback?
Hans is all ready to have Anna and her fiancé walk the plank, but Blackbeard doesn't play that game anymore. He finds that locking people in chests and throwing them overboard does the trick better, it prevents any fin-terference, oh how I love a good pun. So our two lovebirds are locked inside and thrown overboard. When it seems the two are going to meet a watery end Anna starts reciting marriage vows, but Kristoff says he won't marry her until they get out of this alive.
Which leads us back to that magical thing that happened on the beach. As it turns out, Anna's necklace was the wishing star! So now that the two sisters have been reunited the race is on to get to the fairies. However, it's too late. Under the influence of the Dark One, Killian has come through and sucked all the fairies up into the hat vacuum. Emma and the Arendelle crew find the diner in disarray and their instant reaction is to blame the Snow Queen. Killian is hiding behind the counter, and even without it, you can tell his heart is breaking knowing Emma is so close to him.
Now that their chances at a counter curse are gone, it's time to bunker down and prepare for the curse. Snow and Charming insist that Emma lock them up in the jail so they can't hurt each other. Since she is immune she needs to take care of her baby brother too. And if this moment wasn't tearful enough Killian arrives to see his Swan one last time. Rumple has promised that once he gets a hold of Henry, his life will be over. Emma isn't one for tearful goodbyes, but she figures maybe just this once she's okay with it. After a goodbye kiss Emma realizes something is off with her man, but there's no time to elaborate because the curse is here. Regina has locked Henry in the mayor's office with a protection spell, and has bunkered down in her vault. Her love, Robin also comes to see her one last time before their sight becomes shattered. Regina gets him to leave because she doesn't want Robin to see her as the Evil Queen. Snow and Charming face this curse the way they have all others: next to each other. But this curse is no joke, even though they're two halves of one heart, the second the curse hits the love in their eyes turns dark.
Next week shenanigans and cat fights will ensue when the Spell of Shattered Sight wreaks havoc on Storybrooke. Tune in tonight to The VRO when Keisha, Raechel, and I chat about this episode!
Twitter: @TheVRO
Facebook: Variety Radio Online
Tumblr: Variety Radio Online
//