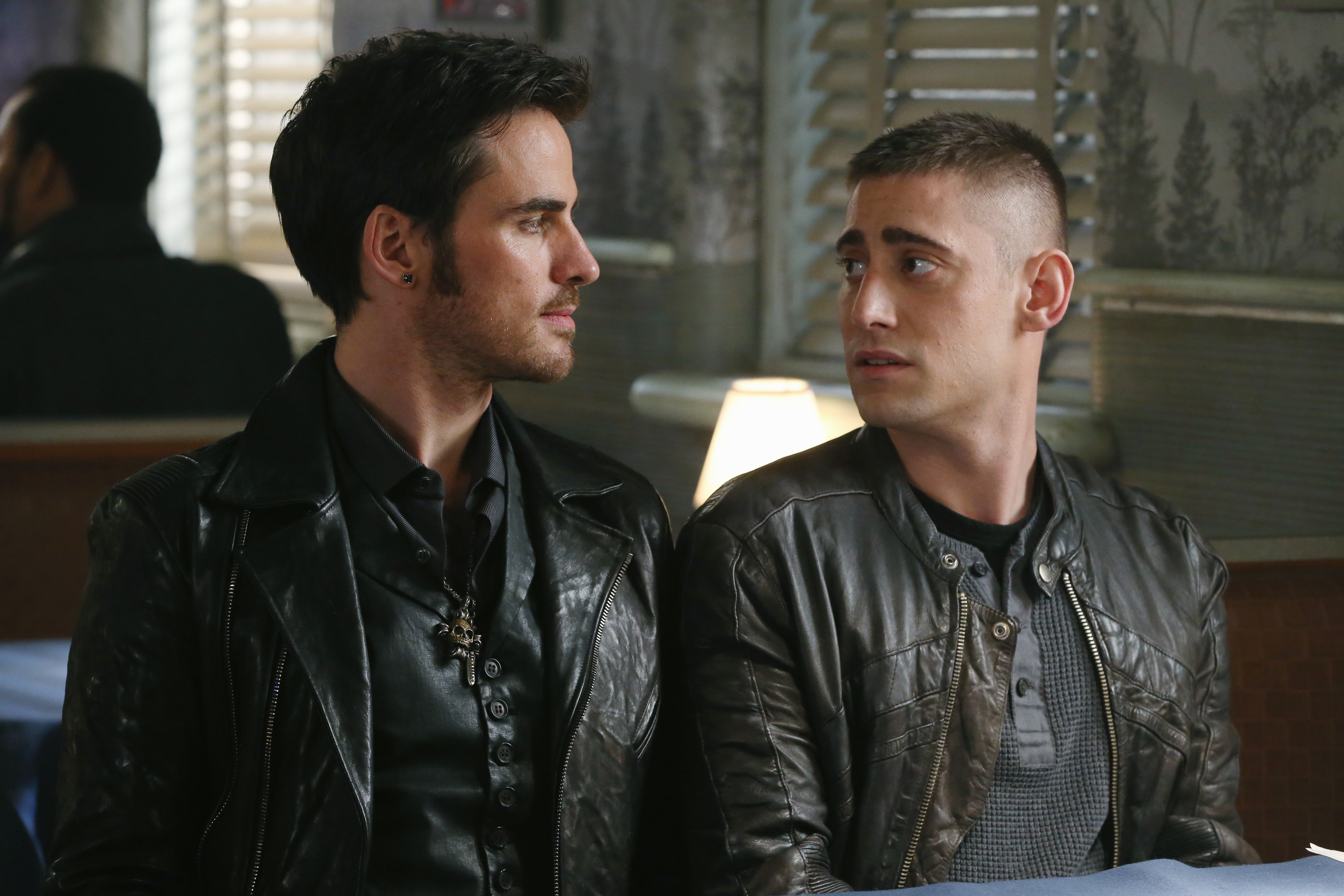 by: Emily Konopka
This week on Once Upon a Time Regina went undercover with the Queens of Darkness, and in the Enchanted Forest of the past she helped Maleficent reclaim her villainous potential.
Before we get to the details of Regina's Girl's Night Out with the Queens of Darkness, here's a look at what happened in the fairytale land that was. Regina is not full-blown Evil Queen yet, and is looking for some ammo in her revenge plot against Snow White. The latest thorn in her side is that Snow and her precious horse are winning all sorts of riding awards. Apparently the Enchanted Forest has 4H club? Who knew? Rumple decides it is time for Regina to draw some inspiration from another nefarious lady. He shows her the damage Maleficent managed to inflict of King Stefan and Briar Rose's kingdom. Since Rumple has always been about the sink or swim method, he poofs Regina to the outskirts of Maleficent's castle.
When Regina enters Maleficent is nowhere to be seen, but the horned sorceress asks Regina to prove herself as a student of magic and light a fire in the fireplace. Turns out Mal has been hiding away in the dark corners of her castle since King Stefan broke his wife's sleeping curse. In Once's version, Aurora's mom is the OG Sleeping Beauty. Not only has she been living as a hermit, she has been doping up on small doses of sleeping curse and seawater. Mal, you've definitely seen brighter days. Regina isn't going to accept that her new villain role model has thrown in the towel. Because if someone as powerful as Maleficent can't win, how will she ever do it?
Regina convinces her new bestie to reclaim her dragon powers, which she has since lost. This involves facing King Stefan. At first she comes up short, but eventually she is able to return to her dragon form. With some spunk back in her step she realizes that simply killing Stefan and his queen won't due. A more satisfying revenge will be making their daughter suffer. Maleficent shows up to the castle to curse Phillip and Aurora, whose respective curses we saw resolved in season 2. Thanks to her new gal pal Mal, Regina also realizes that death is not the proper revenge to seek against Snow White.
Now back to the present where Regina has joined the Plastics and has to prove that she's still a villain at heart. This involves some excessive drinking with the girls, a game of chicken (or as Cruella calls it 'Don't be a Hero'), and torching some Storybrooke police cars. Regina summons Mary Margaret and David to give them an update. She doesn't know why the ladies are in town, but she does know they are hiding something. She may not have any information yet, but she has gained their trust.
Emma however is worried about Regina. She doesn't trust that something won't go terribly wrong. Her superpower has been going crazy lately telling her that even her parents might be keeping something from her (time to make like Olivia Pope and trust your gut Emma because they are!). So she tells Regina that she's going to have her back on this one, and if anything starts to go wrong she'll be there to step in. Meanwhile her boyfriend Killian pays Belle a visit while she's on a date with her new beau Will Scarlet. Will fears Killian is there for round two of fisticuffs and kindly asks if they're going to fight that they do so not in front of his lady. Killian says that while he'd love to bloody up his face some more, he's actually there to see Belle. They need to speak in private.
Killian warns Belle that the Queens of Darkness may be after Rumple's dagger. But something seems a bit off with Killian. Belle, who is so blindly trusting of people, leads Killian straight to where she has the dagger hidden. She realizes that maybe Rumple has already found a way in to town, and the dagger is her only protection against him. Killian offers her a solution, summon the Dark One to come and face her. She does and nothing happens, so she hands the dagger over to him to hide in true pirate fashion, where no one will be able to find it.
But not so fast Belle, did you not notice the meticulous word choice used when you summoned your husband? As soon as she leaves Killian gets a downright evil look on his face and poof he's back to being Rumple. Well played Dark One, now you have your dagger back. However, Rumple isn't done playing pirate. He goes to see Belle later on to ask her to swear a "pirates oath" (if that's even a real thing) that they'll never speak of what happened to anyone. This was just a pretense to ask about her new boyfriend. Belle unknowingly tells her husband that it's nice that her new man is exactly who he says he is, and even though she'll never truly be over Rumple, he makes her smile, so for now that's good enough. When Belle asks how "Killian" knows Will, he tells her that he took something precious of his. Uh oh Rumple, let's not have a repeat of the Milah situation now.
Now that Regina is officially a member of the gang, it's time to get some answers. The Queens of Darkness have a lead on the author, but they'll need something first. Regina assists Maleficent in kidnapping, er borrowing? Pinocchio. Emma has trailed them to Marco's place, and while Regina is inside she sneaks in the back to warn Regina that this doesn't seem like the best idea. Regina promises she has a handle on things, and ditches her phone at the scene so Emma can't tail her. Maleficent reveals where they've been hiding their dark magical secret: Rumple's cottage. Right then she realizes that their lead isn't a thing or a spell, it's a person. Rumple reveals himself to his former student. Regina makes a quip that this means they're both on the same side for once. So what's Rumple's big plan to learn about the Author? Fast-forward the clock for Pinocchio, so boom August is back to his old, in more than one way, self. So nice to see you're still quite the looker August. Too bad this pack of villains might mess up that pretty face torturing information out of you. Ouch!
So, how about all those comebacks this week? Next week it looks like The Villains are set to torture some information out of August. Who do we think will play good cop? Any of them? Plus, Killian and Ursula have an encounter on what looks like the Jolly Rodger…intriguing! Make sure you tune in to The VRO Monday night at 9/8c to hear the lovely Raechel and I chat about this episode!
Twitter: @TheVRO
Facebook: Variety Radio Online
Tumblr: Variety Radio Online
//