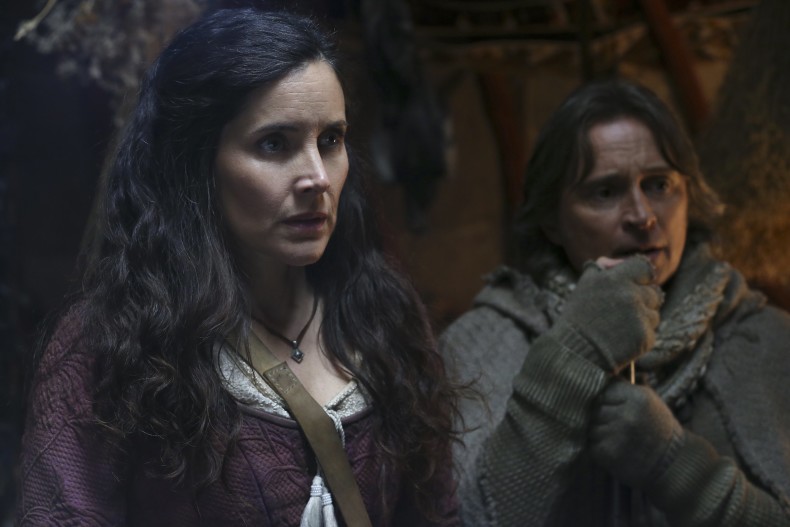 Rumple takes the lead in the search for Hook and tracks down someone from his past. When Emma is finally reunited with Hook things don't turn out exactly as she'd planned.
Hook continues to be tortured by Hades until he picks three of his friends to stay in the Underworld with him. Since Killian won't budge Hades decides to expedite things by stringing him up above the River of Lost Souls, you know that green flowy river from Hercules. Every minute that passes that he hasn't made a decision he comes one step closer to being dropped in the river and doomed to being a lost soul.
Rumple conjures up an image of Belle in a crystal ball, but he's not happy with what he sees. Belle is enjoying a nice dinner at Granny's…with Grumpy. Now while I'm sure Belle hasn't started dating Grumpy (though he's definitely a million steps up from Rumple) Rumple hasn't always been the most rational of thinkers. Now he's decided he doesn't want to wait for the heroes to do things their way.
Rumple calls on Emma to come with him so they can hurry up and find Hook. He claims he'll be able to extend the aura of a living person so the two of them can get past any barriers Hades might have set up against the living. That person who is going to help them? Milah. Rumple finds her working as a crossing guard, and doesn't hesitate to point out the irony that her punishment in the underworld is looking after children, since you know she abandoned her son. Hello pot, meet kettle. But I digress. Emma shows up and things get a whole lot more awkward. Rumple gets Milah up to speed on their interesting dynamic. Hello Milah this is Emma she got knocked up by our son as a teenager, had our grandson in prison and now she's dating your former lover Killian Jones.
But there's no time for extended awkwardness because they need to find the portal into Hades' lair. Turns out the door to hell is in Emma and Killian's house. Rumple and Emma join hands with Milah, maybe there is still some time for a little more awkwardness, and are able to pass down into Hades' domain. Once they get through Rumple thanks Milah for her service, but she has other plans. She is going to come with and help rescue Killian. Emma takes it upon herself to tell Milah about Neal. Let's her know that her son is in a better place. Emma Swan proving she is amazing once again ladies and gentlemen.
All three of them board a boat and sail down the river. When they arrive at the end of the river Emma can sense that Killian is near, because when you love someone you just know (I'm not crying I swear). Not so surprisingly, Rumple offers to stay back with the boat where it's safe. Not trusting Rumple won't betray them, Milah tells Emma to go ahead, she will stay behind with her ex-husband and make sure he doesn't do anything.
Emma finds Killian dangling over the river, about to plunge into its depths. She makes her way across to where he is being held and pulls him up before he touches the green water. *Casually bursts into song* AT LAST, MY LOVE HAS COME ALONG. Okay, now that I've got that out of the way, Emma cradles Killian as she takes in his bloodied face. He tells her she was supposed to let him go. Oh sweet Killian don't you know that Emma never listens. She's impossible, but he loves her for it. This reunion was definitely worth waiting three months for.
While Emma is busy rescuing her love, Rumple and Milah have a heart to heart of sorts. She tells him that Killian was never her unfinished business, Baelfire was. She realizes she never should have left him. She hopes that by doing something to help the children of the Underworld she can move on and see him again. Tell him how sorry she is. Rumple knows that if he can forgive the horrors he committed, he'd most definitely have room in his heart to forgive his mother. It's been quite some time since Emma left and Milah starts to get worried. Hades takes that as his cue to make a grand entrance. He uses magic to freeze Milah in her place and asks Rumple to have a chat with him. He wants to make a deal.
Hades' master plan involves getting Rumple back to Storybrooke. Hades is willing to make a deal with him because he's provided him with countless number of souls over the years. He promises to send Rumple home if he does one thing for him, destroy the boat he came down the river in so the heroes won't have a way to get home. When Milah is unfrozen she realizes that something is up. She saw Hades and now he's gone. Just as Milah is yelling to alert Emma that something is up Rumple uses magic to launch her into the waters. Oh yes, he really did just do that. I would like to say I'm shocked, but at this point Rumple is on a high way straight to hell…oh wait he's already there.
Just after Milah disappears Emma emerges with Killian. Rumple claims Hades took control of his magic and forced him to push Milah in. Killian is obviously shocked when he finds out the woman he spend centuries trying to avenge was part of his rescue. Anyone else thoroughly disappointed Killian didn't get to see Milah? I was hoping they'd get a brief moment of closure given the fact he spent the majority of his life wanting to avenge her death.
Of course it woulnd't be an episode of Once Upon a Time without a flashback. This one was centered on Milah and Rumple's life before she and Killian ran away together. Little Baelfire, who might I add was definitely older in this flashback than he was when Milah left in season 2. I guess I can look past this minor transgression since this episode was amazing on so many levels (Bless you Jane Espenson). A poisonous snake bites Bae while he's out trying to catch dragonflies. Milah and Rumple desperately head off to healer to try and find a cure. The healer has a cure, but it comes at a steep price, 100 gold pieces. That price is too much for them to afford so they leave dejected. Milah proves that she was a pirate all along by suggesting they go back later and take it. She uses their last gold coin to buy a dagger; one Rumple can use to finally do something courageous and save their son.
Rumple leaves Milah at the tavern while he goes to kill the man for the cure. A drunken patron gets a little handsy with her but a handsome stranger is there to tell the man to bugger off. That's right! Killian freaking Jones happens to be at the tavern; looking sinfully attractive I might add. Anyone else still compromised by the sight of Killian in that red vest and black shirt without his jacket on? Like, I'm surprised I'm even able to be typing this right now. Okay, back to the subject at hand. Killian strikes up a conversation with Milah about his life as a pirate and she is completely enthralled with his stories. He asks her if he'd like to join him, but she has an ailing son to take care of and a husband, so she declines. He tells her that if that ever changes, he and his crew make port there quite often. This scene was everything I never knew I needed. It almost makes up for the fact that the two of them didn't get an Underworld reunion.
Rumple makes it back to the healer's house, but before he can slit the man's throat he wakes up. Seeing that his son means so much to him the man offers to make Rumple a deal. He will give him the potion without any payment of gold, all he has to do is make a deal. Rumple returns to Milah and Baelfire just in time. Milah is proud that Rumple was able to go through with it, but Rumple reveals he didn't have to kill the man to get what he wanted. All he had to do was sign a contract promising his second born child. Rumple think's he's come up with the perfect solution: they won't have any other children since Bae is all they need.
Back in "Underbrooke" as people have been calling it this episode, Rumple gets Hook and Emma back to the rest of the group. Killian is obviously angry with Rumple for using his sacrifice as a way to obtain power, but since he helped Emma save him he's calling them even for now. Emma is anxious to get on with the heart splitting so they can find a new way home. There's just one problem. When Regina tries to take Emma's heart, she's blasted back. They find their way to the graveyard where Killian tells them what Hades asked him to do. Since he didn't make the choice, Hades did it for him. The three tombstones now read, Regina Mills, Snow White, and Emma Swan. Since Emma is doomed to stay in the Underworld, she can't use her heart to save Hook.
Rumple goes back to Hades to collect his end of the bargain but Hades has other plans in mind. He's going to keep good on his promise, just not yet. He found out that when Rumple was using the crystal ball he wasn't asking to see Belle, he was trying to see his son. Confused? Belle showed up because she is unknowingly carrying Rumple's second child. Hades found out about his unpaid debt to the healer, he later went and killed him as the Dark One, so he bought the deal from him. Rumple now has to do Hades' bidding, unless Rumple wants Hades to snatch his second born away. If Belle weren't innocently dragged into this I would be screaming that Rumple is getting what he deserves. At this point can we finally say the redemption train for Rumple has left the station for good?
This episode was fantastic and the preview for next week looks like it's going to keep getting better. Next week Killian is reunited with his brother Liam, and from the looks of it his big brother doesn't approve of Emma. Uh oh.
Twitter: @TheVRO
Facebook: Variety Radio Online
Tumblr: Variety Radio Online
//