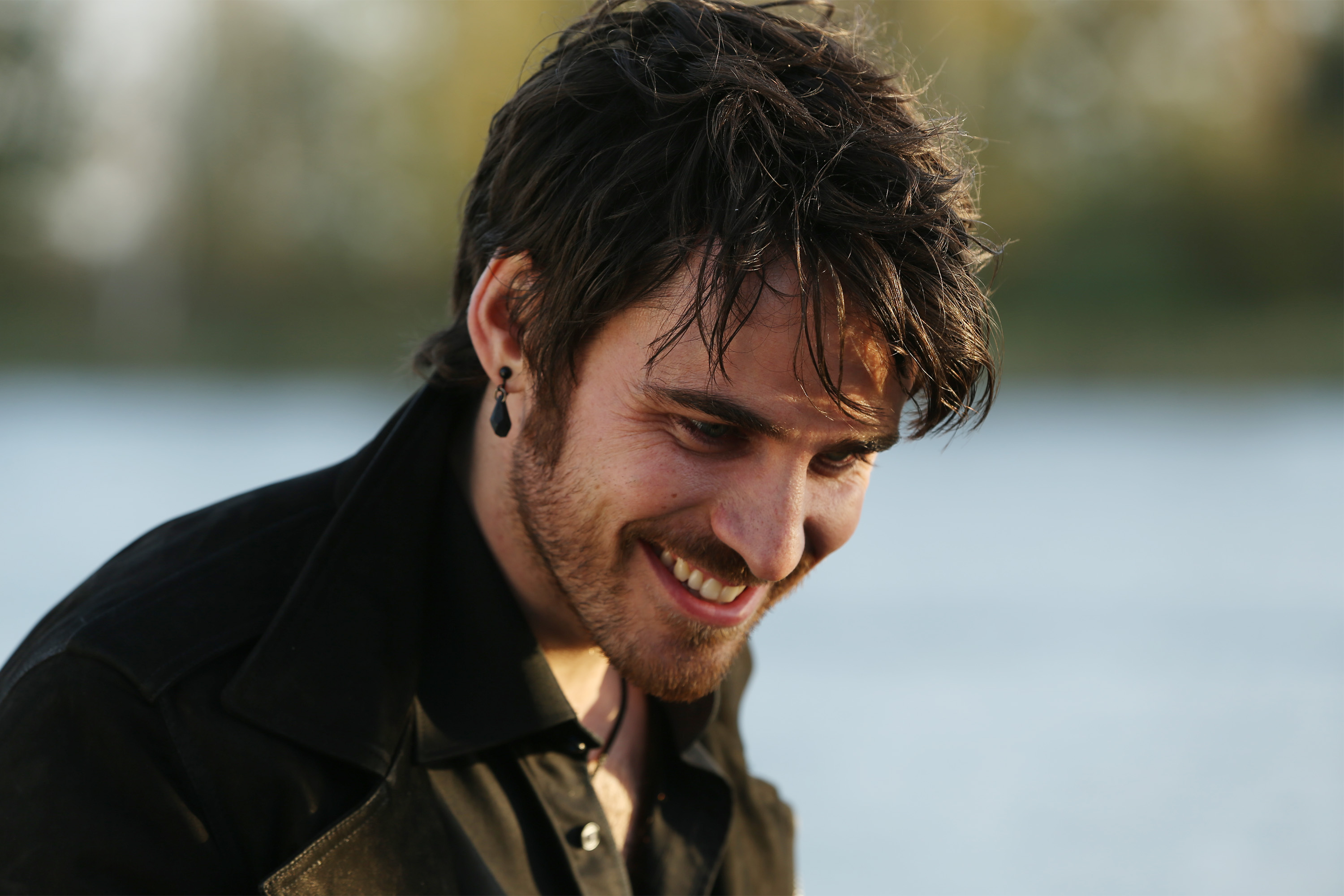 by: Emily Konopka
Now that Hook knows he's a Dark One he wastes no time getting himself into trouble. He starts by taking Emma's memories so she can't remember the key to his, or rather the Darkness' master plan and slapping the magic blocking cuff around her wrist so she'll be powerless to stop him. When they said love hurts I'll bet you never expected it to hurt this bad.
Back in Camelot Hook emerges from the Dark One vault, after some awfully painful déjà vu of all the pain he's experienced in his life. And who should be there to greet him but a little voice inside his head. Except for Hook the voice inside his head takes the form of the person he hates most. But the little Rumple inside his head tells him that he has a way for him to get what he's wanted for hundreds of years, a way to kill him.
And speaking of that revenge, back in Storybrooke Hook heads straight from Emma's to Gold's shop. In typical pirate fashion he challenges Rumple to a duel, I believe this is could be considered coming full circle. But the normal sword Hook throw's Rumple's way can't kill him, so it's a good thing Hook has Excalibur handy. He tells Gold to meet him on his ship, where it all began, so they can finish what they started. Dark Hook is extremely sassy and totally unhinged.
The Charmings and Regina find Emma at her house and she fills them in on their predicament. Their one hope is the dream catchers that Emma filled with their memories; too bad Hook took them all. They head to Regina's where Gold is waiting to tell them of Hook's plans to duel. Emma knows there must be something missing because Hook wouldn't have stolen the memories if he was just going to announce his plans to the world. Since Merlin said Nimue is the key to defeating the Darkness they've got to head to the library to read up on the lore of the Dark One. Emma however says there is an easier way, all they have to do is remove the cuff and she can protect them all. Except her family doesn't trust her, or rather the Darkness.
Hook continues to be tormented by the voice inside his head while he wanders the forest of Camelot. He takes a minute to ditch the robes and slip into something a bit more leathery. He knows Rumple is lying because the real Rumple is back in Storybrooke and he's stuck in Camelot. The voice's suggestion, a Dark Curse. Even though he's angry with her for making him the Dark One he won't kill Emma to get his revenge, but as Rumple does he points out that there's always a loophole.
Speaking of Emma she is relived to see that Killian is still alive. He's however not as pleased to see her. She threw him right back into the Darkness after he fought so hard to get back into the light. Emma can see that he's seeing Rumple so she takes a page from his book and reminds him of their future together. Their house back in Storybrooke, she isn't afraid to want it anymore. When Killian admits he still wants it too, the demon in his head goes away. Emma swears they'll defeat the darkness in both of them by going to the ones they love.
In Storybrooke Zelena heads to the hospital to take back her daughter but Robin and Regina are playing hide and seek with the baby. Regina believes there's a chance Zelena might be able to turn things around so she takes her to where Robin is waiting with their daughter. Robin tells Zelena that she and Regina have decided she can visit their daughter whenever she wants as long as one of them is present. The three of them however will never be a family. Zelena gets a little emotional as she holds her child for the first time. Aw! Even wicked witches have a soft spot for babies.
Hook stops by to see Emma to let her know that he still has strong feelings for her, strong negative feelings that is. He tells her that she was nothing more than a pretty blonde distraction and now that he's got Excalibur he'll never let her get in the way of getting what he really wants ever again. Ouch. Emma knows that the Darkness is manipulating Killian like it tried to manipulate her. Except Killian doesn't care because he knows he's being used. As long as he gets his revenge out of it he doesn't care what else the Darkness wants him to do. To add more salt to her wounds Killian tells Emma that she'll always be an orphan because no matter how hard she tries she always ends up pushing the people she loves most away. Dark Hook is down right cruel, 300 years of hatred and wallowing sure reared their ugly head right back the second the Darkness took over Killian.
Back in Camelot Killian and Emma are smooching away in the forest, all in the name of keeping Killian's inner Dark Ones away of course. But when Emma leaves to scout their path back (because poofing would be indulging too much dark magic?) the voice in Killian's head comes right back. He can hear the dagger calling to him. Rumple tells Killian it must be close, which means Emma lied to him when she said she didn't have it. When she returns Hook demands to know the truth. Emma reveals that she does have the sword. Killian thinks that she's used it to control him. He's betrayed that he was the one who always believed in her, but she doesn't believe in him to control the darkness.
When Emma isn't able to find Killian after their she has so choice but to summon him. She brings him to the field full of flowers to let him know that she does trust him to control his own fate. She hands him Excalibur and tells him that he can do what he wants with it. She trusts him because she loves him. Hook is astonished, he's normally the one who has to declare his feelings first. After a big ol' romantic kiss Killian and Emma head back to Granny's. Killian goes inside to find Merlin, except he really is headed inside to enact his dark plan. He can't back to Storybrooke without a curse, but since Nimue lives on in every Dark One so when Killian crushes his heart it will be like Nimue is doing it.
Emma comes into the diner and finds Killian with Merlin's heart in his hand. She realizes he was playing her the whole time. He says all bets were off the second she lied to him about having Excalibur. Being a Dark One herself Emma is able to realize what Nimue wants to achieve by using Hook. She begs Killian not to fall into Nimue's trap; she says that she is his happy ending, not his revenge. Hook claims that he didn't say that, the lovesick puppy dog Killian Jones did. He crushes Merlin's heart and enacts the Dark Curse. Emma decides to add her own little twist the curse. She's going to make Killian forget he's the Dark One, along with everyone else. As the curse takes over Emma holds Killian, much like her mother held her father when the first curse hit. Cue the tears!
In present time Rumple arrives at the Jolly Roger to face Dark Hook. It seems like Hook is going to get the better of Rumple, but he takes a little bit to long to goad and Rumple is able to get Excalibur away from Hook. Instead of killing him, Rumple decides to let Hook live with the knowledge that he bested him.
Rumple heads to the well in the woods victorious, ready to see if Belle will meet him there like he asked her to. Belle shows up, but it's not to tell Rumple she wants to be with him. Even though Rumple has made strides to be a better man, and he's finally the man she always hoped he would be, she has to protect her heart because he's broken it too many times. Belle says that if she's going to figure out what she needs to do she needs to do it alone. Can I get an amen? Belle finally stood her ground and stuck with it. This has been a long time coming.
Turns out that Hook just wanted Rumple to think he's bested him. His real motivation for calling for a duel was to retrieve the blood of someone who has been to hell and back. He uses the blood to call forth Nimue and all the other past Dark Ones from the Underworld. When they arrive in the flesh, they'll be able to finally do what Dark Ones have been trying to do for centuries, snuff out the light forever.
Well that certainly what a whopper of an episode. Is everyone still breathing? So what do think of Dark Hook? Do you think he's really slipped into the darkness? Or do you think he's got ulterior motives for making people think he's gone dark like Emma did? And the Underworld references were thrown right in our faces! Only one episode left until the hiatus, so we better buckle up!
Twitter: @TheVRO
Facebook: Variety Radio Online
Tumblr: Variety Radio Online
//