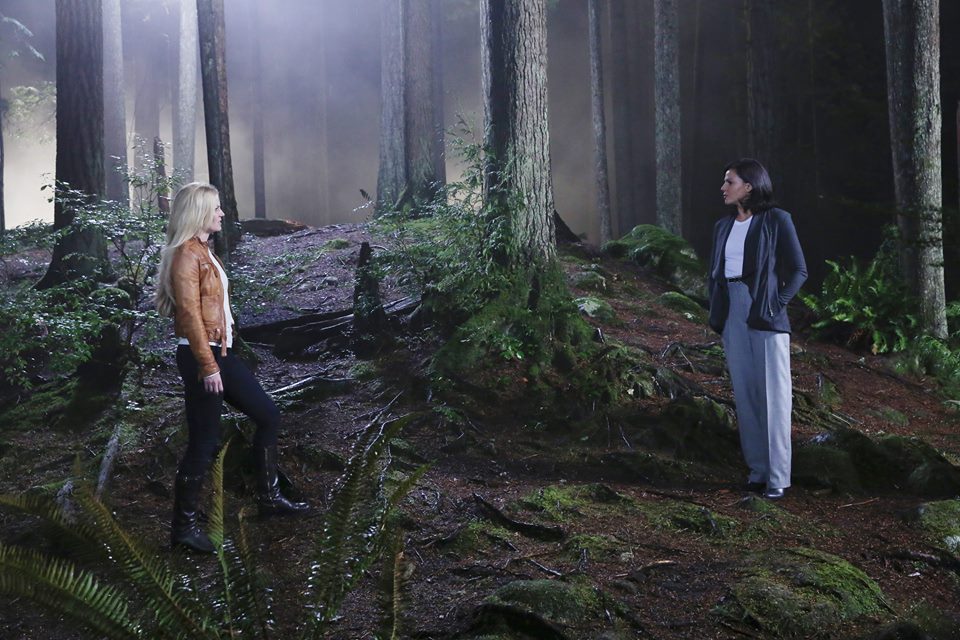 by: Emily Konopka (@xemilyxmariex)
This week on Once Upon a Time Emma's rocky relationship with Regina was tested even further, the Snow Queen's intentions became a bit clearer, and a piece of Emma's past revealed a shocking twist.
Emma continues to help Elsa search for her lost sister. Elsa thinks the best way to find her is to take the search directly to the Snow Queen, but there is one problem…no one knows where Queen Frosty is. Emma finds a picture amidst the city records from the first days she spent in Storybrooke, back in the days when Regina had Sidney follow Emma like the paparazzi. This picture shows her talking with the Snow Queen in the ice cream parlor. Emma has no memory of this, so it's very clear that she has had her memories taken away, just like Elsa. Shout out to Will Scarlet for being the sassiest gentlemen on the block. One liners about Hook sucking up to Emma just sound so much better when they're delivered in that great cockney drawl. (Also, that kiss on the cheek Hook gave Emma…my heart may have stopped).
The only way to find out why Emma was talking to the Snow Queen is to go to the person who had Emma followed in the first place, Regina. Regina isn't too thrilled to see Emma. She tells her that she doesn't know why she was talking to the Snow Queen, and she lies about knowing where Sidney is. Emma offers an olive branch of friendship to Regina but she is unwilling to accept since Emma has never had her back and never will. Lately it has been one small step forward, one giant step back for Storybrooke's resident evil regal. Regina's handy dandy mirror says he knows where the Snow Queen is, but he can't tell her where she is, but he can lead her there…if this seems fishy to you, hold on to that feeling it'll come in handy later.
Elsa gets lured into the woods by a figure she believes to be Anna, but it is actually a trap set by the Snow Queen. Apparently Snowy just wants to be a good auntie to Elsa and help her control her powers. So until she can control her fear she will remain locked in chains. Nothing says family bonding like ice bondage right? Something tells me that snowman the Snow Queen wants to build is not nearly as kind as Olaf.
After Emma's little visit with Regina she notices Elsa's absence. While she is combing the woods for her she runs into Regina, who is on her way to the Snow Queen thanks to Sidney. Emma knows that the best way to find her new bestie is to track down the Snow Queen, so she asks Regina if she minds the company. No surprise, she does mind but knows Emma will tag along regardless so she just trudges onward.
On their frenemy adventure into the forest Emma tries to make casual conversation, but Regina so doesn't want to be girlfriends (sorry SwanQueen fans). She doesn't appreciate that Emma thinks it is admirable she is helping Marian. Since Emma "ruined" Regina's life she should have to learn to live with the guilt. Regina isn't going to be planning any slumber parties with Emma anytime soon. When the two stumble upon an ice bridge they know they're getting close to Elsa…but when the wind changes it is apparent that the Snow Queen isn't far either. Regina realizes that Sidney led her into a trap. He was playing double agent and working for the Snow Queen. Regina seems surprised, but come on Regina can you did you really not expect this of Sidney after you trapped him in a mirror again?
Waiting for Emma and Regina at the other side of the ice bridge is an icy monster that makes Elsa's giant snowman look like well giant marshmallow. The icy foe isn't too much of a match for the two magically gifted females. When they work together they're able to melt the monster. Hooray for teamwork. But before Emma and Regina can start designing team Swan Queen teeshirts the Snow Queen shows up. She snatches Regina's compact mirror from her and before she can finish off her fellow sorceresses Elsa arrives free of her chains and blasts Frosty back. The Snow Queen takes a moment to feel like a proud aunt before she vanishes, she has what she came for.
Sidney has his freedom, and is all set to bow down to the Snow Queen, but she tells him he is free to go. The mirror is what she was after most. Regina's mirror is filled with dark magic and it is going to help her get one step closer to the thing she has always been denied…a family who loves her.
This episode the flashbacks took a break from Arendelle, and we got see a glimpse into Emma's life as a young girl. Cue young Emma circa 1998 about to rob a grocery store, but she hasn't perfected the art of the five finger discount just yet so she almost gets caught. Thankfully for our young Swan a brunette girl named Lily covers for her, and says they're just grabbing a few things for her parents who are out in the car. Emma recognizes certain loneliness in Lily's eyes, the kind she has in hers and the two become fast friends. The two girls find a fancy summer home and break into it. It'll make a nice dwelling place for the fall. Emma assumes that Lily is an orphan just like her. She tells the story of how she ran away from Boston because she thinks she missed her chance at being adopted, she's too old, and no one will look at her the way two parents look at their own child. Emma's short friendship with Lily is shattered when she finds out that she isn't an orphan, just a girl who doesn't like her adoptive family. Emma wants nothing to do with Lily and CPS comes to take her back into the foster system.
Back in the present day Emma's encounter with Regina leads her to reminisce about her long lost friend. She and Regina reach some form of friendship by the end of the episode. Apparently Regina doesn't actually want to kill Emma. So hey it's a start.
During all this commotion Mary Margaret and David had a mini adventure of their own. David has to fight tooth and nail to get his wife to leave baby Neal with Belle for an hour (foreshadowing a Rumbelle baby anyone? "She's a natural" I say so). When he finally succeeds Mary Margaret gets a little thirst for adventure when Will Scarlet escapes from jail. She believes that David planned the whole scenario to get her out of the house, but he actually didn't. She rediscovered part of herself all on her own.
The close of the episode was by far the best part of the entire hour. Emma was feeling a little down after her whirlwind of a day, so she decides she is going to pull out some mementos from her childhood. Killian comes to the station to visit his ladylove and when he notices what she is looking through he asks her if he can have the honor of looking through her past with her. While they're rummaging through the box Emma finds a video camera, and when she plays the tape she runs into a part she doesn't remember recording. It turns out what I've been thinking since the Snow Queen seemed to recognize Emma, she was in charge of one of the foster homes Emma went to as a teenager! Talk about a total Star Wars moment, Emma I am your Foster Mother.
Next week it seems like things will get real crazy when Emma confronts the Snow Queen about her new found secret, and Belle might find out the truth behind Rumple's dagger.
Tune in tonight to hear Keisha, Raechel and I discuss the episode at 9/8c on The VRO!