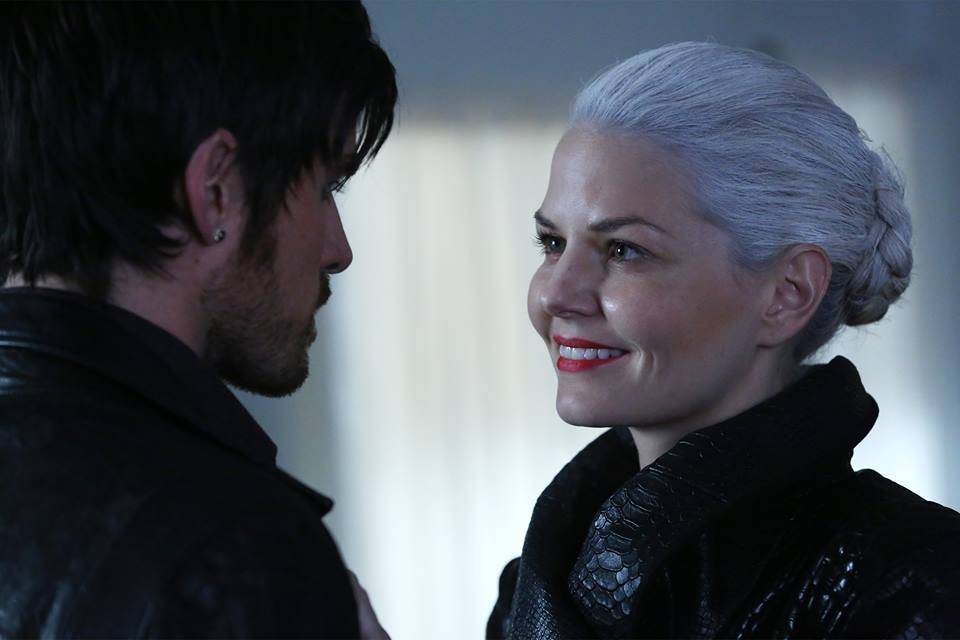 by: Emily Konopka
In Camelot

Emma realizes trouble is afoot when she returns with Prometheus' Flame and her family is not back with Excalibur. Merlin comes a knockin' to tell her she has no choice but to come to the forest with the dagger and the flame, otherwise Arthur will make him kill her family. But first Emma has to find it in herself to ignite the flame. The voices in her head tell her she isn't ready to let go of the darkness, which is why she can't light it. Henry thinks she might need some motivation so he fills her in on something he and Hook have been working on, Operation Light Swan. Killian has picked out a nice house with a view of the sea for them to live in when they get home. It's what he likes to call a promise for their future together.
Emma is ready to get her family back, but first she has to use the darkness one last time. When she comes to the forest Arthur and Zelena have her family tied up in chains. She offers the flame to Zelena, but it's a trick, and the wicked witch gets tethered to a tree. Emma challenges Arthur to fight back. Emma and Merlin duke it out a la Harry Potter and Voldemort, connecting strands of magic and all. But Merlin is too strong. As punishment for retaliating Arthur orders Merlin to kill Mary Margaret. Emma implores with Merlin to fight off the pull of the darkness because if the greatest sorcerer to ever live can't fight it, no one can. Merlin is able to break his trance, but he can't hold it off for long. Thankfully Hook is able to slide of his brace and free himself from the shackles. He knocks Arthur down and gets Excalibur away from him. Arthur and Zelena make a quick getaway in a cloud of green smoke.
In their tussle, Killian got scratched by Excalibur's blade, but Emma heals it right up. Now it's time to ignite the flame and forge the sword with the dagger. However, Emma isn't finding it so easy to let go of the darkness so Regina tries to offer some encouragement. She gets Emma to admit that she likes the feeling freedom the darkness gives her. Regina decides it's time to give Emma a little push into admitting the real reason she's so afraid to let go of the darkness, so she snatches the dagger and commands Emma to tell her the truth but all that does is push Emma away.
Killian lets her cool off before he goes to talk to her. She tells him that Operation Light Swan is the reason she's so scared to let go of the darkness. She's never been able to admit true feelings for something until she's thought she was going to loose them. Once the darkness is gone her future with Killian will start, and that scares her. Killian is just excited to know that Emma wants a future with her. The two share a kiss and the flame ignites.
When Emma brings the flame back to Granny's to join the dagger and the sword, something terrible happens. As Emma is performing the spell to join them, Killian's neck wound reopens and he starts bleeding out. Since Excalibur was forged to cut away immortality, a simple cut from it is deadly to anyone. There is no way to save Killian. Emma isn't ready to let him go though, so she decides that she will free Merlin from the sword and tether Killian's life to it instead, which would create another Dark One. Merlin warns Emma that there will be no destroying the Darkness without a very steep cost if she does this. But she doesn't care; she can't loose the man she loves. Emma whisks Hook away to their field of pink flowers. Killian begs her not to turn him into the thing he hates; he says he's not strong enough to fight off the darkness. And as for their future together he'll be happy knowing she has one, but that's not enough for Emma. As Killian draws his final breath Emma enacts the spell to bind him to Excalibur. Killian emerges in the woods from the Dark One's fault sporting a cloak and a rather dark expression.
In Storybrooke

Charming and his bros Robin and Hook confront Arthur about his lies, but he makes a getaway. When it seems like Arthur is going to take a stab at Hook Emma appears to save his life. In lieu of thanks Hook wants answers. Emma tells him that she's doing everything because of him. Hook is determined to find out what she means, so he draws her out of hiding by risking his life, banking on the hope that she'll swoop in and save him. When she appears Killian tells Emma that he was wrong to say he didn't love her because he does love her, no matter what she's done. Emma agrees to tell Killian everything, she must bring him to her house, or well their house as Emma informs him. Everything Emma has done has been to preserve her future with Killian, or so she says. A steamy make out in the living room knocks hook on his back, literally. Emma used magic to knock him out because if he knows what her plan is he'd surely try to stop her.
And part of that plan includes Zelena. Emma uses her magic to rapidly accelerate Zelena's pregnancy. Belle and Mary Margaret think it's because Emma needs the cry of a newborn to destroy the light magic, but what she really needs is Zelena not to be with child. Zelena delivers a baby girl and Emma shows up to snatch the new mom away before she can hold her baby. Killian awakes down in Emma's secret tunnel to find he has some new company. Zelena thinks Emma is going to steal her magic, but it's actually the opposite. Emma is going to use Zelena as a vessel to destroy the darkness. But what could motivate Emma to commit cold-blooded murder?
Hook frees Zelena from her magic blocking cuff so they can escape their shackles. Instead of running for freedom, Hook stays behind to find the vile of squid ink Emma stole from Rumple. He finds it in time to use it on her, but before she can spill any of her secrets, Zelena returns to do the honors. Since she's always had a flair for the dramatic, Zelena reveals Emma's deep dark secret by stabbing Killian in the heart, except nothing happens to him. She's managed to find Emma's stash of dream catchers, and she holds Hook's memories in her hands. He demands she show him everything that happened in Camelot. He watches as his memories play out, and his refresher course ends with him seeing himself emerge as the Dark One.
Hook views what Emma has done as the ultimate betrayal. He can't believe the woman he loves would turn him into the very thing he hates the most. He tells Zelena that before they finish what they started they have to take care of Emma.
And on that dramatic note, the first hour comes to a close! Is everyone still breathing? I understand if you have to pause to dry your tears. Did anyone see Dark One Hook coming? I sure didn't!
While we wait an extra week to find out what happens now that Hook is a Dark One let's all just sit back and watch one of the most beautifully tragic scenes to ever take place on Once Upon a Time…
Please enter the url to a YouTube video.
But first, on to hour two: The Bear King!
Twitter: @TheVRO
Facebook: Variety Radio Online
Tumblr: Variety Radio Online
//