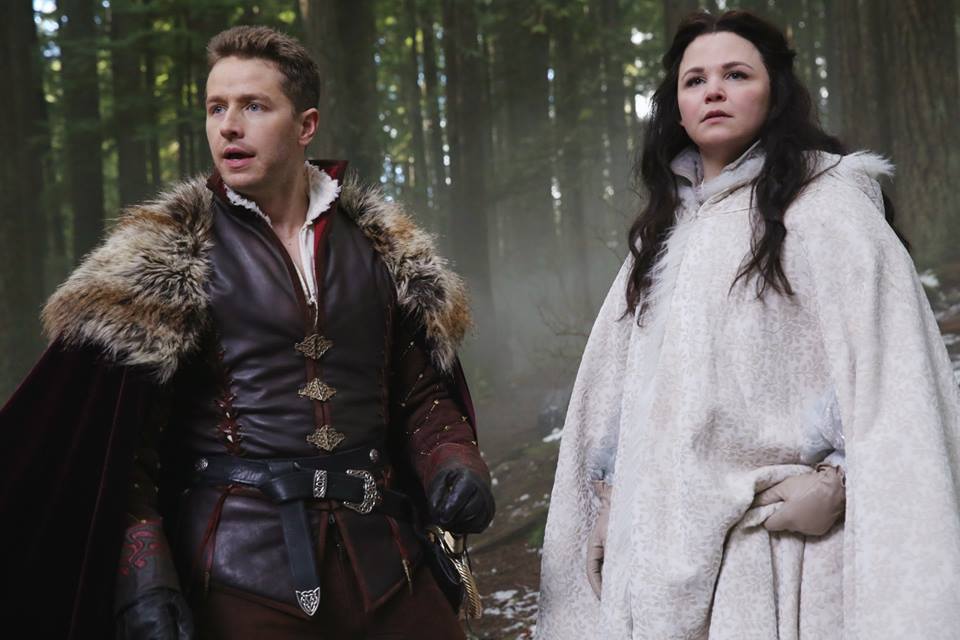 by: Emily Konopka
This week's Once Upon a Time was filled with answers. Snow and Charming made a misguided choice, and we finally met the author.
Snow and Charming are concerned that their child could grow up to be dark, so they take to the forest to find a unicorn. All they have to do is touch the horn to see a glimpse into their child's future. Charming sees a happy future for Emma, but Snow, sees an evil version of their daughter. This leads them to the Sorcerer's apprentice. According to him, they can assure their child will turn out a hero if they find another vessel to expel the darkness into. It's a good thing Maleficent has transformed into her dragon form and laid an egg most likely containing an already evil dragon spawn…you read that correctly, laid. an. egg. Snow and Charming sneak into Mal's lair and steal the egg from her. They tell her they'll bring it back when they're done with it, because that makes it okay?
When the Sorcerer's apprentice deems the egg an acceptable vessel he expels the darkness from baby Emma and into Maleficent's baby, but expelling the darkness also includes expelling the vessel to another land, Ursula and Cruella show up to play rescue but get sucked in to a portal, then a little baby hand breaks through the shell before it falls into the portal after them. So there's the explanation of how Ursula and Cruella ended up in our world. I feel like there is a great sitcom in there somewhere, Ursula and Cruella raising Maleficent's baby in the real world where they don't have magic. Potential spin off? Now wouldn't that be fun.
Back in Storybrooke, August has fallen ill, so it's off to the convent to pay the Blue Fairy a visit. Apparently having your form changed from flesh to wood too many times takes a toll on you. Now that August is in capable hands (debatable, my money's still on the Blue Fairy being shady business) Regina has to get back to playing double agent. Now that she knows the author lives within the book, she needs to find a way to return to the villains without looking like she failed them. Since Rumple would likely be able to spot a forgery, Regina opts for some 21st century proof, and snaps a picture on her phone.
Emma returns home to find Killian waiting on her to relay Ursula's parting information to her and her parents. Emma tells him not to worry because no Author not even Rumplestiltskin gets to decide her fate. The prospect that anyone could turn Emma dark, however, has her parents concerned, especially after everything they did to ensure she turned out a hero.
When Regina returns to the villains she proudly shows off the photograph of the door, too bad the pesky magic keeping the author trapped flared up in the photo. The Dark One now realizes that the author is trapped in the page and it's time for Regina to get back to work and procure it. While Emma and Killian have a little chat about the "wooden man child's" condition (is that a touch of jealousy there Killian?) and how he's her first friend since Lily, Maleficent puts the whole town under a sleeping spell. But since it doesn't work on those have have already been under a sleeping curse, Henry and his grandparents are free to walk around Storybrooke.
Haunted by what they did in the past, yet still veering down a path of lies and deception, David and Mary Margaret decide that their best bet at preventing the villains from getting to the author is to burn the page, even if that means trapping the author inside the book forever. At this point, why not, they've already kidnapped a baby, and a slew of other questionable things, what's one more bad thing in retrospect right? Once everyone in town drops to the ground for a long winter's nap, Henry realizes something is up and books it (pun intended) to the author's mansion. He gives grandma and gramps a call and let's them know the page is safe with him, and while he waits for them to arrive he happens to find the key to the door hiding in a drawer.
When Henry hears the doors open he thinks it's his grandparents, but it's actually his mom and her two frenemies. Regina puts on quite the act pulling out Henry's full name (his middle name is apparently Daniel, which is both adorable and heartbreaking all at the same time) and demanding he give her the page. David and Mary Margaret show up just after Regina and her pals have left, but it's all good because Henry gave his mom the fake page, and he hid the real one in one of the empty books. Showing off once again that he really is the truest believer, Henry is super excited to set the author free, but David doesn't like that plan so much and insists Henry hand over the key. They don't know what will happen when they free the author, and it's clearly a job more suited for an experienced hero like Charm Charmz. Henry senses something is off with his grandparents, but surrenders the key anyways.
Now there's a choice that needs to be made: burn the page and any chance Regina might have had at finding her happy ending this way, or free the author and potentially aid Rumple in his evil plot. Mary Margaret realizes that the darkness in her heart didn't just start when she killed Cora, it had been growing there all along since they took Maleficent's baby from her. She can't handle the lies and the deception any longer, so they decide to tell Emma the truth. Which as you probably guessed goes over super great. Emma takes no pride in realizing she was right about her parents lying to her. Snow's unicorn horn vision becomes a self-fulfilling prophecy when Emma utters she doesn't care if Snow is her mother as she storms out the door.
Over in the villain camp Regina returns triumphantly from her scavenger hunt, but Rumple spots the forgery from a mile away. He's been on to Regina from the start; he was just waiting for the proper moment to catch her in a lie. Maleficent does what she does best and knocks Regina out. Now that their double agent is no longer in service, and the savior is feeling vulnerable the heroes aren't in the best position right now. Now that Cruella is the only other villain on their side Maleficent asks Rumple to give her the information she's long been seeking, any kind of glimpse at her child. Rumple is able to show her where her child landed 30 years ago, and she sees her baby girl being adopted by a family who decided to name her…Lily!
And there you have it folks, Emma's runaway friend Lily is Maleficent's daughter! If you've been keeping up with our recap show and my blog you know I called this one weeks ago! I'll stop gloating and get to the juicy ending of this episode.
David and Mary Margaret pull the, "send in the boyfriend because he'll actually listen to you" trick and send Killian to talk to Emma. He asks if she's all right and let's her know that August is awake and doing much better. When Emma goes to visit him, she learns some important information about The Author. This author is not the only author; it's a job that has been handed down to many people over the years. Their task was to record the greatest stories of all time, but the most recent one decided it would be more fun to write in his own plot twists, so the Sorcerer and his Apprentice trapped him inside the book. We see in a fairy tale flashback that the Author made Snow and Charming take Mal's baby because it makes for a better story. Emma takes in what August is saying, but it's not enough to stop her from releasing the Author. When he appears, David and Mary Margaret realize it is the same man that they helped along the road, the one who told them about Maleficent's egg. And no surprise the Author books it first chance he gets leaving Emma to chase him down to no avail.
OUAT is taking a mini Easter hiatus, so we'll have to wait two weeks for the next episode, and from the previews it looks like it's going to be a crazy one! Robin Hood makes a return and so does…Zelena?! Can't wait to see how this all plays out.
Don't forget to follow me on Twitter @xemilyxmariex so we can chat about the episode, I'd love to swap theories with you. Sadly no review show again this week, my counterpart is still having fun with some other VRO ladies at Return to Tree Hill! We'll make sure to have an extended episode when we return, because there is just so much to talk about!
Twitter: @TheVRO
Facebook: Variety Radio Online
Tumblr: Variety Radio Online
//