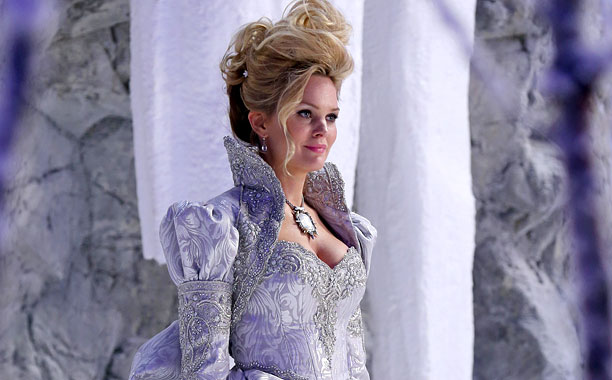 by: Emily Konopka
This week on Once Upon a Time we finally got a lot of burning questions answered. So who did cast the curse? Who sent Hook the memory potion? And who will break the memory curse?
The answer to our first question who cast the curse was a shocking one. In a flashback to the year without Emma Snow and Charming are all set to announce their pregnancy to the whole kingdom when Aurora warns that might not be the best idea because Zelena wants their baby. She threatened their unborn child if the sleeping beauty and her prince didn't inform Zelena the instant the Charmings were back in the Enchanted Forest. Zelena swings by to check out Snow's precious cargo, and turns Phillip and Aurora into flying monkeys for good measure. Belle returns to let everyone know that she was kind of sort of able to resurrect the Dark One. They set off to see if they can break into his castle with the help of Robin Hood.
When they find an insane Rumple caged up at the castle he tells Belle that light is the only thing that can defeat Zelena. He tells them of Glinda the Good Witch, who was banished from Oz to a place north of the dark forest. Snow, Charming, and Regina venture off to find Glinda. When they reach the northern portion of the forest they face a door. Snow and Charming are able to pass through because they are pure of heart. Glinda tells Snow and Charming that Zelena's necklace holds all her power, but even her light magic isn't enough to defeat her. She tells them that only pure light magic created by love can defeat her, so Emma. That's a tough situation since Emma is not in the Enchanted Forest. Snow and Charming's solution is, cast the dark curse again to get back to Emma. This one through me through a loop, but wait it gets better.
Since Regina already gave up the thing she loves most she can't cast the curse. Charming decides that saving their child and defeating Zelena is of the utmost importance, so he tells Snow to crush his heart to cast the curse…Come again Charming? Snow is obviously reluctant to do something so drastic, but Charming tells her that she will know how much he loves her every time she looks at the face of their child. Regina takes out Charmings heart and Snow tells her husband that she loves him more than anything before she crushes his heart….
In case you missed that Charming is dead…or so we think. Zelena swoops in, because you really think she would miss this party? Since she once again doesn't get to cast the dark curse, she decides to put a twist on it…a forgetting spell. Before the curse descends Snow gets manic and asks Regina to try and split her heart in two so that Charming can live. Crazy? Yes. Does it work? Yes. The power of their love is so strong that their hearts literally beat as one, allowing them to survive off of one heart. There's one twist on their romance they can tell their little one.
The answer to our second big question was also answered. Still in the year without Emma we see Zelena preparing for the curse to hit. She whips up a batch of memory potion so that her memories won't be taken with the curse. She gives a dose of it to Rumple to do with it what he pleases. Right before Rumple can down the potion Neal manages to break free of Rumple's body long enough to scribble a note on a scrap of his sleeve and send the potion with a bird to find Killian Jones on the Jolly Roger.
The answer to our third question comes back in the present day. It would appear that since their late night lip-lock in the woods Regina and Robin have been pretty smitten with each other. Regina asks what Robin sees in her and he tells her he sees a second chance, and that she's a good kisser. They share quite a few smooches in the hallway by Emma and Henry's room before getting busted by the pre-teen.
At a pow-wow in Emma's room they decide that the best way to get Henry to listen to them is to show him his storybook. It was what got Emma to believe during the previous curse, so if they can get Henry to start to believe Emma can kiss him and break the curse. When Henry gets left behind at Granny's with Leroy once again he decides he's had enough and calls Emma's bluff. She sternly tells him that she is his mother and knows best. Apparently Henry doesn't like getting told what to do because he asks Emma for her keys so he can go get his Gameboy, but in reality is trying to drive off to the nearest bus station.
Thankfully for the streets of Storybrooke Hook catches him before he can get behind the wheel and realizes he is trying to run away. Earlier in the day Hook found himself tied up in the Dark One's trunk where Zelena threatened Henry's life if he didn't kiss Emma soon. He decides that to protect Henry's life he is going to help him run away. He takes him to the docks where he tells him that Mr. Smee will be setting sail for New York and has room aboard his ship. Henry's all gung ho to set sail when flying monkeys swoop in and try to attack them.
Hook and Smee flee into the boathouse with Henry and Hook manages to take down a few flying monkeys. Did he just kill Phillip or Aurora? Or are not all flying monkeys people? Emma & Co. realize Henry is missing and track him to the docks with the GPS on his phone. Once all the flying monkeys are dealt with, Henry is obviously extremely confused. Emma asks Henry to trust him, and asks him to believe in magic. She hands him the book and the instant he touches it his memories flood back to him.
Zelena shows up and poofs him into her grasp. She tells Emma that it's her pirate's fault her son is in danger. An enraged Emma uses her magic to free her son from the Wicked Witch's grasp. Regina tells Henry that she will never leave him again and kisses his forehead and even without her heart, she is able to give him True Love's Kiss. That just shows how much she loves her son. With the curse broken Snow and Charming realize what has been happening, and they remember how to defeat Zelena.
Henry gets Regina up to speed on his past year, and he asks her about hers. She says that nothing too important happened and he calls her out on the fact that something must have happened since he saw her kissing a guy in the hallway. She lets him know that the man is Robin Hood and Henry thinks that is awesome. Her beau shows up and the three venture off like a cute little family unit.
Emma obviously still has some questions. She asks Killian (note she still called him Killian even now that everyone's memories are intact) what the Witch meant when she said that he failed her. She asks him if he was working for the witch. He tells her that Zelena cursed him. She asks why she would curse his lips and he tells her that it is because Zelena wants her magic and she thought he would be the best way to get it from her. Emma tells him that he should have told her and that she can't trust him anymore. And Here comes walls up Emma Swan again, she was making so much progress after her hallway chat with Hook last week. Right before the credits roll Snow goes into labor, so it looks like time is almost up for our witchy green foe.
The angst will continue next week as the town tried to keep Zelena away from the hospital as Snow gives birth. Not to mention the preview shows a certain pirate collapsing in front of Emma, and we get to meet the famous girl from Kansas in Oz.
Twitter: @TheVRO
Facebook: Variety Radio Online
Tumblr: Variety Radio Online
//