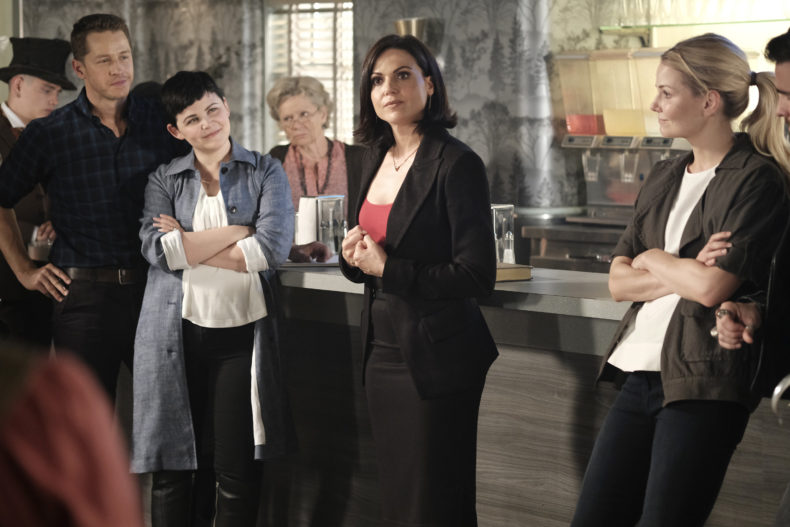 This week on Once Upon a Time an untold story had a not-so happy ending and the Evil Queen made her motives clear.
We went back to the old reliable flashbacks in this episode to tell the tale of the Count of Monte Cristo. Or well a part of the tale because let's be real that is a long story (truth be told I was supposed to read it in high school, but i think I just googled the plot…oops?). The Count has just played his big vengeance card, the first of many. Regina, circa the Evil Queen days, is rather impressed with his style. Since of that pesky protection spell she can't hurt Snow or Charming. But an assassin should surely do the trick. Edmond's plan of attack is pretend to be an injured man needing help, the Charmings really should be more careful about their bleeding hearts, and they offer him a new home back at their castle as their wine expert.
After winning the Charmings over Edmond realizes he might actually like them, and he's feeling kind of bad about this whole killing them thing. But a job is a job, that is until they aren't alone at dinner like he hoped they would be. Snow's handmaiden Charlotte, who we have conveniently never met until now, is there as well. The Count has a habit of getting tongue-tied around her, in other words he's crushing on her really bad. At the last second he decides to swap out the poisoned wine. But when he heads to the cellar to find a fresh bottle, Rumple is waiting for him. Since he has a lot riding on Snow and Charming staying alive he decides he's going to poison Charlotte, because that makes sense? The only way to save her is to head to the Land of Untold Stories where their story will be stopped and she'll live. But if she ever comes back, she'll die immediately.
And that's where we find the Count in Storybrooke. He's one of the people that has come over with the people from the Land of the Untold Stories, and the Evil Queen has enlisted him to finish the job he started. And so comes the Evil Queen's main motivation. She's taken the Count's heart and ordered him to kill the Charmings. Regina tries to stop him but the only solution she can come to is killing him before he can kill her friends. What Regina doesn't realize is that is exactly what the Evil Queen wanted. She never wanted Snow and Charming dead, she wanted Regina to realize there is still darkness inside of her. She seems certain that once the other untold stories start to play out, especially the ones of the residents of Storybrooke, it will tear them all apart. Why do the dirty work when you can watch people ruin their happiness on their own.
In other odds and ends the character development award of the episode and basically the entire series goes to the one and only Killian Jones. When Belle returns to town he offers her refuge from Rumple on his ship. He does something that has been a long time coming, he apologizes to Belle. He says that he can no longer live with the guilt of laying his hands on her in the Queen's castle, or the fact that he tried to kill her more than once. He tells her that he still has a long way to go before he can be a man he's proud of. And that ladies and gentlemen is what you call a redemption arc done well.
In probably the strangest moment of the episode the Evil Queen got all flirty with Rumple in his shop. I'm honestly still trying to process this one. She wants something he has in his possession, aside from anything that's attached to his body of course. She obtains a small little charm. It happens to have belonged to David's father. He was wearing it when he died. The thing the Evil Queen wants him to wonder though, is whether or not his father's death was really an accident.
Also, Emma decides to go to Archie to talk about her tremors. It's hard for her to open up at first, so much so that she runs away before she can really make an emotional breakthrough. But by the end of the hour she realizes that she really should tell her family about her visions. There's just one catch, she isn't going to do it yet because she's afraid the one person who isn't in her vision might be the one under the hood. Archie asks if she's worried about the Evil Queen or Regina (same person but I digress). The thing is, she doesn't know which one she fears it is more.
Twitter: @TheVRO
Facebook: Variety Radio Online
Tumblr: Variety Radio Online
//