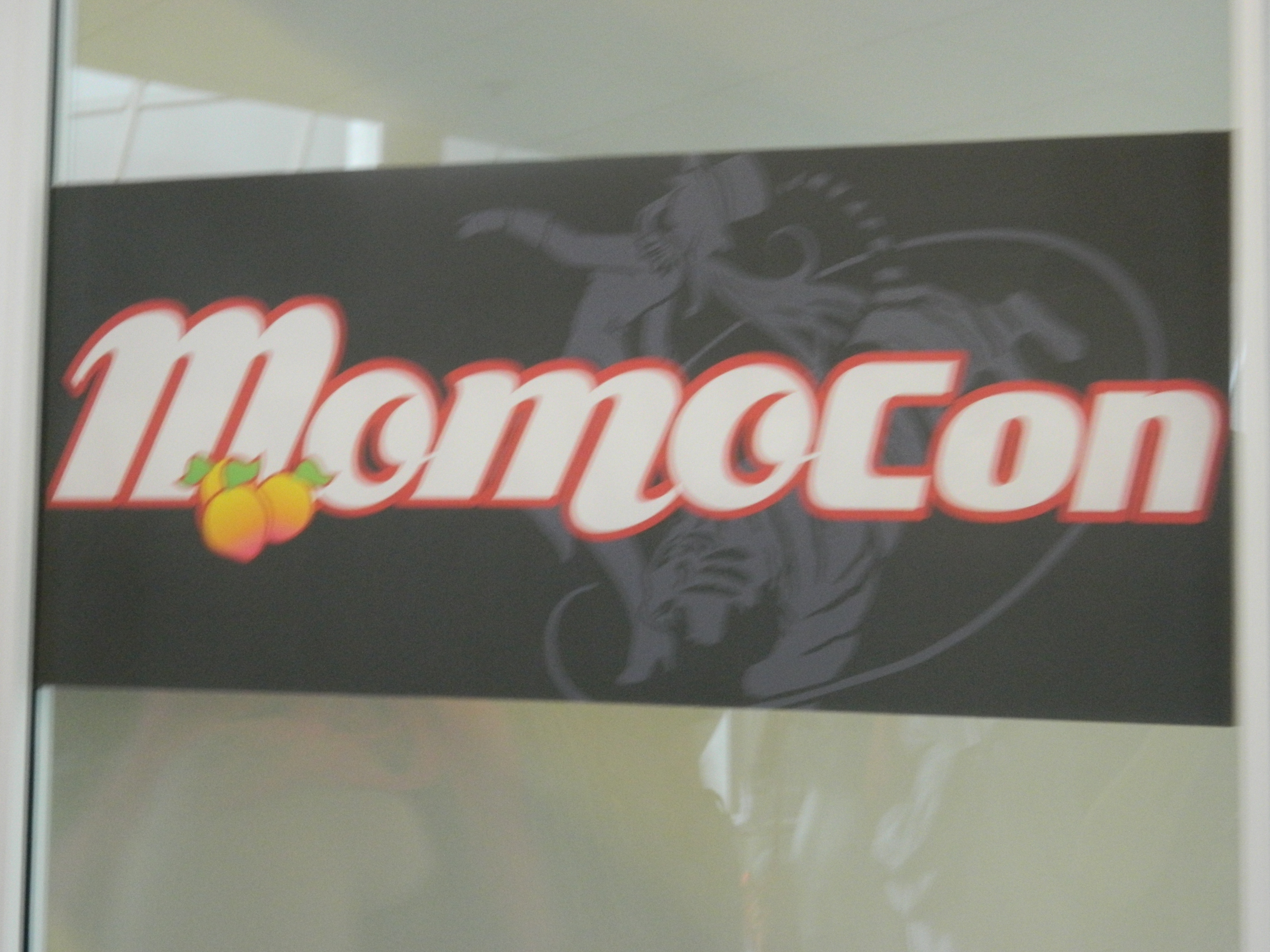 Momocon 2014
Amber Chandler and Gina Jasinski attended MomoCon in Atlanta for Variety Radio Online in May 2014.
Amber reports:
First, I would like to thank Dan for inviting us to Momo Con this year. It was quite the treat!
I'll be honest. I went to this convention a little blind, not sure what I was walking into. I've never been a big anime fan, (besides Full Metal Alchemist and Dragon Ball Z) so I wasn't sure what to expect. However, it didn't seem to matter what I knew or didn't know. The purpose of these conventions isn't about that. It's a place for fans and friends to come together and just be themselves. Dress how you want, as who you want, without any judgment for others. You aren't weird, strange, different, or some dork. You aren't black, white, yellow, or green. You are you, and you are accepted for that. It's a beautiful thing to allow an outlet for people like us, to just be us.
The costumes at this convention were amazing. No one fell short in preparation for their character. I may not have recognized a lot of these characters, but I knew they were well put together. It wasn't just anime either. I witnessed some incredible Disney and Game of Thrones cosplay as well. Had I known, I may have dressed up myself!
The dealer's room was filled with rare anime treasures, nerdy t-shirts, and even things like potion bottles and swords. There was something for everyone.
The best panel was hands down the Matrix reading panels. In attendance were the voice actors from Animaniacs, Pinky and the Brain, and Dante Basco, also known as "Rufio" from Hook! (Whom I spent a huge portion of the day trying to track down. I mean come on guys, PIRATES!) They read the matrix script in a variety of character voices that ranged from Futurarama characters, to Bill Cosby and of course, the characters they are best known for! It was non-stop hilarious the entire time.
The game room was a hidden little gem downstairs, which I'm not sure everyone knew about. There must have been 100 games to choose from down there. They had Xbox set up, PlayStation, Wii, and even some vintage arcade machines like Pac-Man and Donkey Kong. I got in on a little Rock Band action myself! Personally, I had an incredible time. People watching, panel watching, taking pictures, meeting new friends and playing some awesome games.
I can't wait to return next year (if they will have us please!)
Gina reports:
I had the pleasure of attending MomoCon in Atlanta last weekend and I can honestly say I had a wonderful time! I have not been an anime fan in a very long time (think Robotech era lol) and I didn't know what to expect going, but when we were invited by Dan Carroll to cover it for Variety Radio Online I knew it was going to be an experience, and it was an awesome one!
First, the cosplaying and costumes were AMAZING! I would venture to say that 30% of the attendees dressed in some type of cosplay. These costumes were well thought out, well made, and well worn by all of the attendees. I was pleasantly surprised to see costumes from all genres of anime and from television and movies as well, it was very diverse which made it even more enjoyable to walk around and look. My photographer (the talented guest staffer Anna Jasinski) took photos of hundreds of costumes as well as hundreds more attractions. Some photos are posted here in the blog, some on our Instagram, and some in our gallery. Please take a look!
We checked out the dealer room and were amazed at all of the offerings! I admit I went a little crazy when we went back the second day, bought a few goodies for my collections. We also got to check out the Artist's Alley, where artists sell their creations. There were buttons, original prints, leatherwork, you name it! I might have gone a little crazy in there too…
I had a blast at the Animaniacs Panel, them reading the Matrix script in cartoon and other voices was the highlight of the weekend for me. We have a little video of that, and you can find the entire reading on youtube. Do yourself a favor and watch it! Amber was in love; you know Rufio from Hook was there so we had to stay and try to track him down later. Yes, we were stalkers toward the end of our day there.
Last part of our day was the game room, which was phenomenal! I was transported back to my teenage years with Pac Man, Centipede, Galaga, Tekken, and all the modern games we love like Rock Band and Dance Dance Revolution. Amber rocked at Rock Band and we have video to prove it! Check out our Instagram for it!
I came away from MomoCon not really wanting to leave; we had such a good time. The event was well planned, easy to navigate, and a pleasure to be a part of. I hope we can go back next year!