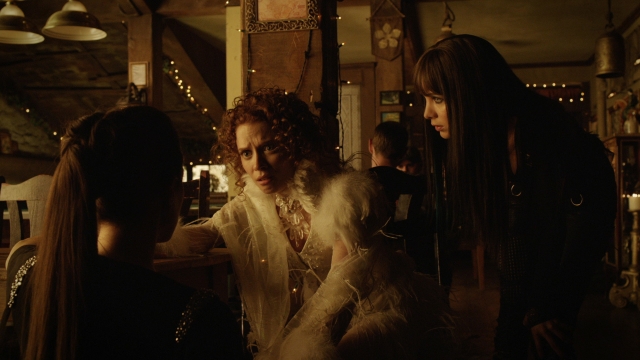 An opera singer is singing for an audience of one in tonight's episode of Lost Girl. After finishing her song she makes a daring escape and runs to the Dal Riata. Upon entering she falls, Bo and Kenzi pick her up and sit her in a chair. The singer looks up at Bo with recognition. The songstress starts speaking in Russian and Kenzi translates, she's repeating over and over I found you. Bo asks Kenzi who is it that the distress woman is speaking of and Kenzi tells her it's her. Bo tells Kenzi she's never seen the woman before in her life. The singer tells Bo she came just like she told her to.
Down in Tricks layer, the songstress whose name is Ianka (Lara Jean Chrosotecki) is resting on the couch. Bo is persistent and wants to speak with Ianka because she is curious as to how the complete stranger knows her. Ianka is an Alkonost, a rare branch of bird people. Trick informs Bo that she needs her rest because of possible vocal strain. Alkonost songs invoke powerful memories and can even take life, even their own.
At Laurens apartment, Lauren is dancing around while packing boxes when Evony walks in with pizza and beer. Lauren is cautious of Evony's presence. Evony is there to help her move, but feels she needs to help Lauren with her hosting skills. Evony walks into a pile of boxes and nearly knocks one over. Lauren asks her to be careful because her Star Trek DVD collection and collectable action figures. Evony reaches in her bag and gives Lauren some old books.
Dyson is sitting at the bar in the Dahl when Bo walks over to him. Dyson breaks the news to Bo that Lauren is now working for the Dark. Bo explains to Dyson that she is also dark by force. Dyson promises that he's going to fix it. Bo leans in to kiss him when Dyson backs away and says they can't. It's forbidden for them to be together because she's dark and he's light. Bo doesn't care and push him into the barrel room where they begin making out. Trick interrupts them to informs Bo that Ianka is awake, but in a delicate state.
Once Bo is downstairs Ianka greets her with a hug and calls her, "her hero". Ianka tells Bo that she sang for her and Bo made her promise that she would find her. Ianka sings for Bo, the succubus has a vague memory of waking up on the train. Bo wants Ianka to sing some more, but the songstress refuses. She tells Bo they had a deal, she sings for her and Bo helps her get what she wants most which is freedom.
Bo tells Ianaka she can't hold her memories hostage. Upset by Bo unwillingness to help her, Ianaka tells Bo she doesn't hold her memories just the key to unlocking them. Bo's eyes start to glow blue and she demands that Ianaka sings so she can unlock her memories. Ianka is disgusted by Bo and claims that the succubus not different like she heard,but is like the others. The songstress explains to Bo that she sings for only a wealthy Bourak, she's been starving because she only sends for him and is starving. Her only hope is to sing the famous aria for an audience, she quotes Bo, "Neither regret the past, nor fear the future." Bo doesn't know what it means and Ianka realizes that Bo really doesn't remember, and insist that she looks in the hilt of her knife. There Bo finds a note that she wrote for Ianka. While reading the note a man upstairs is yelling for Ianka, the Alkonost needs Bo to protect her.
The Bourak is upstairs demanding for his Ianka, when Bo walks in and defends Ianka. Bo lies to him and tells him that Ianka is not there. The Bourak shows her a GPS and says he knows that she is. Bo sweet talks the man by telling him that she's heard of his generosity and kindness. She eventually cons him into letting Ianka perform in front a of a small audience at The Dahl.
Back at Lauren's apartment, Lauren is in awe of the personal and professional journals of Charles Mayo, Albert Einstein and Marie Curie. Evony gives her several more journals and she starts to read from one. The author of the journal was a doctor who experimented on people. Lauren thought the author was dark Fae, but it turned out to be from a human. Evony tells Lauren that she doesn't have to do anything she doesn't want to that she want's her to feel free. Lauren decides that if she agrees to work with the dark Fae it's on her own terms.
At the Dal they are preparing for Ianka's performance. Trick is trying to get Kenzi to leave, because it's dangerous for her to be there, but she refuses. Kenzi sees Hale walk in and thinks that he's coming to her when he goes to Ianaka. Kenzi is obviously jealous of the attention that Hale is giving to Ianaka.
When Ianka starts to perform the Aria Bo starts to remember her time on the train. She's on the train and there's a serving tray with a cover, she lifts the cover to reveal a crown with the words Isabeau on it. The performance is interrupted by a man, who threatens to blow up the place. Dyson figures out that it's the crystals in her necklace that Marcus is using as the explosive device. Bo asks the man who he is and what is it that he wants. The Bourak reveals to everyone that the man is Marcus a Camazotz, and that he is there to steal Ianka. Evidently Marcus stole Ianka years ago and Bamber the Bourak stole her back. Ianka faints, Bo tells Marcus if he wants Ianka alive then he needs to let her rest.
Below in Tricks home, Trick is preforming what seems to be aromatherapy. He explains to Bo that it will help Ianka rest. Bo sees this as an opportunity to look at the crystals. Trick informs Bo that they are not crystals, but Atlantean Quartz that is believed to be able to ignite volcanic eruptions. The only way to destroy the quartz is to freeze it with liquid volcanic argon. Bo says Trick that they need to send Kenzi through the tunnels to the "liquid volcanic argon store."
At the liquid argon store, aka Lauren's apartment,Lauren is entertaining by performing a Doctor's Log from Star Trek. Lauren says she's feeling a little tipsy and reads the bottle of Dark Belch and notes that it has 25% alcohol. They are interrupted by Kenzi who is demanding to see the real Lauren and not the alternate reality one that's in front of her. Evony offers Kenzi a Belch.
Back at Tricks layer, Hale visits with Ianka and they reminiscence childhood memories. Ianka tells Hale that he makes her smile and then she kisses him while Bo is watching. After the kiss Ianka informs Hale that she is still very weak and needs to rest.
The scene switches to Laurens apartment, where Lauren is wrapping up a container of the argon. She questions Kenzi and Bo's need for the liquid. While Kenzi questions Lauren and Evony's new relationship. Lauren asks how Bo is and Kenzi tells Lauren that she misses her. Kenzi retorts good except for black smoke, gargoyle's and crystal clear Atlantean Quartz and that she misses Lauren. Lauren catches her comment on crystal clear Alantean Quartz and questions her about it.
At the Dal, Marcus is with Ianka downstairs, when Bo walks in and Marcus demands that she leaves. Bo tells him not on his life and definitely not on Ianka's. Marcus threatens to detonate the bomb. Bo retreats upstairs telling Ianka she won't let anything happen to her. Marcus sits down next to Ianka, while Hale is watching behind a tunnel entrance.
Upstairs Dyson is working on Bamber's transmitter, so they can listen in on Ianka and Marcus. Marcus realizes someone is listening in on them and tells Ianka it's over. Bo and Dyson hear what they think is the detonator being pressed and goes to warn the patrons of the bar.
While taking cover Kenzi crawls over to Bo and ask her what did she miss. Bo raises up and wonders why the crystals didn't detonate. Kenzi explains to her that once the crystals are clear the are a dud. Bo asks why didn't Kenzi tell her that before. Kenzi tells Bo that she is channeling Dr. Lauren. Upon hearing Lauren's name Bo ask about her. Kenzi tells her she's good and then ask where Hale is.
Kenzi leaves to look for Hale, when Dyson walks in and informs Bo that Marcus and Ianka were gone. Dyson wonders what they were doing behind a curtain and goes to check it out while Bo confronts Bamber. Bo asks him if Ianka is in on the kidnapping. Bamber didn't know if she's involved or not. BO uses her powers on him and finds out that Ianka was different when she came back from being held by Marcus.He also tells her that Marcus is a radical who hates all Bourakians.
Dyson yells for Bo, he shows her a place that Trick hid a transmitter that, if used could be broadcasted from anywhere. Bo realizes that what Damber is trying to tell her is that Ianka and Marcus were in love. Dyson wonders what does that have to do with the transmitter. Bo ask him if he thinks the Bamber would ever let them be together? Bo remembers Hale and Ianka's discussion about their childhood and knows where they might be in the Bamber's compound. Dyson runs off to worn the Bourkians when Kenzi enters the room and tells Bo that Hale is gone. Bo explains that the song birds have a note that can kill Fae. The girls rush off to find Hale, Ianka, and Marcus.
At the compound, Bo yells for Ianka to stop, and tells her that the Bourkians were being warned about the death note. Ianka knows nothing about the death note and explains that she and Marcus just wanted to be together. Bo ask about the transmitter and Ianka tells her it to tell Marcus's family about them being in love. She looks to Marcus for confirmation and he tells her some things are bigger than love. He uses a whistle to bring Ianka to her knees, but Hale uses his powers to stop him. Marcus then pulls out a gun and demands that Ianka sings the death note. Ianka starts to sing but it's aimed for Marcus. Kenzi is feeling the affects of the song and Bo tells Hale to get the woman he loves out of there. Bo seems unaffected by the song, and just as Ianka finishes she collapses. Ianka is dying in Bo's arms when she hands Bo a recording telling her for you as you wish.
On a bench Kenzi is laying down recovering from the song while Hale is watching over her. She wakes up and Hale tells her that Ianka sang the Death note and Marcus is dead and so is Ianka. Hale and Kenzi finally kiss. Afterwards Kenzi asks him if the death note affected him and he tells her no. When she cuddles into him, he lifts his finger to his ear and there's blood.
Bo is listening to the recording that Ianka left her. She has a memory of her on the train sitting at a vanity and all of the sudden a hand print appears on her neck.
At Laurens the evening is winding down. Evony gives Lauren a key to the dark Fae testing facilities. Lauren tells her she's not signing anything and Evony tells her she's not asking. Lauren tells her she still doesn't trust her. Evony gives Lauren the keys to her new apartment, as Evony's getting ready to leave Lauren gets up from her chair and kisses her. Evony tells Lauren this could be the start of a beautiful something. After Evony leaves Lauren gets out a petri dish, and pulls off a piece of plastic from her lips.
Bo and Dyson are at the clubhouse having aggressive sex. Dyson keeps asking Bo to look at him, Bo forcibly put her hand over Dyson's mouth and tells him not to tell her what to do. Bo snaps out of it and apologizes to Dyson. Dyson tells her she'll never be owned like Ianka. Bo says she'll be like Marcus bitter and always looking for revenge. Bo has come to the realization that she joined the dark willingly. Dyson tells her that dark and light are just labels and they don't define who they are. Bo winces and pain and looks in the mirror to see a hand print on her chest. She tells Dyson that Rainer/The Wanderer whoever he is has marked her.
Dyson sees the reflection of the Una Men in the mirror and lets out a growl. The Una Men tell them that laws have been broken. Bo states their laws don't apply to her. The Una Men reply not you him referring to Dyson.
Twitter: @TheVRO
Facebook: Variety Radio Online
Tumblr: Variety Radio Online
//