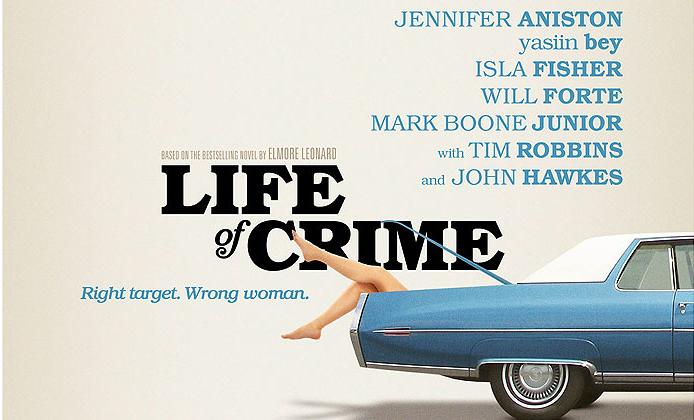 ---
When a pair of low-level criminals kidnap the wife of a corrupt real-estate developer, they get both more and less than they bargained for in Life of Crime, a dark caper comedy based on legendary author Elmore Leonard's novel The Switch. Starring Jennifer Aniston, John Hawkes, yasiin bey, Mark Boone Junior, Isla Fisher, Will Forte and Tim Robbins, Life of Crime is packed with the outrageously eccentric characters, black comedy and unexpected twists that earned Leonard a reputation as one of America's sharpest and funniest crime writers.
Mickey Dawson (Jennifer Aniston), the wife of crooked real-estate developer Frank Dawson (Tim Robbins), is kidnapped by two common criminals (yasiin bey and Jon Hawkes), who intend to hold her for a $1 million ransom and extort her husband with inside information about his illegal business dealings. But Frank, who is holed up in the Bahamas with his mistress, decides he'd rather not get his wife back, setting off a sequence of double-crosses and plot twists that could only come from the mind of master storyteller Elmore Leonard.
---
How to Enter
Get Social With it!
• Instagram – Follow VarietyRadioOnline on Instagram, post the Life of Crime poster on your Instagram using the hashtag #LifeOfCrime and tag VarietyRadioOnline.
• Facebook – Like VarietyRadioOnline on Facebook, like the Life of Crime Facebook page, and comment with your favorite part of the trailer. Don't forget to tag Variety Radio Online.
• Twitter – Follow @TheVRO on Twitter, and tweet using the hashtag #LifeOfCrime and mention @TheVRO on twitter.
---
Each household is only eligible to win $15 Fandango Gift Card via blog reviews and giveaways. Only one entrant per mailing address per giveaway. If you have won the same prize on another blog, you will not be eligible to win it again. Winner is subject to eligibility verification.
The prize will be sent via FedEx or USPS. No P.O. Boxes please. Please note that the assets included within this message were delivered to you to promote Life Of Crime. Any actions (including contest and competitions) that you complete with the provided assets are your liability, and should comply with both local and international laws. Also, please remember to disclose that you are working with Life Of Crime, or that Life Of Crime supplied these materials to you if required by local law.
---
Twitter: @TheVRO
Facebook: Variety Radio Online
Tumblr: Variety Radio Online