Lauren Alaina first came to the spotlight when she auditioned for the tenth season of American Idol at the age of 15, 16 when the show aired in January 2011. Her audition sent chills down our arms, especially when she sang "I Don't Wanna Miss A Thing" with judge Steven Tyler. After her audition, he even stated that he thinks they found the winner that day. America quickly fell in love with her infectious and bubbly personality and her undeniable voice. Unfortunately, she became runner-up to Scotty McCreery, but that certainly wasn't the last we saw of her. She soon released her first single, "Like My Mother Does," followed by her debut album, Wildflower, on October 11, 2011. The album debuted at number five on the US Billboard 200 chart and sold 69,000 copies during the first week. Her second single, "Georgia Peaches" went to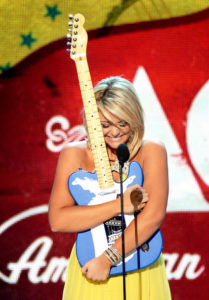 radio October 24th, but only made it in the top 30.
Since the show, Lauren has released five other singles, but none of them gained much traction. She's also gone on tour with multiple headliners including Luke Bryan and Sugarland. She's even headlined a few of her own. She won Best New Artist at the ACAs in 2012. But she still wasn't getting the recognition myself and many other fans believed she deserved.
Little did we know, Lauren was simultaneously going through personal issues these last five years that would take a toll on anyone. It wasn't until the last year or so that she began opening up about those struggles. Her dad struggled with alcoholism and went to rehab. Her parents got a divorce and re-married other people. She moved to Nashville. The biggest hardship, though, was her battle with bulimia, something she had secretly struggled with since her Idol days when cruel bloggers got the best of her. The eating disorder, that she even tried to keep from her mom, nearly cost her her career as it was destroying her vocal cords. She ultimately had to have vocal cord surgery and couldn't say a word for three months.
"Obviously, singing is the only thing I want to do in life. I have no backup plan. People knowing made me not want to do it," Lauren confessed to The Tennessean.
All these battles put her second album on hold for a while, but she still managed to squeeze in shows here and there. However, these struggles also encouraged her to write/co-write some of her best stuff… resulting in an emotional second album and her first ever number one single with "Road Less Traveled," which she co-wrote with Meghan Trainor and Jesse Frasure, that was released in July 2016. She was named On the Verge Artist with I Heart Radio the second week of August, which gave the single a significant boost up the charts.
"Road Less Traveled" is a song about accepting who you are and owning it with every fiber in your being. It's all about self-worth and not letting the world define what's beautiful. Alaina took her personal struggle with bulimia and overcoming it as a chance to encourage young girls alike to feel beautiful in their skin, to not conform to society's "standards", to trust their "rebel heart," and "don't be afraid, take the road less traveled." The music video for the song speaks to these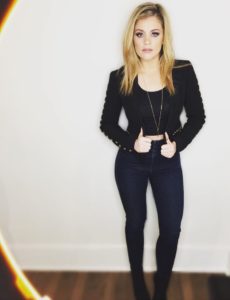 concepts as well.
The song has clearly resonated with the world as it has just recently hit number one on Mediabase and has topped the CMT and GAC video charts in recent months.
If this single is any indication, 2017 is Lauren Alaina's year. She has an album (titled Road Less Traveled – Released January 27, 2017) full of songs that that could have the same impact as "Road Less Traveled." From upbeat tunes like "My Kinda People" and "Queen of Hearts," emotional ones that tug at your heartstrings and bring tears to your eyes like "Doin' Fine," "Three" and "Same Day, Different Bottle," to songs that encourage young girls to "Think Outside the Boy" and another self-worth song with "Pretty." It's like Lauren opened her journal and put it all into song on an album. Her words will speak to you and her voice will give you chills, leaving you questioning why it took six years for the world to notice her.
Six years of missing home, but I'd spend fifty more gone for three minutes on the radio. – "Three"
Well, Miss Lauren Alaina, it looks like those six years of missing home have finally paid off as you have you first number one! Congrats!
She's healthy, happy, and giving us her best self. So, do your ears (and your heart) a favor and go grab this album, see her in concert and follow her on social media. You won't regret it.
Lauren's Social Media: Twitter, Instagram, Facebook, SnapChat: iamlaurenalaina
Photo Credit: laurenalainaofficial, truckyeahcountrystars, Lauren's Instagram

It's been nearly five years since Lauren Alaina had a hometown concert, but on April 20th Chattanooga, TN (an easy 10 minutes from her hometown Rossville, GA) welcomed her back with open arms for US101's Concert for a Cause. Let me tell you, the sold-out show at the Chattanooga Theatre Centre was an emotional one […]