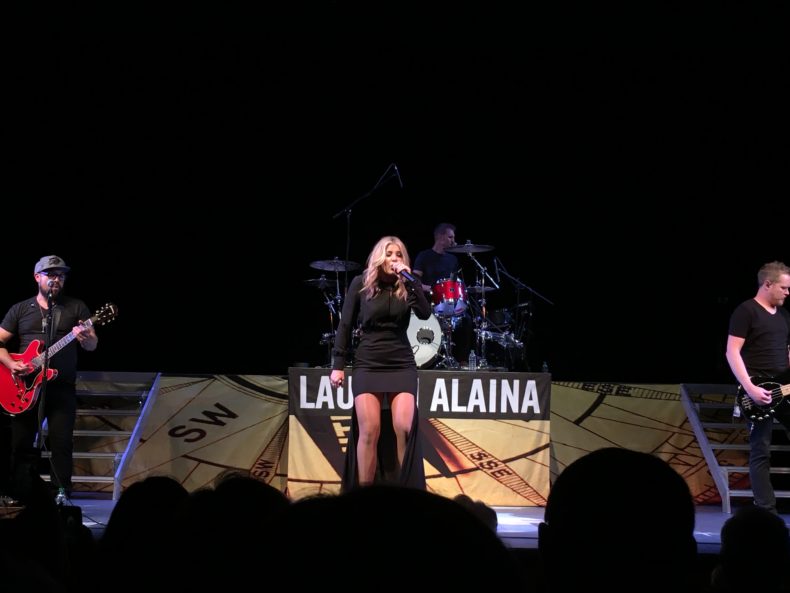 It's been nearly five years since Lauren Alaina had a hometown concert, but on April 20th Chattanooga, TN (an easy 10 minutes from her hometown Rossville, GA) welcomed her back with open arms for US101's Concert for a Cause. Let me tell you, the sold-out show at the Chattanooga Theatre Centre was an emotional one for the audience and Alaina herself. The audience ranged from young kids all the way to older folks nearing their 80s, but it was also special for Lauren as a lot of her family were in attendance as well, including her boyfriend's family and her baby nephew whom had never seen her perform on stage before. Those factors, plus recently having her first number one single off of a pretty autobiographical album, made for one of the most emotional concerts I've ever been to.
I've been a big fan of Lauren since her Idol audition and have been fortunate enough to see her quite a few times. However, I unfortunately, hadn't seen her in concert since her last show in Chattanooga with the exception of a few brief appearances at CMA Fest the last few years. This also meant that I hadn't really seen her perform since before her vocal cord surgery. So, I was excited to finally be able to hear her sing her new stuff, especially since her new album is at the top of my favorites.
No one can argue against the fact that Lauren knows how to put on a show. She may not be selling out stadiums with pyrotechnics and fancy lighting yet, but Lauren knows how to connect with her fans on personal levels and even get them involved in the show at times. If there's one thing that you always take away from one of her shows, it's that she was born to be on that stage and tell her story. Her infectious personality, powerhouse vocal, and her ability to tell stories through songs will turn you into a fan for life if you weren't one before the show. If not, well, you must not be seeing and hearing what I have always seen and heard from her.
The set list for the night ranged from singles from her first album and her most recent one to a medley of girl power covers. In the mix, she interacted with the audience on a personal level by telling her emotional stories (even bringing her niece and nephew up on stage towards the end), singing to fans, and even bringing a young boy up on stage to dance as her "Next Boyfriend."
Set List
"Road Less Traveled" Intro
"Queen of Hearts"
"Crashin the Boys' Club"
"Georgia Peaches"
"Barefoot & Buckwild"
"Doin' Fine" (Next single!)
"Firework"  (Katy Perry Cover)
"Three" (grab the tissues)
"Road Less Traveled" (this video is just the intro speech)
If the above videos convinced you to go see this girl live, which I highly recommend, you can find out if she'll be in a city near you on her official site and Facebook page. She'll be on tour with Luke Bryan soon, so that's definitely a show you don't want to miss!
To keep up with the bubbly personality follow Lauren Alaina on her social media sites: Twitter, Instagram, and the above Facebook page. Her SnapChat username is: iamlaurenalaina

I think we can all agree that live music – or music in general – and special events are universal forces that connect us, helps us escape reality for a while, brings us joy and beautiful memories that won't be forgotten. People of all ages, shapes, sizes, religions, race, and backgrounds gather together at concerts […]

"Let's take a trip to Sunset Boulevard…" – Sunset Blvd. Most people probably remember the band Emblem3 from season 2 of X Factor (U.S.). Drew Chadwick, Wesley Stromberg, and Keaton Stromberg have been friends and working on music together since they were kids growing up in Washington and eventually moving to Huntington Beach, Ca. They […]