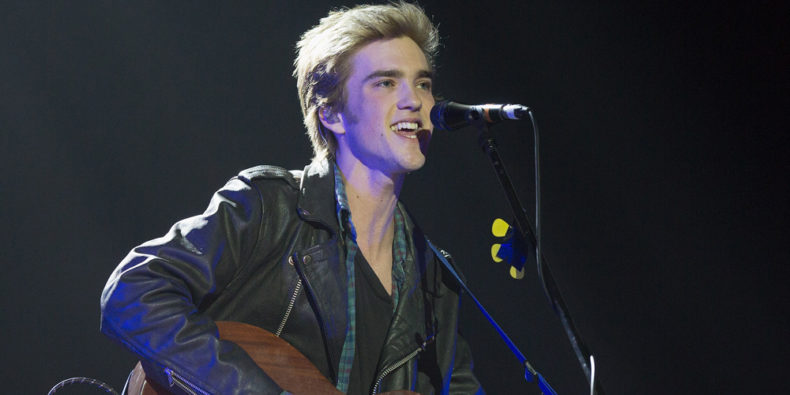 Jessarae (pronounced Jez-a-rae) has been noted in the music industry as one of music's hottest emerging young talents. He began writing songs at the tender age of nine and possesses the innate gift of vivid storytelling with the ability to excite and captivate his audiences through his music
just as effectively as seasoned musicians twice his age. Unlike most teenage performers, the talented 15-year old singer/songwriter doesn't play
sugary pop, opting instead for classic folk melodies delivered with equal amounts of rock, soul and groove.
In only five years, Jessarae taught himself to play the guitar, released a debut EP entitled Damaged Heart (recorded in 2008), and continues to amass new legions of fans of all ages through a series of notable live appearances throughout the US and Canada.
Over the last year, he performed at the 2010 Winter Olympics, was featured as a special guest performer at the 2010 Sundance Film Festival, and has
appeared as the musical guest on various television programs including Good Day Sacramento and Philadelphia's "The 10! Show." Other highlights include performances at the 2009 Sundance Film Festival with Matisyahu; The Vahagn Setian Charitable Foundation benefit with Carolina Liar, Suzy & James Cameron's Annual Lavender Faire; Chelsea Staub's Harmonies for Haiti at the House of Blues; the Grammy Museum, and the Keep Hope Alive benefit with Gavin Rossdale.
Most recently, Jessarae has been announced as the youngest ambassador to join WhyHunger's Artists Against Hunger & Poverty amongst music luminaries such as Bruce Springsteen, Carlos Santana, Michael McDonald, Chicago, Earth, Wind & Fire, Joss Stone, and Jackson Browne to name a few.
For Jessarae songwriting and performing isn't just a passion, it's a necessity – a way to grasp the many intangibles of life and communicate them to the world around him. "I know music is what I'm meant to do in my lifetime," he says. "And because I truly pursue my passion every day, I am
blessed to be able to have the chance to share my music with the world around me."
Presently, Jessarae is working on releasing a few singles followed by his full-length debut CD to be released later this year.
Jessarae Official Site: www.jessarae.com
Facebook (where he communicates with his fans daily): http://www.facebook.com/pages/JESSARAE/48388821254?ref=ts
Twitter: http://twitter.com/jessarae
Myspace: http://www.myspace.com/jessaraemusic
Variety Radio Online – – Bringing you all things Entertainment including News, Reviews and Interviews. Check out our website, like us on Facebook ,follow us on Twitter ,Tumblr and Instagram