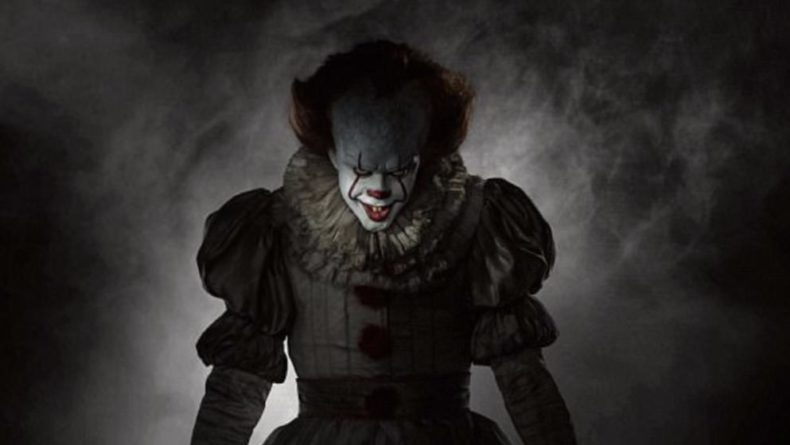 So we all know this is based on Stephen King's book and was a miniseries in 1989. Well the story still takes place in that same time frame with the same Losers Club as the central characters. We have Bill (Jaeden Lieberher), the stutterer that is the group leader, with a quiet fire inside him. Gerorgie (Jackson Robert Scott) his little brother, Pennywise first victim, lights that fire inside Bill who believes he's alive somewhere in the sewer system. After reviewing maps of the sewer structure, much to his father's disapproval, he begins to convince his friends to help him search when another person goes missing. The Losers Club – Richie (Finn Wolfhard), the smart ass chatterbox with coke bottle glasses, Eddie (Jack Dylan Grazer) Munchausen's by proxy germaphobe, Stanley (Wyatt Oleff) quiet and fearful Rabbis son who can't memorize the Torah for his Bar Mitzvah, Mike (Chosen Jacobs) home schooled black kid who feels responsible for his parents death, new kid Ben (Jeremy Ray Taylor) overweight bookworm studying the history of Derry, Maine and finally Beverley (Sophia Lilllis) the only girl, who is abused by her father and badmouthed in school. So all the cliché bases are covered.
One by one Pennywise, played brilliantly by Bill Skarsgard, introduces himself to the children via their deepest fears. Once that fear door is open, Pennywise can torture them at will, which he does day or night. Whether it is Mike seeing his parents fight for their lives or the horrid portrait that Stanley can't bear to look at attack him, Pennywise knows how to sink his teeth in to them.
They soon realize they have seen the same clown, and Ben starts to share his research, the hunt for Pennywise and Georgie is on. The search is precipitated by Pennywise actually coming out of the screen at all of them in Bills garage. They are terrified but have made a pact to hunt him down and rescue Georgie. The search is complicated by the bullies who torment them and Pennywise trying to get them individually.
When you think the Losers Club has Pennywise defeated from a fatal blow by Beverly, that's where the tables are turned on all of us. Like most men, Pennywise has a problem with strong women. This is when the trap is laid and they have to meet him in his true lair.
Skarsgard plays Pennywise brilliantly so you forget Tim Curry ever originated this role. From his voice to his moves he's terrorizing. If you're afraid of clowns thing twice. The CGI is used sparingly where it counts most. Keep your eye on the movie theater when the kids are walking about. Very telling.