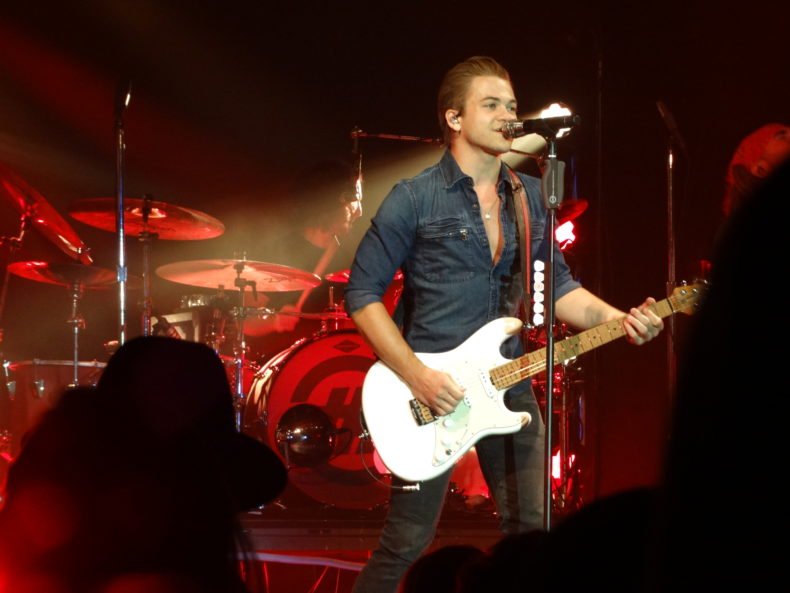 The first time I saw Hunter Hayes, he was opening for Taylor Swift on her 2011 tour. He was actually the opener's opener, playing early in the night before Needtobreathe set the stage for Taylor. It would have been easy to tune out his set or show up late and miss it altogether, but as soon as he took the stage I was glad I hadn't. With his then recent songs like Wanted and Storm Warning, he captivated girls of all ages, and I would bet that many of those girls still attend his shows today. Besides being "brilliantly talented" as Taylor later described him, he made me feel connected to the stories he told through his songs, in a way that I would argue few artists truly can.
It didn't take long before the rest of the world caught on. Soon he was headlining CMA Fest at LP Field, and accepting the 2012 CMA Award for New Artist of the Year. As he moved to bigger and bigger tours and venues, I could barely keep up with his success. The next thing I knew, he was rising from the floor in a cloud of smoke to a screaming arena of Taylor Swift fans at her 2013 RED Tour in Nashville. Luke Bryan had been the surprise guest the night before, and the amount of excitement Hayes' appearance elicited was easily on par. In just 2 short years, he had gone from little-known opening act to full on superstar.
Sometime after that, I stopped attending as many country music concerts. I was burnt out on the overabundance of "bro country" and distracted by Taylor's transition into pop. I always kept one eye on Hunter, though. As other artists put out their latest take on the "beer and trucks" formula, Hayes continued to stay true to himself and release touching and personal songs like 2014's "Invisible," which raised money for child hunger. His 2015 release of "The 21 Project" was also extremely unique, featuring a studio recording, a live performance and an acoustic recording of seven new songs.
I finally had the chance to see him again this summer, at his show in New Buffalo, Michigan on July 29th. The venue was a large ballroom at the Four Winds Casino, and though it looked a bit different from your typical concert arena, I knew Hunter would have no problem captivating the room. From the moment he took the stage with Storm Warning, everybody was on their feet. He played a 16 song set straight through without stopping. No fancy set or costume changes, just a "geeky, passionate, awkward song writer" (his words) giving everything he had on that stage. With a combination of older songs from his double platinum self-titled debut album, newer songs from The 21 Project, and even some brand new songs that had never been played before, Hayes effortlessly held the crowd's attention
For me, one of the best parts of the night was when he sat down at the piano for his hits, "Invisible" and "Wanted." The stripped down part of a show is usually what I remember the most, and this was no exception. While Hayes has clearly mastered every possible type of guitar, the piano allows him to shine in a different way. It makes me wish I could go back to his early days and see him with no backing band in a tiny venue. But he manages to make even the biggest shows feel small, which I think is the true mark of any concert's success.
When I think back on this show, I remember something Hunter said while addressing the crowd. "For every record you hear, there were 100 songs written just to get 10 on the record, in the hopes that one of you guys will hear something tonight that feels like home. I hope you hear something tonight that really means something to you, and if you do I want you to take it and make it yours. Because it is yours. It's your music as much as it is ours." That quote embodies why I will always go out of my way to see Hunter. I would highly recommend catching one of his shows.
To find out when Hunter is coming to a city near you, visit www.hunterhayes.com/tour.