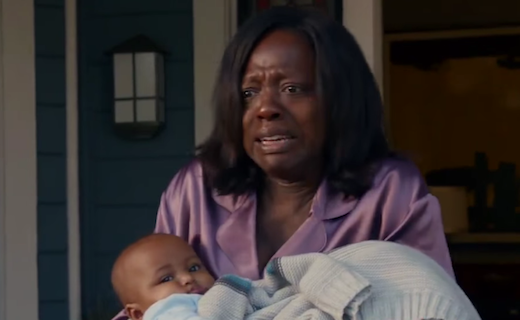 How To Get Away With Murder: "What Happened to You, Annalise?" Review By: Jamie Casseday
What happened after Annalise Keating got shot?
How To Get Away With Murder left us in a frenzy after the Winter Finale last November. I've had so many questions for so many months! And then, I couldn't watch the episode live. I wasn't able to watch the episode until the Sunday after it aired. Can you imagine my anxiety by the time I got started?! I had to dip and dodge through social media for days hoping that nothing was spoiled for me. Because, let's face it, people spoil everything. Now, it's time for us to talk…
*SPOILERS AHEAD. IF YOU HAVE NOT CAUGHT UP WITH HOW TO GET AWAY WITH MURDER, IT'S TIME TO TURN BACK NOW*
Wes takes his finger off the trigger as he hears Annalise whisper Christophe over and over again, while Laurel runs over and grabs the gun from Wes. "You shot her?" Michaela exclaims at Laurel as she runs back in seeing the scene. "I had to," states Laurel as she begins to cover for Wes. Michaela wants to help Annalise as Laurel is rounding everyone up to get them to leave. Michaela gets the gun and gives it to Wes to throw in the pool. And that's how it begins…
The next time we see everyone, it's two weeks later. Bonnie drove Annalise home from the hospital. As she sees a bed made on her couch, she states that she wants no stranger sleeping in her house. Bonnie responds, "It's for you. No stairs, remember?" and gives her all of her medicine she needs. Annalise asks what time the hearing is tomorrow. She's going to go through with it, even though she's obviously not well enough to do so. Annalise asks about all the kids, she wants to make sure they are all okay, especially Asher and Wes.
Cut to Laurel being in Wes' apartment, giving him the news that Annalise is home. She's trying to comfort Wes by saying that everything is going to be okay and it's all going to work.
Bonnie is obviously a great caretaker and wants to continue to help Annalise, but Annalise convinces her to leave the house. Annalise has awful post traumatic distress memories about the night she was shot. She continues to lie on the couch and watch the news. She goes to her liquor cabinet and finds that Bonnie took it all from the house. So, Annalise takes more than the recommended dose of Vicodin that was prescribed to her.
Laurel finally convinces Wes to leave his apartment and she takes him to Frank's apartment – where the entire group has been hanging out and having study group for exams.
Annalise is asleep on the couch when there's a hectic knock at the door. There's a woman at the door, crying with a baby. She tells Annalise that she needs to take her baby. She gives Annalise her child and runs from the house. What?!
Bonnie asks Asher what's wrong and he states, "Nothing, I just haven't heard from them yet." When she asks who, he responds, "The cops, who else?"
Flashback to two weeks earlier!
Asher went to the police the night that everything happened and put in a statement that his father wouldn't commit suicide and they need to investigate the case as a murder.
Annalise calls Bonnie and when Bonnie arrives at the house, Annalise is holding the baby as she exclaims, "I finally got it to calm down." She asks Bonnie to take it and if it starts to cry to take it upstairs. Annalise wants to prep for her statement in court the next day. When it pans back to Bonnie, the blanket is empty. She drops it to the floor and reveals that there is no baby at all. After that, Bonnie asks Frank to come by and bring her the sleeping pills.
Frank and Bonnie decide that Annalise is not well enough to testify, so Frank has the kids write up a witness statement for the prosecution. As this is happening, Bonnie gives Annalise ice cream that she put the sleeping medication in.
Annalise asks Bonnie if the baby is okay and when Bonnie tells Annalise there is no baby, Viola Davis gives a remarkable performance of a woman high on Vicodin explaining how the baby showed up on her doorstep. The scene ends with Bonnie saying, "No, it was in your head, like last time" And
Annalise responding, "You're messing with me." What does that mean?!
Annalise wakes up from a nap to the baby crying. When she goes to comfort the baby, the baby is lying on the floor. Finding out, this was a dream and Annalise wakes up to another knock on her door.
Laurel comes over to talk to Annalise. She wants to know how Wes is doing.
Another flashback to a week prior, Laurel visits Annalise in the hospital alone. Annalise asked Laurel why she told Michaela that she did it. Laurel said
because the group already blames Wes for Sam's death and he would fall apart if they blamed him again. Laurel asks Annalise if her saying Rebecca was dead is true. Annalise tells her that it isn't and asks Laurel to watch over Wes.
Laurel tells Annalise that Bonnie said she couldn't testify. Annalise has Bonnie come over and tells her she's testifying. Bonnie has to tell Annalise about her hallucinations, because she doesn't remember. As Annalise looks shocked and confused, she asks Bonnie to at least let her read the statement first.
Annalise asks if Nate has called while Bonnie tells her to wait a couple more days. Lastly, Annalise asks Bonnie to throw out the rest of the Vicodin.
We find out quickly that Wes kept the gun he shot Annalise with. He hides the gun as Laurel is knocking on the door. She brought him a burrito from taco night. Asher has been staying with Conner and Oliver, even though it's driving Oliver crazy.
Bonnie goes to Nate's house to get him to go see Annalise. He states, "You protect me, I protect you" as the reason why he didn't take the group to the police station after he found them that night. Nate tries to get Annalise to open up about that night and why she had the group shoot her. He wants to know if she wanted to die that night, but all she asks is that he leaves and states that, "he does know her."
Michaela and Caleb speak before the hearing and find out that there is some tension between them. Michaela went to Caleb after she left the house to try and talk to him – He got the call about Catherine while she was there. Caleb doesn't believe that Catherine shot Annalise. Michaela tells Caleb that she wants to be there for him and he responds, "You all belong in hell."
Annalise Keating's lawyer uses her call to the police and written testament in front of the court, but it was thrown out as evidence. Laurel called Annalise about her statement being thrown out.
Annalise walks into the courtroom as someone on the witness stand is stating that Emily Sinclair's wounds don't make sense with the fall. She tells the judge that she's well enough to take the stand. As Annalise is on the stand testifying against Catherine, she starts to have a panic attack. She sees Wes' face and starts to hear the baby crying. The judge gets her attention and Annalise asks for a recess, which the judge allows for 15 minutes. Annalise goes to the bathroom and has to put toilet paper in her wound to keep from bleeding threw her shirt. When she and Bonnie walk out of the bathroom,
Wes is standing there waiting for them. Bonnie tells Wes it's not a good time and they head back to the courtroom.
The lawyer for Catherine is asking questions to Annalise in the next scene. While Annalise is trying to state that she didn't see what happened with
Emily Sinclair and Catherine after she had been shot, she told the lawyer that she "didn't see anything." The lawyer runs with this and starts to forcefully get other information out of Annalise. Annalise is struggling with her wound bleeding through her shirt and looking very weak. Annalise states, "She didn't" and changes the tables around. "I meant Catherine didn't shoot her parents." Annalise Keating broke privilege for stating a confidential conversation she had with Catherine. Annalise Keating, being the smart lawyer, did what she had to do to protect Catherine from the murder of her parents. She knows that if she does this, Catherine will get a deal if she testifies against Phillip Jessup.
Annalise meets with Caleb after the hearing in her car and says, "You're welcome." She tells Caleb that "everything she just said on the stand will make Catherine look like the victim."
Caleb meets with Catherine after and convinces her to testify against Phillip. Catherine stands in the courtroom and tells the judge that "she remembers things from that night that she didn't remember before and she would like to go on record with them." She admits to shooting Annalise while she was drugged by Phillip!
Bonnie tells Annalise that the D.A. is going to offer Catherine a deal. She will get only five years in a minimal security prison if she testifies against Phillip Jessup. Bonnie tells Annalise that she worries about her and she knows that Annalise wanted to die that night.
We see Wes sneak into Annalise's house. He starts to search Annalise's computer for the name 'Christophe' and search the entire house for any information, when he sees the sleeping pills. Annalise comes home and notices all her lights on. She goes up the stairs to look around, even though she knows she's not supposed to go upstairs. Annalise finds Wes lying on her bed, with the pill bottle on the nightstand next to him. He was awake and hadn't taken any of the pills, but he states, "I get it now. Why my mom did it. I never did before, but she just needed to make it all stop. So do I." Wes finally confronts Annalise and states that she knew his mother. He now knows the reason he got into college and why he's there is because she knew his mother.
Flashback to 10 years earlier, Annalise walks next to a park and is watching children play. We find out that Annalise was pregnant! She sits next to a woman named Rose, who is also the woman Annalise saw bring her the baby.
Wes is trying to convince Annalise to tell him what she knows about his mother. He yells and starts to get in her face when she grabs something to protect herself. "You think I want to hurt you," Wes asks and Annalise responds, "I think you ruined me. Get out!" Annalise chases after Wes and starts to hallucinate. She starts to slowly walk down the stairs and whenever she makes it down, she finds the baby in her house. Annalise picks up the baby and starts dancing with him. But, obviously since she's hallucinating, there is no baby… And the episode ends.
What just happened?! Of course now the audience has more questions than when the episode started!! How to Get Away With Murder just keeps getting better as time goes on and I'm so excited to find out what happens next! What did you think?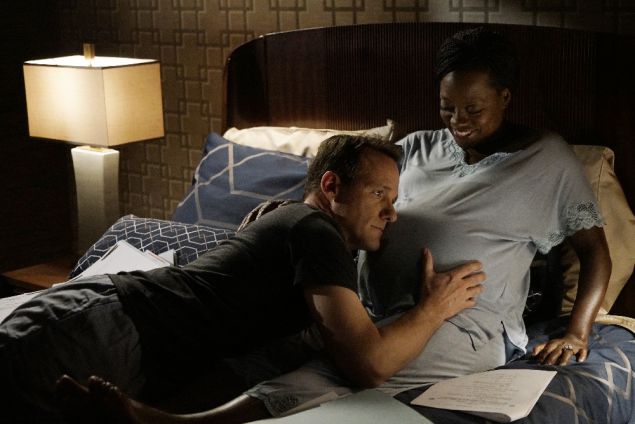 *SPOILERS AHEAD. IF YOU HAVE NOT CAUGHT UP WITH HOW TO GET AWAY WITH MURDER, IT'S TIME TO TURN BACK NOW* We begin the episode with a flashback of Annalise having morning sickness while she's pregnant. We see the 'Keating five' from ten years previous. Bonnie and Frank are both in the group, while Bonnie […]