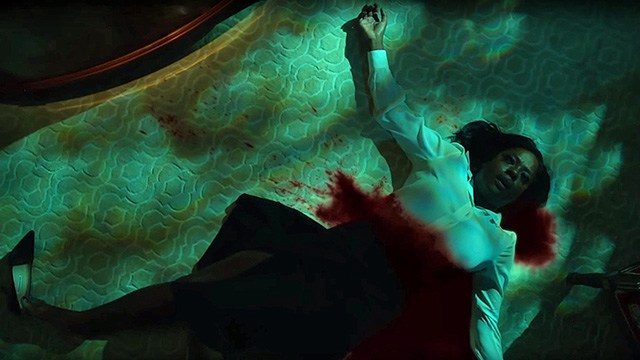 The truth comes out about what happened to Annalise Keating and Emily Sinclair.
By: Jamie
It's the episode we've all been waiting for. HTGAWM has teased us all season long about this moment. We've waited in suspense for 9 long weeks and it's finally here. As you know, How To Get Away With Murder is an incredibly fast paced show, so I will not be able to get every detail of this episode written out. I will focus on what I feel is the most important parts of the episode. If you feel I have missed anything, please let me know! For any of you Scandal fans, I'm sure you weren't able to catch your breath before this episode started and you continued to not be able to breathe during the entire episode. In fact, you still can't breathe and I don't blame you.
*MAJOR SPOILERS AHEAD. IF YOU HAVE NOT WATCHED HOW TO GET AWAY WITH MURDER'S WINTER FINALE, TURN BACK NOW! DON'T SAY I DIDN'T WARN YOU*
How To Get Away With Murder starts with the sound of Annalise yelling "No!" as we hear a gunshot and we see her fall to the floor. The same pivotal moment we've seen over and over, continuing to leave us in suspense.
The time flashes back to the morning before the gun shot. Caleb, Michaela, and Conner debate on what to do with the gun. Caleb Hapstall found the gun a couple days prior to showing Michaela. The gun that was probably used in the murder of his parents was found in his sister Catherine's art studio. Conner is obviously not happy about being drug into this situation again. Caleb believes someone planted the gun to frame his sister. Michaela talks to Conner about getting rid of the gun, but he disagrees. As they argue, Caleb picks up the gun and says that he can get rid of it himself. Catherine walks in the room and sees that they found the gun.
Emily Sinclair just will NOT back down. She accuses Nate Lahey of changing Phillip Jessup's criminal record to say that he had a mental disability along with years of problems with the law. In Sinclair's defense, Lahey totally did this – but I'm still siding with him. She needs to back off. After he told his boss that he did not do this and walks out, Sinclair follows him yelling inappropriate things about his wife and Annalise to him. She hits a nerve and he yells back, which puts his job in jeopardy.
Annalise is called and shows up to the Hapstall Mansion. She's very frustrated that they have tampered with the gun and they let Catherine go. Catherine ran away as soon as she sees everyone in her art studio. Annalise gave Caleb two choices – that she either represent him or represent his sister. Since the tables have turned quite a bit on this case, she can no longer represent both. He chose for Annalise to represent him.
The leak finally happened. Frank calls Annalise to let her know about the article online. In the paper, there is a front page article about Asher's father and all of the cases he set up, especially the 'gang rape' case to save his son. Nowhere in the article is Asher mentioned. Asher is trying to get ahold of his dad when there's a knock at the door and when he opens it, it's Bonnie. He believes she's come by to warn him about the article, but that isn't true. She has other news. Bonnie had came from the courthouse where they had found Asher's father had hung himself.
Asher goes to his mother to talk about the funeral plans for his father. You can tell he's distraught, but trying to hold it together for his mother. Soon after he starts mentioning funeral plans, his mother interrupts him and starts to BLAME him for the death of his father. She continues to tell him that he's the disappointment of the family and that he chose Annalise Keating over his family. It's excruciating and heartbreaking to watch as Asher just sits there listening to his mother hound on him. It leaves Asher speechless. When he gets into his car, Asher loses control – he breaks down crying, while punching the steering wheel.
Frank and Bonnie are found discussing Asher's father in the office. They were the ones that leaked the article. As they continue this conversation, Frank justifies that they leaked the article to protect Asher. Bonnie finally states what's been coming all along – "There's a point where we're the ones people need to be protected from."
Conner, Michaela, Laurel, and Wes are at the Hapstall Mansion trying to decide how best to move forward with the new problem that's developed. Michaela asks if anyone called Asher. They realized none of them did. She began to call him to send her condolences and make sure he's okay only to find out that she doesn't even have his phone number. None of them do.
Nate calls Annalise and says, "We have another Sinclair problem." As Annalise digests everything Nate says over the phone, she's visibly shaking and trying to hold off having a panic attack. Us as the viewers have absolutely no idea why. She holds it together and tells her students that there has been a change of plans. Sinclair is on her way over to the Hapstall Mansion.
Annalise walks outside to Bonnie's car.
"Show me" – Annalise
"I'm so sorry" – Bonnie
"Stop, she did this to herself" – Annalise as it pans out to show Sinclair's lifeless body in the trunk of Bonnie's car.
The time turns backward to show the events leading up to this reveal. Nate was threatened to be fired because Emily Sinclair was filing a harassment case on him. He then decides to file a racial harassment case on her. She finds him and has him sit in her car with her while she offers to forget her harassment case, as long as he does the same. Sinclair asks Lahey to help her take down Annalise.
Asher finds Emily Sinclair in a parking garage to discuss how she leaked his father's secrets. She denies it but continues to put Asher down about the gang rape case his father covered up for him. After she was done, she turned around to go to her car. Asher lost control again, threw his car in reverse, and hit her.
Asher calls Bonnie to help. She walks up to the car and Asher says, "I can't look." Bonnie responds, "It's okay, you don't have to" as she leans to look underneath the car where you see Sinclair is dead.
Bonnie and Annalise are back looking at Sinclair's body in the driveway and Asher drives up. Annalise asks them to get the body inside. Once they do, all the rest of the group sees what's happened. Annalise tells the group they need to help cover it up for Asher. They all disagree and say they won't when Annalise finally tells Asher what truly happened to Sam. She tells him that they killed Sam and that she helped them cover it up.
"I've been covering for them the entire time. Now they're going to cover for you."
Asher and Bonnie get Sinclair's body thrown over the roof of the house. All the way, Michaela and Conner are trying to run away. Laurel and Wes convince them to stay because they have called Nate and they said he would help.
Frank has been tailing Catherine to help with the cover up. He has her passed out in his backseat and giving her drugs to keep her asleep. Phillip tried to go to the hotel she was staying at, but since she wasn't answering the door he went back to the Hapstall Mansion. He's outside the gate while all this is happening.
Bonnie was going to take the gun to give to Frank for the cover up. Annalise tells her not to, so she leaves the gun and takes Asher with her. She stops by a gas station to clean up her blood stained shirt. When she returns to the car, Asher is nowhere to be found. He comes up behind her with a carwash ticket, because there is blood on the backside of the car. As they're going through the carwash, Asher asks if covering up a crime scene works. All Bonnie can say is, "sometimes."
Back at the Hapstall Mansion, the group is yelling at Annalise that the plan won't work. "You're right. It won't unless we make it work," Annalise says as she dials a number on her phone. She calls 911 and states that she's been shot. The entire group starts to freak out about how insane the plan is. Annalise asks Conner to shoot her in the leg. She tries to coerce him to do so by saying how much she's ruined his life. He almost does it before Michaela steps in front of him and he walks out of the door. She tries to get Michaela do so and she won't either. Again, Keating asks Wes and he won't. Neither will Laurel. Finally Annalise tells Wes that Rebecca has been dead this entire time. She tells him that all the times she let him cry on her lap, she was lying to him. Wes points the gun at Annalise's leg, then moves to her stomach – Annalise yells no as the shot is fired. Wes walks up to Annalise to shoot her in the head, but stops when he hears her calling him Kristoff.
10 years earlier reads on the screen as you see a little boy being questioned at a police station. The police officer assures him that he's not in any trouble; she just needs to know what happened. The little boy asks if she's dead, because she "looked dead to him." Annalise and Eve are watching behind the glass when Eve says, "Dear God Annalise, what did we do?"
And the show is over. WHAT. JUST. HAPPENED.
I will admit, I did guess that Annalise staged the entire thing. That was my first guess as soon as the season started and we seen that Annalise gets shot. I had no idea how or what or why it would happen, though, and HTGAWM did NOT disappoint! The Winter Finale was so good in my opinion. The acting was superb and the writing was phenomenal. Shondaland never disappoints!
How To Get Away With Murder returns to ABC on February 11th, 2016 at 10 EST / 9 CST
Variety Radio Online – – Bringing you all things Entertainment including News, Reviews and Interviews. Check out our website, like us on Facebook ,follow us on Twitter ,Tumblr and Instagram