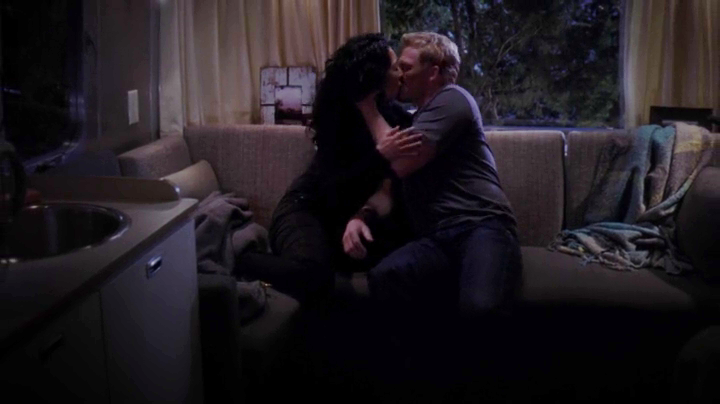 Grey's Anatomy – "You Got to Hide Your Love Away" (S10E14)
By: Shayla
This week's episode starts off with several of the show's couples in bed; Alex and Jo, Hunt and Emma. At the end of the last episode, Hunt and the rest of the board decided to make a ruling against hospital relationships between superiors and their subordinates, withstanding current marriages of course. Alex and Jo's relationship is a clear violation of the new ruling, but have yet to find out. Meanwhile, Hunt and Emma wake up in his trailer, and he tells her that they should look into getting a place together. They had discussed the idea previously but Hunt hadn't given it much thought, but as we see, he decides to move forward with that decision.
Meredith is still struggling with the fact that Derek is interviewing for the job with the White House, and tells him that "it's complicated" because she wants him as a neurosurgeon to get the job, but not him as her husband. Derek asks if he can join her in the show and Meredith says, "I can't sleep with a man who's a lying liar". He tells her that she delights in his pain, which seems to be true.
Callie and Arizona are still moving into their new house and following their rule of unpacking one box per day. Callie surprises Arizona with a ring inside of hers, and this episode seems to show more stability to their relationship; or at least both of them seem to be trying very hard. Callie has the ring inscribed with the date that they moved in to the house.
Trying to handle the implications of the new hospital policy, April and Avery struggle with keeping their relationship under wraps. Hunt announces to the staff about the new policy while Cristina overhears the fact that Owen plans to move in with Emma. As Hunt discusses the new ruling, the interns are clearly upset and Webber calls him the "panty police" when Hunt asks him to help out with the staff concerns over the new rule.
The first patient story in this episode is about a girl who keeps getting cancer, and is in the hospital to get a bone tumor biopsied. Alex notices that the patient has decreased breath sounds and so he orders a CT contrast. As we soon find out, her osteosarcoma isn't the only problem she has.
In the E.R. a patient is brought in who had a trash compacter tear up her leg after she lost her purse in it on accident and climbed in to retrieve it. She reveals that she has a boyfriend who won't acknowledge her in public (the head of her department at work) and she describes how her boyfriend asked her to take the trash out as she left, so she complied. Her friend tells her she has no dignity left as April and Avery debrief her wound.
Jo confront Webber about the new policy and states that they all spend their time in the hospital and that it is their only dating pool; case-in-point, every married staff member is married to another member of the staff. Webber reveals that one of their own lodged a complaint and Jo immediately jumps to the conclusion that it was Stephanie due to her relationship with Avery.
Alex and Bailey work on treating the young patient with cancer, and Webber sets the interns on this case to help out and work as a team. This doesn't go over well as none of them plan to work together. Bailey focuses on checking the entire family for any genetic reasons that they have recurring cancer, different types, prevalent across the family. Bailey finds a mutation in their genes that lead to a problem with regulating cell growth.
Cristina and Meredith are back to normal, and the show seems to feel like itself again. Derek is leaving town for yet another interview for the White House and Meredith invites Cristina over to drink wine and spend the night.
Jo corners Alex on the balcony of the hospital atrium, telling him he can't ignore her pages and that they need to talk. He brushes her off and she tells him that she is overreacting about the rule and he tells her that she can choose to act like an adult and not pick a fight in front of the entire hospital. As tears well up in her eyes, he tells her "we're done" in front of the entire staff. Jo runs into the stairwell to answer a phone call from Alex where we learn that the entire act was staged.
At Meredith's house, they talk about Owen and Cristina says it is weird that her and Owen are really over now, and Meredith points out they are divorced and seeing other people, "isn't it over anyway". Derek interrupts saying that his interview was canceled before he got on his flight. Cristina leaves, drunk, saying she will catch a cab. She doesn't head home, instead ending up at Owen's trailer and brings him wine as a congratulatory gift for him moving in with Emma. Cristina joins him for a drink and tells him the new rule is making it impossible for her to get laid because the hospital is her dating pool. They talk about their old place and in a return to old ways, they kiss, in what feels like an inevitability.
In the morning, Emma meets up with Owen and apologizes for not being able to stop by the night before. She tells him what she expects in the future, which is two to three kids, and she plans to not work until they are all in school because she wants to talk them to school. So these things are important for them getting a place together because that is how she sees her life going. Owen looks scared, and having just slept with Cristina, this puts him in an awkward position. He tells her that it's not weird that she told him that and they agree to go meet up with a real-estate agent that night.
Webber talks to the residents about their patient with cancer and tells them to look into every similar case to find a way to treat her. Meanwhile, April and Avery contemplate how and when to tell everyone that they eloped on the day of her original wedding. Alex and Jo walk in on them having sex in a room, and as they go to leave, Webber walks in on both couples.
Meanwhile, Meredith confides in Cristina that she's unable to continue with her research right now. Cristina tell her that she can take a break and come back to it and it'll feel just like coming home, which prompts Meredith to say "you slept with Owen," which is of course true.
While Alex's patient is rushed to surgery, the residents work together to try to find a real cure, but Jo walks in and confronts Stephanie about her complaint to the Chief about her relationship. Jo tells her that Avery and Kepner are still together and that it isn't punishing them, but it is punishing her and Alex. Stephanie tells her that it was not her and it was anonymous. Leah speaks up and tells them it was decision that was made because she felt like her medical education had been compromised and that it wasn't made lightly or out of hurt feelings. Ross, having been quiet the last two episodes, finally stands up and tells them to stop letting distractions get in the way of their work and to focus on saving their patient. They settle on a treatment plan but are too late as the patient bled out on the table.
The Board calls a meeting due to Alex having a relationship with his subordinate and he tells them that it is all crap and tells them to punish him. April and Avery finally come clean and admit to being married, meaning their supply closet activities don't break any rules. This leaves only Jo to handle the consequences of the new policy and her relationship.
Hunt and Emma meet at the bar and she tells him she doesn't understand how they were just making plans and now they are breaking up. He says, "I thought I knew what I wanted," and admits to wanting to come home at night to someone who is equally as passionate about their work, versus the fact that she would give up surgery in exchange for a family. As this has been a very large issue in the Hunt/Cristina relationship, it is refreshing to hear him say this finally, particularly since it seems to be a big factor in his attraction to her. He says, "I want to come home at night and exchange O.R. stories," which is a powerful sentiment. The fact that he places such value on a woman who chooses her career over family, breaking the stereotypical feminine role, is such a refreshing thing to see.
On the other side of the coin, Meredith struggles to balance her family and her career as her research comes to a halt and Derek is offered the job, not only on the advisory board but to run it. Meredith explains that there's no room for both of their careers and how it is frustrating, but she does seem to accept losing this battle.
Tune in next Thursday, March 13th at 9/8c for the next episode "Throwing It All Away" on ABC.
Twitter: @TheVRO
Facebook: Variety Radio Online
Tumblr: Variety Radio Online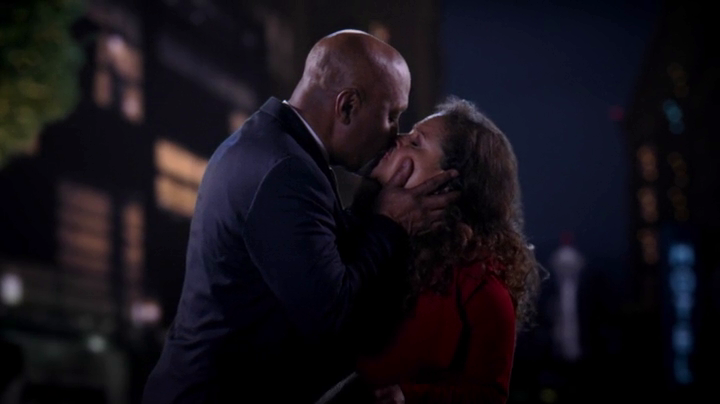 By: @stumbleine33 This week's episode opens on Bailey, Arizona, and Hunt telling Richard "happy birthday" but the sentiment quickly turns sour when Hunt tells him he needs to speak to him later about his surgical schedule, and then gives him a packet containing information about retirement. As the voice-over by Meredith states, the toughest part […]
This week's episode continues to show the after effects of the hospital's new "no tolerance" rule about dating between subordinates and superiors, as well as handles the results of the anonymous complaint, which as we learned last episode, was filed by Leah. While unpacking, Callie finds Arizona's old wheelie sneakers and Arizona tells her that […]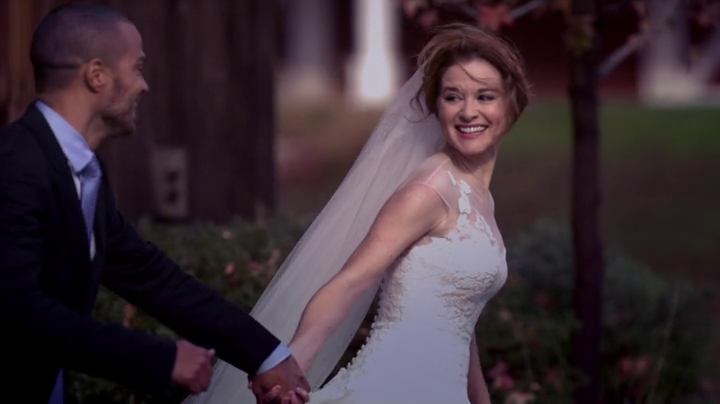 By: Shayla After a more than two month hiatus, Grey's Anatomy is back where we finally get the answers to the questions posed by the last episode, "Get Up, Stand Up," where Jackson confessed his love to April at her wedding to Matthew, and Shane botched his operation on Alex's father. This episode opens in […]