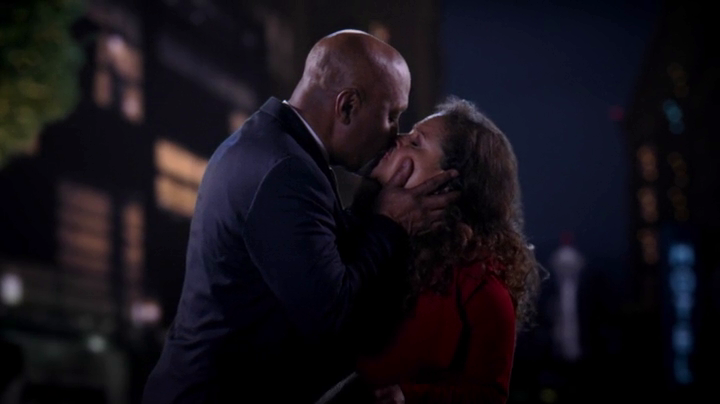 By: @stumbleine33
This week's episode opens on Bailey, Arizona, and Hunt telling Richard "happy birthday" but the sentiment quickly turns sour when Hunt tells him he needs to speak to him later about his surgical schedule, and then gives him a packet containing information about retirement. As the voice-over by Meredith states, the toughest part about childbirth is the "transition stage", and this seems to  be the theme throughout the episode with all of the characters as they adjust to new changes in their lives.
Meredith brings in a bio-engineer to help her with her research but is reluctant to give him the ability to do any actual work, instead telling him that he needs to read over all their information first. She has Stephanie watch him to make sure he doesn't touch their printer.
Meanwhile, Shane assists Cristina with her research and clinical trial for placement of bio-engineered conduits for heart repair. Shane interviews applicants and screens them, sending only the information about the hearts to Cristina so that she may remain as unbiased as possible. While Cristina works on her research, Hunt stops in and she tells him that he needs a scientific algorithm to help him choose the perfect mate. He jokingly tells her that she means internet dating, and that he doesn't need a date.
April and Avery must confront Avery's mother who is in town for Webber's birthday, and she is none too pleased about their shot-gun wedding.
Dr.Bailey and Leah consult on a patient who comes in complaining of abdominal pain that he has had for 10 years. He explains that he collects junk and sells it, so he hasn't been in a position to have steady healthcare. However, he recently got on "Obamacare" and is finally able to come in and have his pain looked at. Bailey states that she definitely sees a mass, and tells Leah to get him to C.T. and to tell no one about it. As they view his C.T. results, Meredith stops in and asks to be put on the case. Bailey tells her no, but to get Richard because it is his birthday. One can only assume that this is a rare case, whatever it is.
Callie and Derek are still in a dispute over the intellectual properties of their sensors, of which Callie believes rightfully belong to her as well. She brings in a lawyer to discuss this, while Hunt asks them to calmly come to a decision about it. Callie tells him that he signed away something that belonged to both of them. Hunt asks them to wait for him to talk to the board before they discuss further legal matters.
Shane continues to screen patients for Cristina's trials but a patient stops in who is 17 years old and pregnant. He tells her that she meets none of the criteria, being too old for the trial. She begs him and tells him that she wants a chance at life because she is having a baby, and while telling him this, her water breaks. She tells Shane that she has no one to call, and Shane tries to ask Cristina to bend the rules for her, but she refuses. She again calls Hunt, who assumes this is a work related urgent call, and she tells him to set up an online profile.
Dr.Webber meets with Bailey to look at the patient who came in with abdominal pain and they note with excitement that he absorbed a twin in utero. As they tell the patient, he beings to freak out and they tell him they already scheduled surgery to remove it. He tells them "stop calling him 'it", I just found out I have a brother". As Webber lectures about the case to a group of students, his patient tells him that there's no way they are taking his twin out of him.
Jo and Alex still struggle with the new hospital policy and she refuses to sign the hospital disclosure waiver that Meredith found for them. Jo tells Alex that it is creepy, and despite being removed from the Peds service and missing out on good surgeries, she refuses to sign the paper.
April and Avery sit down to talk to Catherine Avery and it is revealed that she wants them to sign a pre-nuptial agreement. Avery tells his mother that it is inappropriate to discuss with them and she responds that their 15 minute engagement at a rest stop was inappropriate. She pulls out a post-nuptial agreement, but Avery storms out of the room. April says she doesn't mind signing the paper because she doesn't want his money and it only matters if they get divorced, which they won't so it doesn't matter. She points out that it would be a good idea to offer an olive branch to his mother right now.
Stephanie continues watching over the bio-engineer who is supposed to be reading their research material but is instead drawing schematics for the printer. Stephanie asks him how it would theoretically work. Meredith meanwhile worries about her research and handing it over to a "lab rat" to do, and Cristina asks her opinion on photos of women on her phone. Meredith asks her if she's given up on men, but Cristina says it's for Owen. Alex tells them that Jo won't sign the love contract and he says if she runs he is blaming Meredith.
Meredith is pages about the case with the absorbed twin and Webber tells them that the patient has opted out of the procedure. As they suggest ways to talk him back into it, Leah suggests telling him that it's a demon. Webber tells them that because he ruined it, he will fix it, and that it's the worst birthday ever. Webber tells the patient that they can remove it but he can save it for him rather than throwing it in the trash, and the patient agrees to this.
Alex confronts Jo again about signing the relationship contract but she refuses and explains that in her experience signing papers is a "kiss of death". Derek talks to Callie again about their sensors and he tells her that his project will help feed into what she wants to do. She tells him that without the question she asked, he would have never developed the sensors and that he isn't the center of the universe. Derek tells her that he had the answers to her questions, so the material belongs to him. Callie says that he should feel terrible because it's the wrong thing to do, and he is only doing it because he doesn't know how to say "no" to the white house.
Cristina and Owen look at her research and he tells her that she assembled it fast, to which she replies that she knows what she wants (which is of course a stark contrast to the assumption that she makes about Hunt not knowing what he wants). She asks him if he filled out his dating profile yet but he tells her he didn't; he was too busy. She tells him that she will do it for him to start describing himself. He still protests and she begins to type in her own description of him, writing "stubborn, smart, athletic, a busy professional seeks…" She asks him to tell her and he agrees, only to go on and say "someone who doesn't care to cook, or get out of bed when it's not a work day. Someone who sleeps so soundly and peacefully that I have to check her pulse sometimes, someone who's suffered and understands suffering." She tells him to keep it more upbeat, so he tells her "to the point then- I don't have to say a word and she just looks at me and understands who I am and how I feel. She accepts it and doesn't try to change it, doesn't want to change it; that person". Clearly he is talking about her and before leaving he says, "There's a billion people out there but I imagine there's only one of her".
April and Avery continue their discussion with Catherine and she asks them questions about their future plans; do they intend to have children and what religion they will raise them in. She describes the place their children will have in the Avery Foundation as voting members eventually in the foundation. Catherine says "You are a born again Christina, I presume you are pro-life", to which April agrees. She asks if her children will be taught that their pro-choice father is going to hell, or their pro-choice grandmother. Catherine asks if their children will vote to stop supporting stem cell research or hospitals that perform abortions, because this affects the foundation. Catherine explains that she has built a massive institution with her blood and sweat, and that one day their children will control it, and she is angry that neither of them has considered what exactly that means for their future. April stops Avery and his mother from fighting and she says that they did something irresponsible but they did it out of love for one another. She tells Avery to apologize to his mother and she leaves, giving them time together.
Shane follows up with the young pregnant patient as she refuses to have her baby without her mother there. Shane encourages her to have her baby rather than be taken to have a C-section and he promises to contact her mother for her. After she has her baby, she tells Shane that is worried her baby will grow up without a mother and he reiterates that she has other options.
Derek calls the NIH to talk about the sensors, and Callie joins in on the call. Derek tells them that his work with Callie has to continue with their sensors. They try to introduce lots of other high powered people to him, but he refuses to be bullied or intimidated by it. He tells them that they are willing to share the sensors but only if they can continue their own research as well. Derek says if they can't do that, he is off the project and is willing to tell the president that himself. The NIH backs down and agrees to figure out a way to share the sensors.
Dr.Webber follows up with his patient after the surgery and gives him the specimen of the twin that was inside him. The patient takes one look at it and screams, telling them to take it away and thanking them for taking it out of him. As Bailey and Webber leave, Webber asks if he will see her later for dinner and she says that if she had known he wanted a party, she would have planned one for him.
Meredith walks in on Stephanie and the bio-engineer printing, and they rush to explain why they are messing with the printer. Meredith tells them that her research is sitting in a basement and they need to change it. She offers to go over a few things with Eric and she begins to take steps to include him on the research so that it can one day be a success.
Dr.Webber and Catherine walk to dinner and she tells him that she is actually proud of Avery for standing up for true love. Webber tells her that Hunt was hinting at retirement for him and she asks if she told him where to stick those papers. Webber hesitates to respond and she tells him, "Don't slow down on me now". He kisses her and she says, "smile and act surprised", as they walk into the restaurant and everyone is there for a surprise party for him.
Cristina talks to Owen at the bar and says, "Women love you". She keeps pushing him to find a date, but he tells her that they should get out of there. They could meet back at her place or she could wait for him. She says "Owen", but doesn't necessarily turn him down.
Alex and Jo discuss the relationship paperwork again and he tells her that it isn't a promise. He promises her that she can't count on anything, but it means he can kiss her whenever he wants to. She finally signs the paperwork and they kiss; finally able to do so in front of their colleagues.
April and Avery begin to discuss some of the questions his mom asked him earlier, and they find they disagree on a lot of major issues such as what religion to raise their children. She says instead of picturing her kids in board meetings as teenagers that she pictured them in 4-H, to which Jackson says they can ride horses at boarding school.
Hunt sits down to speak to Webber, who is surprised to be doing this on his birthday. Hunt tells him that he's not shoving him out, he's asking to appoint him as the director of the residency program. Hunt tells Webber to think about it, and all the residents start a toast to Dr.Webber, who was particularly close to them throughout this season during his recovering period.
Tune in next Thursday, March 27th at 9/8c for the next episode "Do You Know".
Twitter: @TheVRO
Facebook: Variety Radio Online
Tumblr: Variety Radio Online
This week's episode continues to show the after effects of the hospital's new "no tolerance" rule about dating between subordinates and superiors, as well as handles the results of the anonymous complaint, which as we learned last episode, was filed by Leah. While unpacking, Callie finds Arizona's old wheelie sneakers and Arizona tells her that […]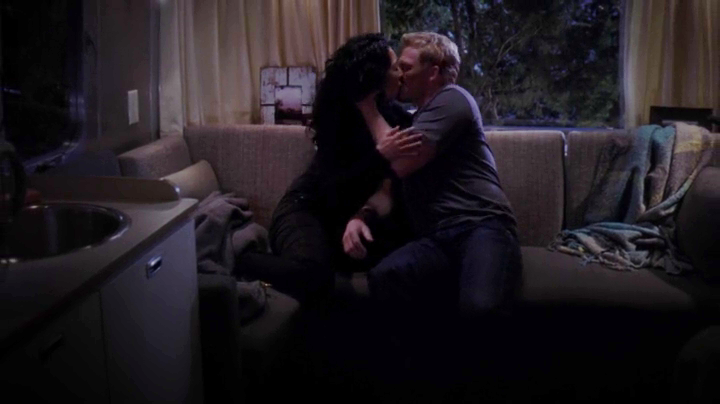 Grey's Anatomy – "You Got to Hide Your Love Away" (S10E14) By: Shayla This week's episode starts off with several of the show's couples in bed; Alex and Jo, Hunt and Emma. At the end of the last episode, Hunt and the rest of the board decided to make a ruling against hospital relationships between […]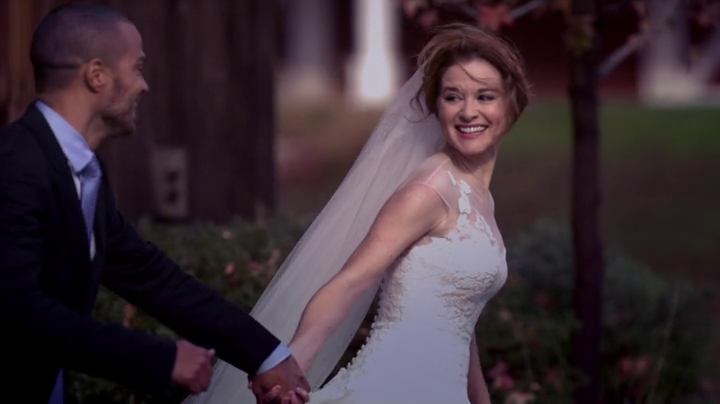 By: Shayla After a more than two month hiatus, Grey's Anatomy is back where we finally get the answers to the questions posed by the last episode, "Get Up, Stand Up," where Jackson confessed his love to April at her wedding to Matthew, and Shane botched his operation on Alex's father. This episode opens in […]