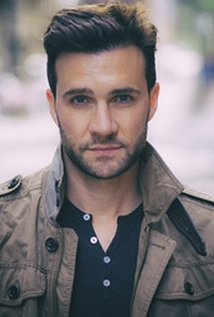 Hello Listeners! You've asked us to have Gil McKinney answer your top ten questions! Here you go! Big Thanks to Gil for taking the time to answer our Listeners Top Ten!
Gil is an American actor known for  roles on stage and screen. He has appeared in all 22 episodes of the final (15th) season of "ER" as resident Dr. Paul Grady, as well as recurring character Derek Bishop in NBC's hit drama, "Friday Night Lights". In 2013-2014, McKinney guest starred in "Supernatural" as Henry Winchester and "Once Upon a Time" as Prince Eric. Make sure you follow Gil on Twitter @GilMcKinney
1. Character you've played that you relate to the most? Probably Henry Winchester on Supernatural. I love the period aspect of the character as I have always felt like I should have lived back in the 40's and 50's. Also, Henry has a lot of heart!
2. What would be your dream role? Well, seeing as I already got the chance to play Elvis in "Elvis Has Left the Building," I would say it is now my dream to be in a real Western. I would love the opportunity to grow a beard, ride a horse, shoot a gun, and drink whiskey by a campfire on the open range. Basically getting to return to my Texas roots!
3. Who was your first celebrity crush? It was actually Neve Campbell. I was a big Party of Five fan in high school.
4. Current television show you can't miss? Easy. Game of Thrones!
5. Movie you can watch hundred times? Legends of the Fall. And I think I probably have.
6. Song you play on repeat? So many. Lately it has been All of Me by John Legend.
7. What's your favorite author/book? Not sure I have a favorite, but I just read The Art of Racing in the Rain by Garth Stein. I highly recommend it. Especially to dog lovers.
8. Do you have a hobby? I love finding projects to do around the house. Anything that requires power tools and building. It's great to get out of my head and I love seeing a finished job.
9. If you could have dinner with anyone (dead or alive) who would it be? Elvis Presley
10. One thing people would be surprised to learn about you? I was a vocal performance major in college.
Bonus Question: In a Zombie Apocalypse, who would you want by your side? My beautiful girlfriend, Kristin. And of course, my dogs, Willie and Sammy.
Twitter: @TheVRO
Facebook: Variety Radio Online
Tumblr: Variety Radio Online